---
The radon map for Mayo prepared by the Radiological Protection Institute of Ireland shows that at least half of County Mayo is officially a 'high radon' area - see map below. This means that more than one in ten houses are likely to have more than 200 Becquerels per cubic metre of air in the house. A Becquerel is a measure of radiation - the number of radioactive decay events per second. The number of radioactive decays per second in each cubic metre of air in your home is a good measure of amount of radon you breathe in daily. It tells you how much radioactivity you are exposing your lungs to in your home.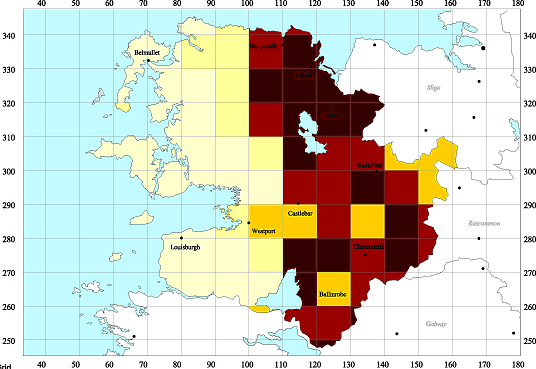 Mayo Radon Map

Percentage of Houses over 200Bq/m3 limit
Radon in your home is a natural breakdown product of the radioactive decay of uranium in the rocks below your house. As radon is a gas it eventually bubbles up to the surface through cracks in the rock, etc. If it is not sealed off with a radon seal it can leak into your house. Depending on the geology and other factors your house may have a lot or a little. National building regulations in force since 1977, for example, require a radon seal in every new building but if your house is older than that it is unlikely that it has a radon seal.
Radon does cause lung cancer so it is in your interest to check out your home. It is up to you to order the test. It is not automatic and you have to pay for it. You must request the radon testers from the RPII. These are small detector devices that are posted out to you on receipt of the fee. Then you place them in specified rooms around your house and simply leave them there for three months exposed to the air in your home. After three months you post them back to the RPII and they will report back with the results.
If you have an above-normal radon level there are a number of things that can be done to solve the problem.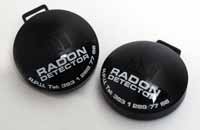 Radon detectors - It costs 50 euro to test your house.
Quote from RPII webpage: "The RPII provides a radon measurement service to householders at a price of €50. More information on radon, including an application form for a measurement, can be obtained by contacting the Institute on FREEPHONE RADON 1800 300 600 or by emailing radoninhomes@rpii.ie, giving your name and address. "

For more information check out the radon pages at the RPII.
© Copyright 2006 by the author(s)/photographer(s) and www.castlebar.ie

Top of Page