Discuss it on the Castlebar Bulletin Board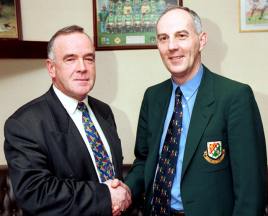 Pat Quigley, President FAI congratulates Joe Butler who takes over as new chairman of the Mayo League for the next 3 years, Joe replaces Tom Kelly, (Deputy Editor, Connaught Telegraph). Photo Michael Donnelly.
Castlebar Concert Band: Check out the all new Castlebar Concert Band and Youth Orchestra web site! The concert due to be held today, Thursday, in the Travellers Friend Hotel has been rescheduled to next Thursday, 8th March in the same venue. Click on the link to get further info and to listen to the band play!
Snugboro News: The Snugboro Community is holding its annual American Tea Party in the Welcome Inn Hotel, on Friday, March 2nd. Music will be by the Attic Boys. Time- 10 to late. Tickets £5 including tea and sandwiches. Proceeds for St. Peter's N.S., Snugboro.
| | |
| --- | --- |
| Shanghai Noon: Luca Brasi reviews Jackie Chan's hilarious Western Spoof Shanghai Noon | |
Ballyheane fundraiser: On Friday March 9th. Ballyheane Community Council will host their fundraising dance in Breaffy House Hotel. Time: 10.30 p.m. to 1.30p.m. Music will be provided by the Hillsiders and it should be a great night. Funds are needed to carry out renovation work on the roof, floor and the entrance of the Ballyheane Community Centre. We plan to start work on these projects as soon as possible.
Western Roads Action Committee: The Public meeting has been postponed indefinitely due to the present foot-and-mouth restrictions in the country.
Mayo County Council: The Roads Department of Mayo County Council are currently carrying out a Traffic and Transportation survey for the Castlebar area. You can make your views known and submit your suggestions on our Castlebar Roads feedback form It is important that they get your feedback so please take the time to fill it in.
Swimming Club News: Check out the latest winners and the 2001 Swimming Calendar with the Castlebar Swimming Club 2001 update
Castlebar Storytime: Read Geri's witty and entertaining story, Tir-na-Thin, featuring your favourite celebrities Posh and Becks
GAA update: Mitchel's News February 27th. 2001. Read it here first Get all the latest news from your local GAA team.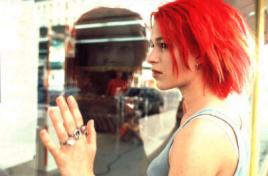 The Linenhall Film Club is showing Tom Tykwer's 1999 film Run Lola Run at 8:30pm tonight in the Linenhall Arts Centre
Cork Week Regatta 2000: Seamus Moneley sent us his experiences of the Cork Week Regatta 2000 A must-read for all with a sailing interest
Mayo Papers Review: Browse through our quick overview of the weekly papers for Castlebar and Mayo.
---
Castlebar in Sound and Vision
The Old Bacon Factory: A look back into the life and times of workers in the Old Bacon Factory. Featuring an interview with Johnny Mee, Cathaoirleach of Castlebar Urban Council.
Castlebar Four Days Walks: Ramble on the Burren mountain with the walkers and get their views on Castlebar's Four days Walks festival
The Aladdin Video: Castlebar pantomime 2001 Oh yes it is! Oh no it's not! - Aladdin - Castlebar's 2001 Pantomime on the web - get a taste of this great Panto.
Moon Eclipse: Howling at the Moon? Watch the Eclipse in Realvideo... Our pioneering cameraman took the camera out in the cold to record the moon's comings and goings.
U-TURN: Big Brother is watching you on Castlebar's Traffic Cam. Watch for the small red car!
CRCfm: Castlebar's Community Radio Live RealAudio webcast from CRCFM - 11:00 to 21:00 weekdays and 9:00 to 18:00 weekends. Click on the link to the CRCfm web site
You Need RealPlayer to watch these videos: If you don't have Real Player software installed on your computer you can download it from the www.real.com website. The RealPlayer Basic 8 is free.