At a Glance...
Photo Gallery
Front Page Archives
Business Directory
Recent Updates
Contact us
Castlebar Links
Hosted Sites
Jobs
Guestbook
Castlebar Roots?
Teenzene
Nostalgia
Arts
E-mail Directory
Cinema Listings
Film Reviews
Local Papers News
What's On in Castlebar
Gardeners' World
Greeting Cards
Crossword
Today in History
Home Page Please!
Castlebar Newsletters

Castlebar Information Age Town, County Mayo, Ireland - WebSite sponsored by eircom
---
Castlebar Chamber of Commerce: Check out their web site for local business information and contacts.


Summer is Here?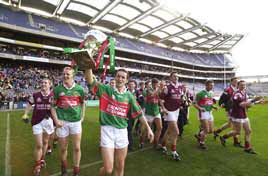 Mayo Captain Noel Connelly leads the team on a lap of honour after they beat Galway in the Allianz National League Division 1 Final in Croke Park, Dublin. Photo : Keith Heneghan / Phocus

We Need Your Help: Enter our competitionWin a £200 travel voucher or a meal for two at the Carrick or Al Murettos you will also be helping us ensure the long term viability of www.castlebar.ie

New Free Classified Ads Section: Why not sell your old stuff on the new Castlebar Classifieds section? - sell your cars, white goods, unwanted gifts, your house, etc.... People are starting to use this section already - have a look it's free!

Tossie Kelly Part 1: Watch and listen to Tossie Kelly in realvideo as he talks and even sings about his 90 odd years living in Castlebar. The first part of the Tossie Kelly Interviews.

Achill Woman is new head of GMIT Castlebar: Get your fix of local news with our review of the weekly papers for Castlebar and Mayo.
---
Castlebar Photographs: There are thousands of photographs archived on the Castlebar site. Below we list some of the main photographic collections:
Monday Night Bridge Club: Check out the club photos for 2001 Click here
Castlebar Badminton Club: Check out the new faces and the archive section of the Castlebar Badminton Club site.
Castlebar Swimming Club: The latest news and results from the Pool!
Breaffy GAA update: All the latest results from Breaffy GAA club
Castlebar Juvenile Basketball: The Basketball league is coming towards its climax this year. Here are the Boys U-15 semi-finals results.
Salt in your Veins? Have a look at The Mayo Sailing Club home page.
Mayo Film Club: Mayo Film and Video Club has updated its webpage. The club members co-operate to make videos and films of local interest.
Parish: The Sunday Newsletter lots of news and information on Castlebar Parish.
---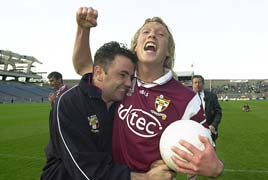 Celebrating after Crossmolinas win at Croke Park last week.
Castlebar's Market Square Improvements: It's finally starting to take shape. Check out what the new look Market Square will be like when the work is completed
Traffic and Transportation Study: The Roads Department of Mayo County Council want to find out what your thoughts are on the roads and transport infrastructure in the Castlebar area. Send them your opinions on this feedback form!
Town Development Plan: Closing date for comments 15th May. View proposed developments for Castlebar in the Urban District Councils Town Development Plan Give your views by filling in the feedback form.
---
Blues Festival: The Castlebar Blues Festival will go ahead on the June Bank Holiday Weekend. Have another look at last year's festival.
Four Days Walks: Unfortunately the Four Days' Walks Festival scheduled for the end of June early July has been cancelled due to the Foot and Mouth crisis.

Latest Weather Satellite Image
Castlebar Weather
Knock Met Station

---
Today's News Feed...
USA ban on Real IRA
A Famous Mayo Victory
Mayo target Championship!
Chinese hackers
Space Tourist
---
Mayo Moments
Tossie Kelly Part 1: Watch and listen to Tossie Kelly as he talks and even sings about his 90 odd years living in Castlebar. The first part of the Tossie Kelly Interviews.
The Wynne Collection: A fascinating piece of Castlebar History - Gary Wynne tells about the The Wynne Collection
Western Care: Learn more about their extraordinary work in The Western Care Interviews
What Women Want: Video of the Rotary Club Film Premiere Mel Gibson's What Women Want. In aid of elderly Mayo Emigrants.
The Old Bacon Factory: A look back into the life and times of workers in the Old Bacon Factory. Featuring an interview with Johnny Mee, Cathaoirleach of Castlebar Urban Council.
Castlebar Four Days Walks: Ramble on the Burren mountain with the walkers and get their views on Castlebar's Four days Walks festival
The Aladdin Video: Castlebar pantomime 2001 Oh yes it is! Oh no it's not! - Aladdin - Castlebar's 2001 Pantomime on the web - get a taste of this great Panto.
Moon Eclipse: Howling at the Moon? Watch the Eclipse in Realvideo... Our pioneering cameraman took the camera out in the cold to record the moon's comings and goings.
U-TURN: Big Brother is watching you on Castlebar's Traffic Cam. Watch for the small red car!
CRCfm: Castlebar's Community Radio Live RealAudio webcast from CRCFM - 11:00 to 21:00 weekdays and 9:00 to 18:00 weekends. Click on the link to the CRCfm web site
You Need RealPlayer to watch these videos: Free download from the www.real.com website.