Q. What do you do with several hundred ravenous cyclists?
A. Get the hog roasts on early and feed their need!
This year every Mayo Pink Ribbon cyclist will enjoy a sumptuous hog roast feast when they return, victorious, to Castlebar after their cycle on Saturday 2nd May. Of course that includes cycle leader Sean Kelly and the event Patron, Taoiseach Enda Kenny, both of whom will be cycling on the day. "Everyone's a winner, so everyone thoroughly deserves a tasty treat", says Mary Loftus, Mayo Pink Ribbon organising committee "It's our biggest fundraising event of the year, raising nearly €100,000 and we are so grateful to everyone who takes part. This is part of us saying thank you".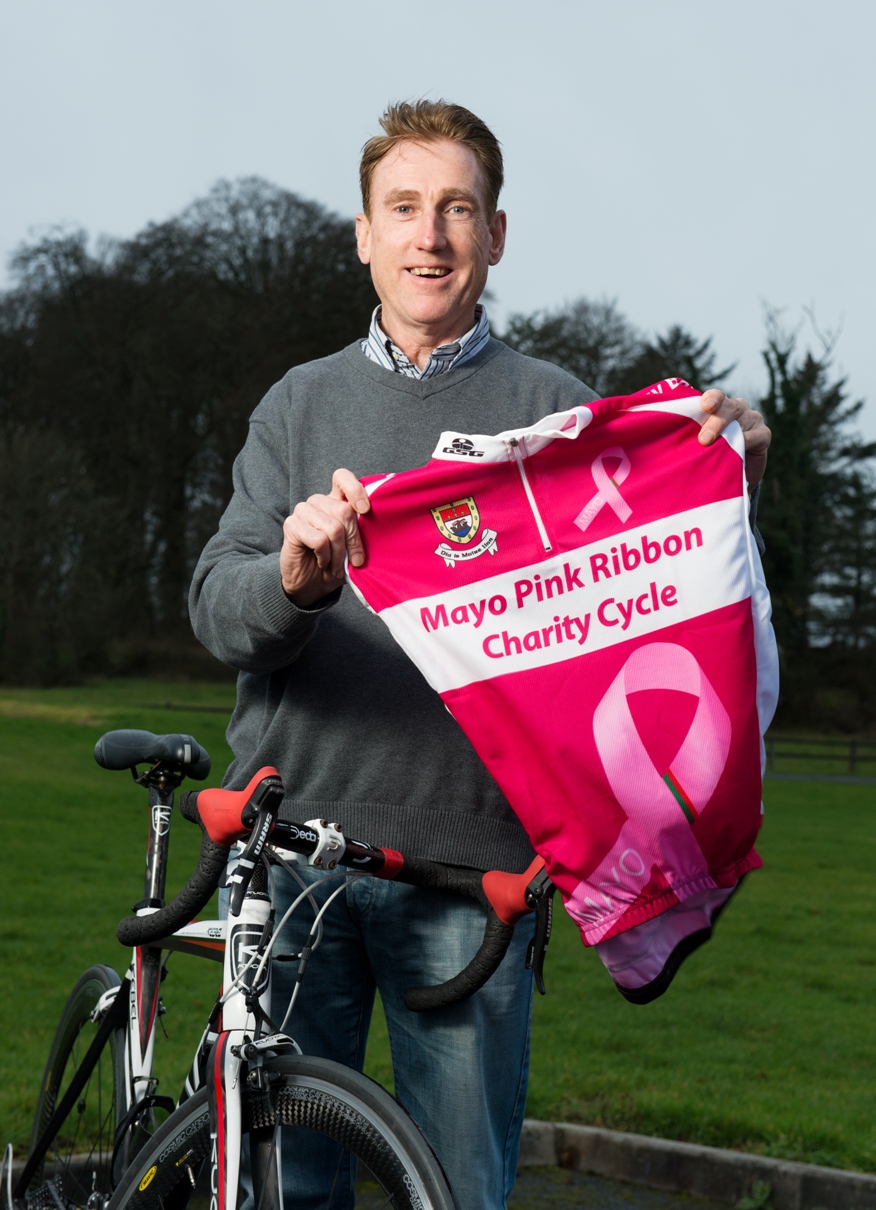 Sean Kelly launches Mayo Pink Ribbon 2015.
Everyone who takes part in the cycle also receives a technical branded t-shirt as well as a commemoration medal.
Mayo Pink Ribbon Charity Cycle has three different distances to suit cyclists of all standards, these are 51km, 111km and 166km, and all start and finish in Castlebar. The scenery along each of the routes is just glorious, passing through the pretty town of Newport and on to Mulranny, Glenhest, Corraun and Achill. Don't forget the event is a leisure cycle, not a race, so there is no pressure on participants, just the pleasure of taking part and the sheer exhilaration of finishing. There are refreshment breaks along each route to keep everyone 'fuelled' and in top form.
Instead of an entry fee, participants are asked to raise a minimum of €100, which goes directly to funding breast cancer research in NUIG. The website, www.mayopinkribbon.ie, contains a treasure trove of information on the cycle, training plans, hints and tips.
Entering is easy with several options - call into McHugh's Dental Surgery in Castlebar, phone 086 8562423 to have an entry form sent out to you or enter online - www.mayopinkribbon.ie. If you're a social media fan, follow Mayo Pink Ribbon on Facebook and Twitter for event updates. If you have any queries please phone 086 8562423, Mayo Pink Ribbon would be delighted to hear from you.
The three cycle routes for the Mayo Pink Ribbon Charity Cycle are:
51km Castlebar - Glenisland - Beltra - Glenhest - Newport - Castlebar
111km Castlebar - Newport - Mulranny - Achill Sound - Corraun - Mulranny - Newport - Castlebar
166km Castlebar - Newport - Mulranny - Achill Sound - Dugort - Keel - Dooega - Achill Sound - Corraun - Mulranny - Newport - Castlebar