Surf Intervarsities 07
Castlebar, who are they again?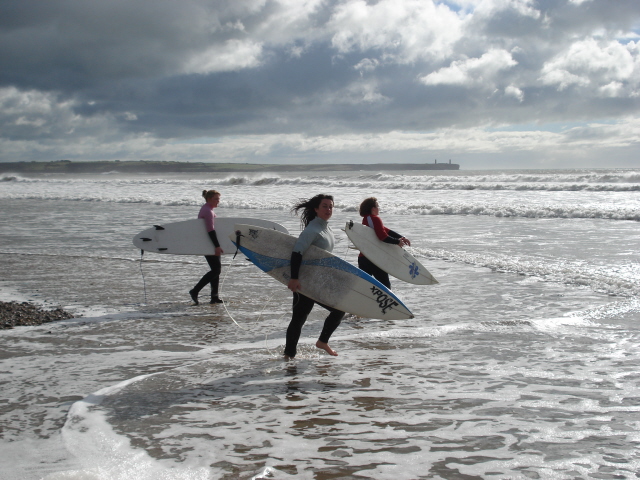 Sandra (in pink) takes to the water @ the start of the womens final
The location for these years Surf Intervarsities was Tramore, Co. Waterford, so it was a bit of a drive to say the least! But that didn't dampen the spirits of any of the eight competitors and five supporters who were ready to leave early Friday morning for what was set to be a great weekend, (I mean how could spirits be low when you get on a bus as cool as our new transits with tinted windows and a stylish roof rack?).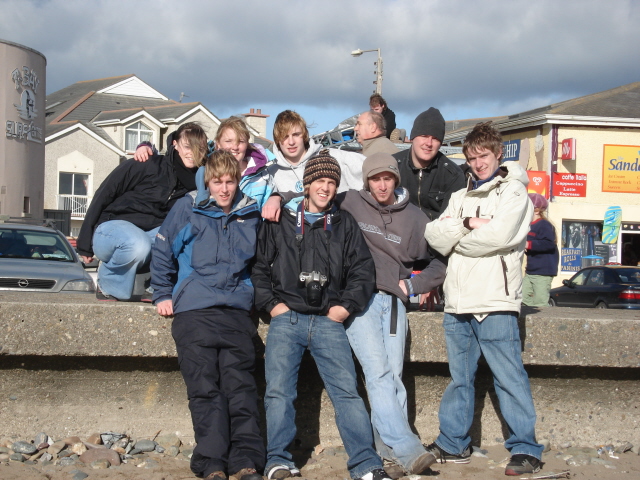 Loading up an dready for road ( someone better tell peter to get off the roof!)
So off we set on our six to seven hour drive all the way to the sunny south east of the infamous t-bay. On arrival we checked into our B&B and headed down to the hotel where we were due to register for the competition. Representing GMIT Castlebar Surf Club was Wayne Patrick Murphy in the longboard division, Brian "monkey" McGearrall in the bodyboard, Sandra Blong in the ladies, myself Dermot O'Mahony (aka dobby) and Adam Cross in the open division and the trio of Cillian Costigan, Niamh Tuohy and Brian Carey representing in the expression session. Along with this we had the great supporters of Noel Muldowney, Peter "Hanz" Enright, Eoin "Chuck" Norris, and Brian "peaches"DUNNO and of course our driver/sports officer Nigel Jennings. Could you ask for better supporters!?
On the Saturday morning with every one feeling fresh after an early night had by all we got our attention focused to the competition ahead. The competition was looking stiff but it would take more than a few of Ireland's household surfing names to put the professional looking outfit of Castlebar off their game. First out was Adam Creers as the commentator called him! Adam progressed through the first round with some ease as he was feeling great from his early night sleep. Next up was myself, (who the commentators also had a problem pronouncing calling me a very Police Academy like Mahooney!!) as the next open competitor, I also qualified through to the next round to be held the following day.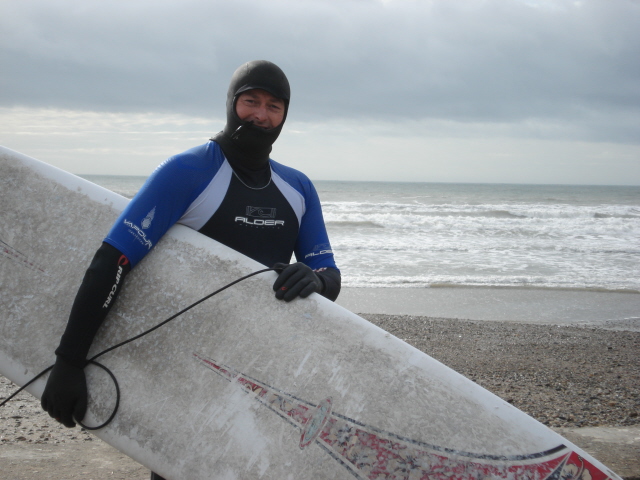 damn its a lot colder here than it is back in australia
Our next representative was the super stylist long boarder, Wayne. Here Wayne also qualified with some ease to the next round of his division. Up next was the always alert body boarder of Monkey McGearrall. In his division Brian got drawn against Irish team member Tom Gillespie but still qualified through to the next round (semi finals) with some very nice moves to easily convince the judges that he deserved to be put through.
Our next competitor to hit the water was Sandra Blong (again the judges seemed to not get our names right and called Sandra Bolooney each time she stood up). Sandra again in true form to her fellow team-mates qualified through to the finals where she was to meet the current top two ladies on the British Isles, Easky Britton and Shauna Ward.
With the conditions increasingly deteriorating our expression session team hit the water in real style. Here Brian Carey had taken it on himself to dress up and wear his funky board shorts and Hawaiian style shirt over his wetsuit, due to this all the ladies couldn't get enough of him and he was chased to the beach by his frantic fans! A truly Castlebar style show was put on here as Cillian, Niamh and Brian braved the elements to show every one there skills.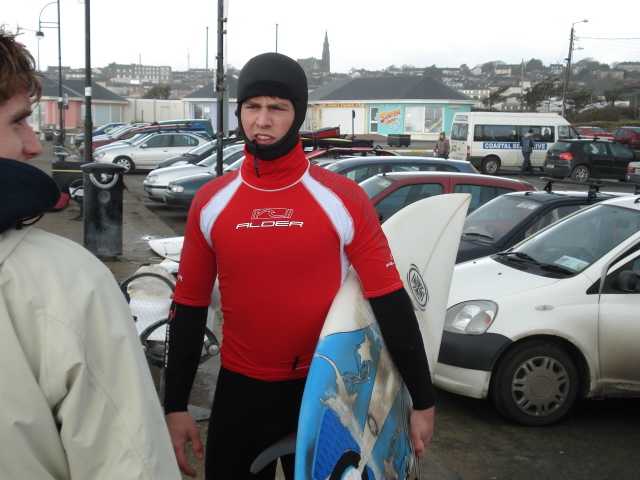 chief organiser - club captain - adam, first man in the water
On the morning of day two we awoke again as fresh as the fruit that was being served on our breakfast table. The winds had changed from the previous days onshore to a very clean looking offshore with a picture perfect swell hitting the coastline. Again first up were the open division and again Adam to surf first. Adam had caught some extra sleep the night before so was really ready for his quarter final. Here he had drawn Irish team member and billabong sponsored Stephen Killfether. It was a very tight heat with Adam staying close to his competitor's right up until the final minutes where he got very unlucky and missed the last set of the heat and just lost the second place qualification. It must have been a very hard call for the judges as we all felt that Adam had done enough to qualify. But in true form to Adams personality he took the decision on the chin and moved on to help support his team-mates.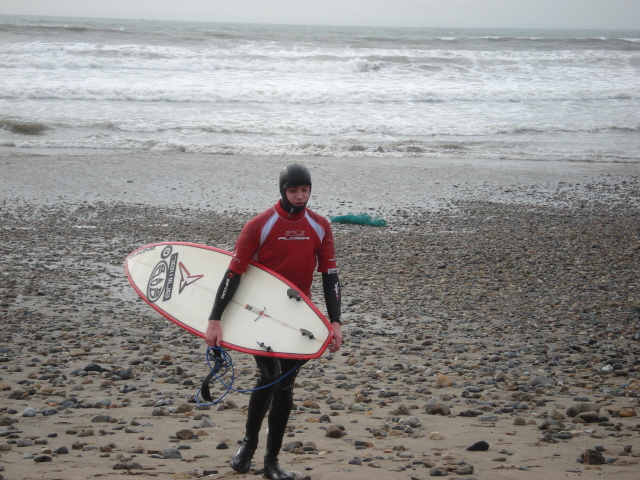 Dobby the disappointment showing after narrowly missing out on qualifying for the final.
I was up next and with some very important words of wisdom given to me by Wayne I qualified on to the semi finals where I was also to meet the impressive looking Killfether. Here I gave it my all but it wasn't to be for me either. I lost out finishing in third position just missing qualification for the final.
As in the previous day Wayne was up next. In his quarter finals there was a misjudgement on the part of the judges where one of his high scoring waves was awarded to a different competitor but this was later rectified. Wayne continued through the semis and onto the final where he finished an impressive overall third place. Monkey was up next and a very though line up of names faced him in the semis also. But an impressive performance put him straight through to the final. The final again was tight and there was little to no difference between the competitors. As announced at the prize giving it was only a very small margin separated the top four. Here he finished fourth which is a very good result for some one who usually gets the bodyboard out about twice a year.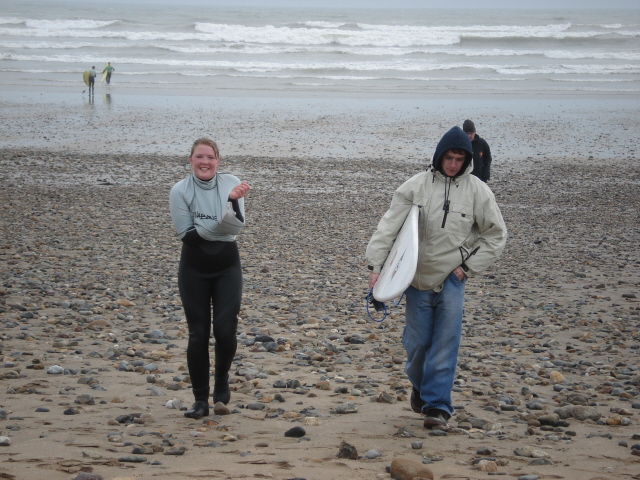 Smiles all round as sandra secures her final place
Up next was Sandra Bolooney! This heat consisted of two sponsored riders and another impressive short boarder. But Sandra's determination and skill made the heat very difficult for her competitors. It seemed that she was setting the pace for the girls and they had to keep up. This put the pressure on the girls and they were visibly nervous as it came to the final few moments. Within the final two minutes two of the girls managed to scrape together just enough points to push Sandra down to third position. This was an excellent achievement that was acknowledged by winner Easky Britton as she congratulated Sandra on her finish.
With the competition over it was time to reflect on the teams overall placing. A total of twelve colleges had gathered in Tramore for the competition and GMIT Castlebar finished in third place, a result that really speaks for it self. I feel that the mystery of, "Castlebar, who are they again?" was finally answered. We weren't from Galway or Sligo where people had began to think but we were in fact our own college from Castlebar who was now beginning to make our mark on the surfing scene throughout Ireland. For me it was a privilege to have been part of this group that represented our college. From the supporters to the competitors I feel that it was a result that not only the group that travelled should be proud of but all involved in GMIT Castlebar.
Along with this a big thanks must go out to Surf Club president Adam Cross for organising the trip and making the trip possible. Also to Nigel for putting up with us for seven hours in a bus, I'm sure that along with the buzzing noise from the bus our constant giggling and talking must have driven him to breaking point, cheers Nigel.
From me I wish the Surf Club all the best in the future. I feel that it can only gain strength in a result like this and move on to become bigger and better in the years to come.
Aloha
Dobby