Women's Football team fall at Final Hurdle

Marino College Dublin was the scene of a great day of Football on Wednesday 12th march as the women's team narrowly missed out on claiming the All-Ireland Divisional title. In a grueling schedule the girls had to play four, half hour games after making the long trip from the west. First up in the Round robin format was D.I.T. the loss of Deirdre Harman with a collarbone injury in her first taste of action was a huge blow as the midfielder has a huge work rate that later in such a long day would surely be missed.




The Dublin side made the most of her absence going in 1-5 to a point up at half time.The switching of Louise Mulready to midfield was the spark for the Castlebar revival. She won great possession to set up the inside forwards as well as notching a couple of points herself. Maeve Murphy added a few well taken frees to keep Castlebar in it until the end, some excellent goal keeping and the woodwork conspired to keep them out and in the end their was a goal between the sides.

Next up was Queens and with the Girls into their stride they put in a dazzling performance to easily beat the Belfast Girls. Sarah O'Regan , Maureen Coleman, Deirdre McGrath, Breda O'Reilly, Evelyn Bonnar, Grainne Guirey and Ruth Cawley dominated in a game that the defence had little work to do. They finally rattled up 4-4 while Queens managed a consolation goal.

With D.I.T. progressing with ease it was down to the last game against Marino to secure a place in the final. This was a replay of the League semi-final and the girls new they were in for a tough battle. Marino started the brighter and early pressure saw them surge ahead and if it were not for the heroic efforts of Mairead McGinty, who saved a penalty as well as two goal bound efforts, they would have been further behind at half time. As it was a Maeve Murphy goal kept them in it and when Deirdre Keneally added another at the start of the second half Castlebar were back in it. Nora Murphy, who had been outstanding in midfield, was beginning to tire and was moved to center forward, from here she got two wonderful points on the run to give castlebar some daylight.

But Marino were far from beaten and but for the superb marking job Marian Silke was doing on the Dublin teams danger forward they would surely have had another goal. Birthday Girl ( 21) Michelle Doyle was unbeatable at full back and gave a display in the art of blocking the ball. Maura Quinn played a captains role while Marcella Troy and Elizabeth Doherty cleaned up any spare ball to launch counter attacks. But the glory in this game has to go to Mairead in goal who eclipsed her first half performance with a game winning display between the sticks. On the rare occasions the end of game siege was lifted Achill duo of Tara Kilbane and Eilish McGInty added a point each to secure the place in the final running out 5 point winners.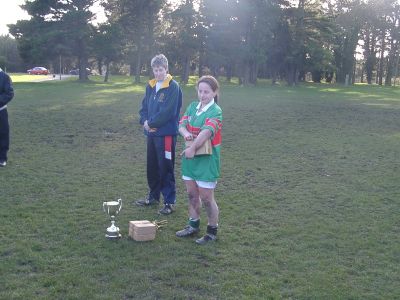 The final however was to prove a bridge too far, having already lost Deirdre to the early injury Tara was unable to start the Final with an ankle knock, and the long day was taking it's toll on Maeve and Nora Murphy who had been sharing the midfield duties with Louise Mulready. Louise has to be singled out for her contribution moving around the field to fill different roles as needed she was remarkable and was, (with Mairead in Goal a close second) the outstanding player all day. But with these central figures starting to fade The Dublin Girls started strong and there was nothing left in the engine when their influential midfield started to carry the ball down field. They had built up a sizeable lead by half time and it looked like a daunting task ahead.
But Billy McNicholas, (who has done great work with these girls all year), knew the depths of character they possessed. He spurred them on at half time and with the likes of Maeve Murphy to lead from the front they were never going to give up without a fight.
When Deirdre Keneally crashed home an early goal there was a glimmer of hope and Eilish found reserves of energy to keep the D.I.T Defence under pressure. A 30 yard solo from Maeve passing three defenders was followed by a crashing shot that clipped the post and went wide, with it went the realistic chance of a recovery and the sight of Maeve Physically unable to get back to her feet told it's own tale, every ounce of energy and effort had been given, there was nothing left. One last throw of the dice saw a high and hopeful ball from louise get a touch from Deirdre to take it to the back of the net, only for the referee to cruelly call it back for a questionable square ball. The fact that two previous similar calls had gone in favour of the Dublin girls gave the final score-line an unflattering edge that definitely wasn't deserved.
It had been a great day and a mammoth effort and everyone there did themselves and the college proud. When Maura Quinn went up to call her players up to receive their runners up medals, she reminded her fellow fourth years of how far this team had come in their time in college and the great achievement getting this far had been. She urged them to one last effort, for six of the team there is one competitive match left before they complete their college football careers. That also is an All-Ireland Final against the strongly fancied Waterford I.T. in the league decider in Limerick, and for them all it would be a great end to a great episode, to close the door on that time with an All-Ireland winners medal. Wishing you all the best with it Girls