Castlebar Mitchels scoop 2010 Texaco Sportstars Bursary Award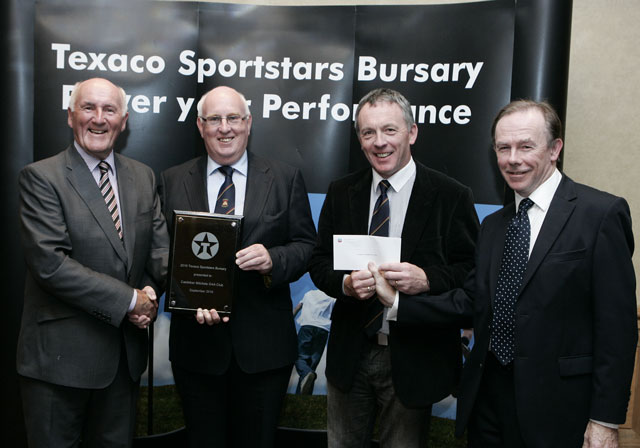 L-R: Eddie Keher, Michael Diskin, Chairman Castlebar Mitchels, Finian Joyce, Secretary Castlebar Mitchels, Enda Riney Chairman Chevron Ireland Ltd.


Castlebar Mitchels GAA club was one of 25 sports clubs in Ireland chosen to receive one of this year's Texaco Sportstars Bursary awards worth €5,000. The presentation of bursaries was made by legendary Kilkenny hurler, Eddie Keher and Enda Riney Chairman of Chevron Ireland Ltd at a ceremony held in Dublin recently. There were a total of 20 clubs chosen from the Republic of Ireland and five from Northern Ireland. Overall a total of 923 applications were received and Castlebar Mitchels was the only club from Mayo to receive an award. Speaking at the presentation ceremony, Chevron (Ireland) Country Chairman Enda Riney said:"The huge increase in the number of entries and the wide range of sporting disciplines from which applications were received together underlines the popularity of our Texaco Sportstars Bursaries scheme and the urgent need that sports clubs have to raise finance in the difficult economic climate that exists today. Castlebar Mitchels Chairman Michael Diskin said he was extremely proud to receive the award on behalf of the club and that it was a great reward for all the hard work done within the club in its 125th year. The award will go to the further development of a club museum.