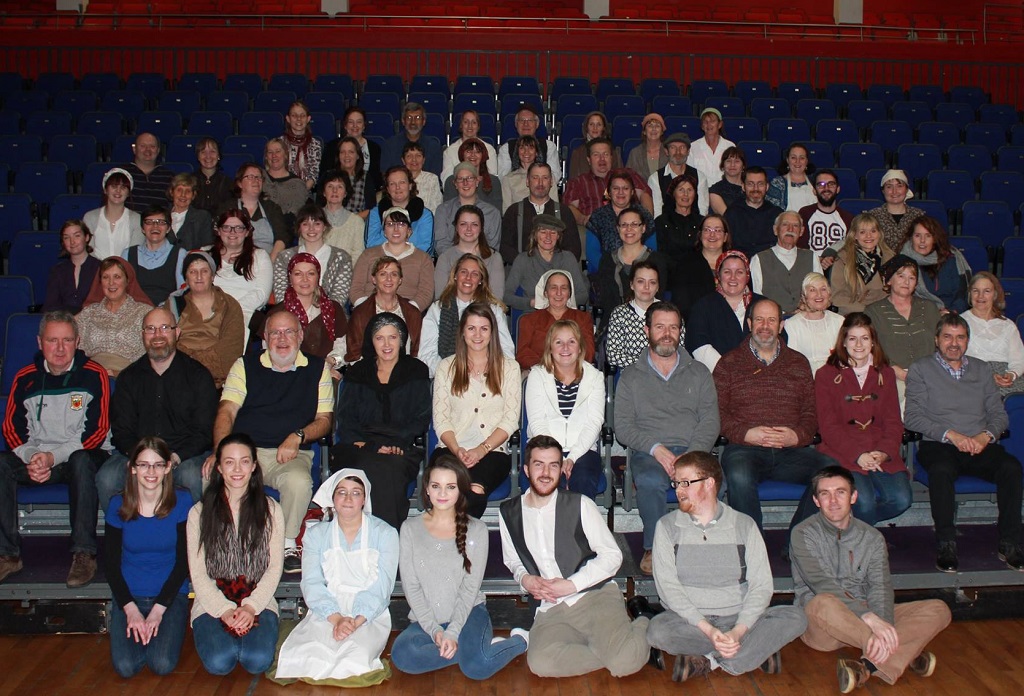 The members of Castlebar Musical and Dramatic Society!
3rd, 4th & 5th December | Doors 7pm. Show 8pm | Tkts: €17.50 / €12.50 Child & OAP
Matinee - 5th December at 2.30pm
Fiddler on the Roof is a classic Broadway musical with music by Jerry Bock, lyrics by Sheldon Harnick and book by Joseph Stein. Set in Russia in 1905, the show tells the story of Tevye, a poor Jewish milkman, trying to maintain his traditions and beliefs whilst raising five independently-minded daughters during a time of political upheaval.
This funny, and sometimes sad, story is suitable for audiences of all ages. The musical has brought us some of the most well-loved songs from the Broadway stage, including 'If I were a Rich Man', 'Matchmaker' and 'Tradition'.
The show is being brought to life by the award-winning Castlebar Musical & Dramatic Society. The cast consists of 70 talented performers who have been rehearsing tirelessly since August to create a fabulous production.
Be sure not to miss this great show!

The Characters in Fiddler on the Roof:
Tevye, the dairyman, Tevye is the local impoverished milkman. He is the father of five daughters, husband to Golde, and a leader in his Jewish community. He is faced with many struggles to uphold the traditions of his people, especially concerning the marriages of three of his daughters. He is a dreamer, humorous and pious.
Golde, Golde is Tevye's wife. She runs his household and is also concerned about finding good matches for her daughters. She is a strong-willed character.
Tzeitel, The eldest of Tevye's daughters. She is a young woman. She is in love with Motel (the tailor's son) and wants to marry him. She does not want to marry Lazar Wolf - a much older man who has been chosen for her by the local matchmaker.
Hodel, Hodel is Tevye's second daughter. She falls in love with Perchick and shuns tradition by asking her father's blessing to marry Perchick instead of his permission!
Chava, Tevye's third daughter. Scholarly and interested in reading and learning. She falls in love with Fyedka, a Russian and Christian.
Yente, The local matchmaker. She is a widow and the local busy-body. A humorous character.
Motel, The village tailor. He is poor and meek. He must stand up to Tevye to ask for Tzeitel's hand in marriage.
Perchick, The student. Perchick has travelled to the cities and is educated. He has radical ideals and challenges the traditions of the Jewish community in Anatevka.
Lazar Wolfe, Lazar Wolfe is the butcher of Anatevka. He is the town's wealthiest citizen. He is the same age, if not older than Tevye and is matched with Tzeitel, Tevye's eldest daughter. He loses Tzeitel to Motel and is very resentful.
Fyedka, Fyedka is a Russian soldier who falls in love with Chava, Tevye's third oldest daughter. He and Chava elope because Tevye cannot accept this total break in Jewish tradition.
The Constable, A Russian military official. He knows the villagers well and even likes some of them, especially Tevye. These superficial relationships do not prevent him from violence against the Jewish villagers and eventually he carries out orders for a pogrom in which the Jewish citizens are forced to leave Anatevka.
The Rabbi, The spiritual leader of the Jewish community in Anatevka.
Mendel, The Rabbi's son
Avram, The Bookseller
Mordcha, The Innkeeper.
Nachum, The beggar
Grandma Tzeitel,Grandma Tzeitel is Golde's deceased grandmother who appears as a ghost in the Dream Sequence. She endorses the marriage of Tzeitel to Motel.
Fruma-Sarah, Lazar Wolfe's dead wife who appears as a ghost in the dream sequence to warn Tevye and Golde not to allow Tzeitel to marry her husband or dire results will befall the family.
---