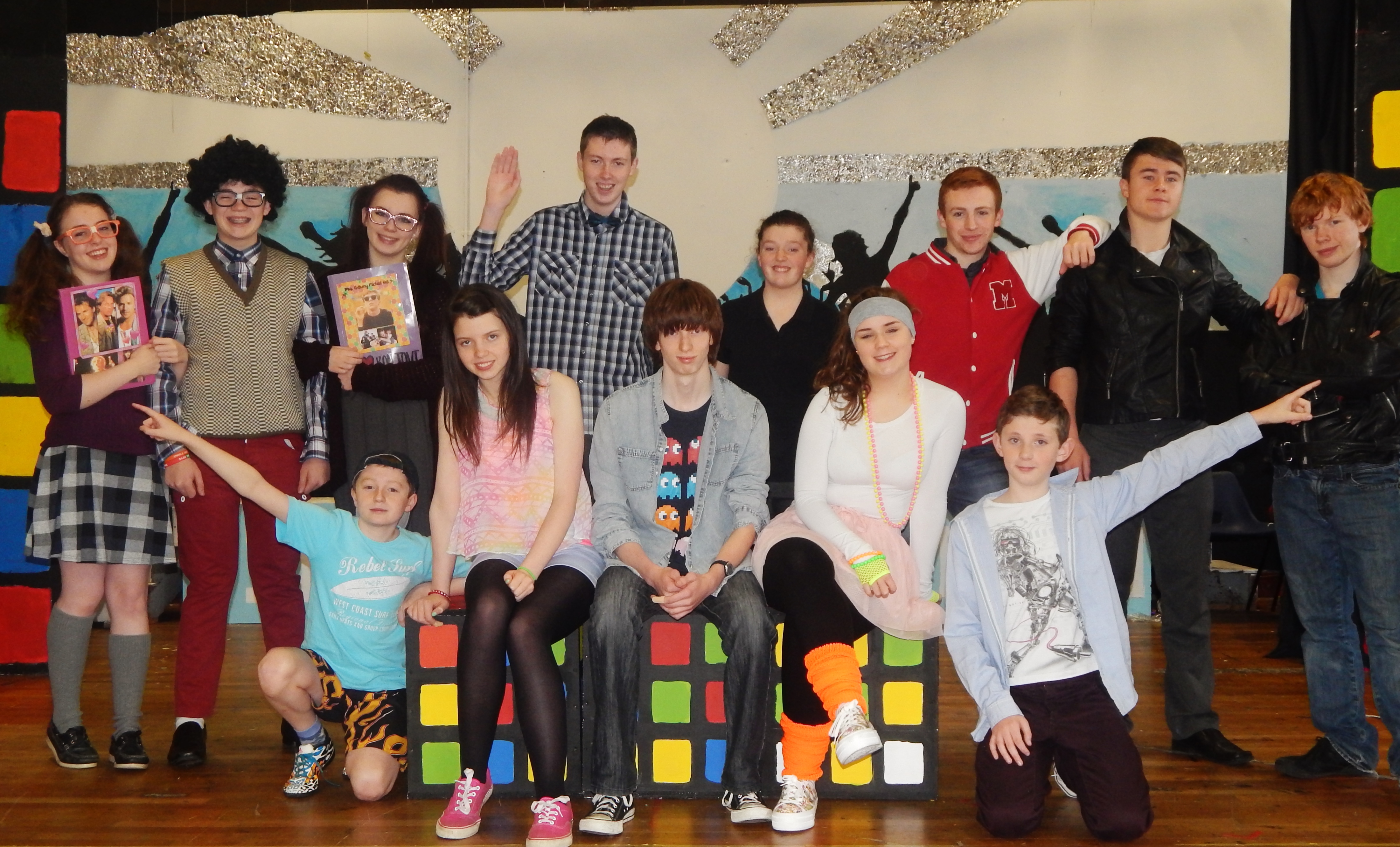 The Cast of Totally 80s

Over the past few weeks, the students of Balla Secondary School have been busy in rehearsals for the 'totally awesome' musical, "Totally 80's". The cast under the direction of Sarah Heneghan and Rebecca Cresham are putting the final touches to what promises to be a great night of entertainment for one and all.

Balla Secondary School Hall is the venue for the show on Wednesday the 26th and Thursday the 27th of November with the show getting underway at 8pm sharp each night.

"Totally 80's" tells the story of the senior class of William Ocean High School as remembered through the eyes of now 30-something Corey Palmer. The then 17-year-old Corey is madly in love with Tiffany Houston, one of the coolest girls in the school, however, she is too busy mooning over Michael Feldman, the hottest guy around. Meanwhile Feargal McFerrin III, whose best friend is his computer, is busy spreading the crazy notion that one day CDs will replace cassette tapes. This is a journey back to Rubik's cubes and blue eye shadow and a time when Michael Jackson and Rick Astley were the Kings of Pop. The show boasts many huge hits of the era including 'Kids in America', 'Girls Just Wanna Have Fun' and 'Footloose' to name but a few.

All of the work is being done in-house with Ms Rebecca Cresham as the Musical Director and Ms Sarah Heneghan in charge of Direction and Choreography. Ms Joanne O'Hora and Mr David Morin are busy heading the art and woodwork department alongside the very talented art students in the school and also on board is music teacher Aisling Lyons. Many other members of staff and the student body are also putting in much effort to ensure that "Totally 80's" runs smoothly and successfully.

Following the success of last year's 'Matilda- with a twist', this Balla Secondary School musical production is a guaranteed hit...a night to remember and one not to be missed! This colourful musical will have you laughing in your seats and dancing in the aisles... It is sure to delight and amuse audiences of any age! Tickets are available from the school.