There is a disconcerting low and venomous roar to bush fires, accompanied by the harsh cracking of trees and undergrowth burning ferociously, coupled with the acrid smell of burning smoke that is so reminiscent of gunfights that initially I react in a way that I have not had to, for over a year. It is a strange and chilling reminder that Africa is never a place to take for granted. However there is no malevolence in the setting of these fires because once the wet season has finished, usually around the end of November and we have the advent of the dry season, the locals set fires in the bush to flush out mice and snakes which they then roast and eat!!!. The problem for us is that the advent of the dry season is accompanied by strong winds, which naturally fan the flames of what might have been conceived of as a small fire, but what often turns into a major conflagration, roaring along with a cacophony of conflicting noises that only subside when there is nothing left to burn, usually stopped by a river or a road.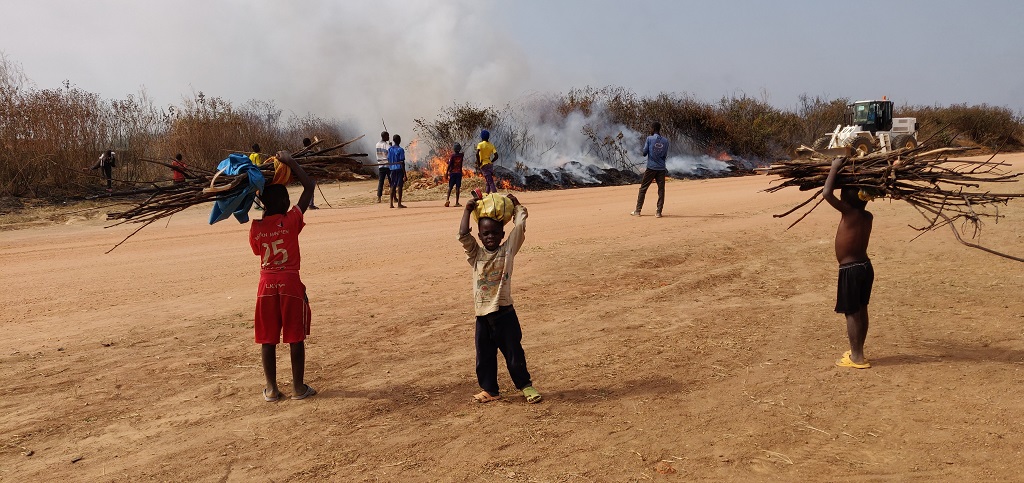 So, I'm back ... after finishing a two-year contract with MINUSCA (the United Nations Multidimensional Integrated Stabilization Mission in the Central African Republic) in January of this year, I was then asked to return for a further period and arrived back in Africa in August.
This time I am based in Sector West near the town of Bouar which is approx. 210 km from the border with Cameroun and 440 km from the capital Bangui. It certainly seems as if Africa has a weird sort of a grip on me, I initially deployed to the continent with the Irish Defence Forces to Chad in 2010, followed by Western Sahara in 2011 and then Mali in 2012. After my retirement on age grounds from the Defence Forces in November 2016, I was lucky enough to get what was initially a three-month contract with MINUSCA that eventually became two years. During that time, I certainly experienced enough to write quite a number of posts for Castlebar.ie and I always hoped that it would help the readers to understand what goes on in a country that I didn't even know existed until I was selected to go and work there for the UN.
In order for people to realise the nature of the conflict and why we are here I will briefly summarise the basics of the conflict:
CAR formally gained independence from French colonization in August 1960. Since then it has seen a series of political crises, where coups d'état were the rule rather than the exception. In 1966, the first of these coups brought to power the infamously megalomaniac Jean-Bédel Bokassa, who declared himself president for life and then emperor of the re-named Central African Empire. The cost of his inauguration in December 1977 was approx. $20 million and more or less bankrupted the country!! He remained in power for almost 11 years, initiating a cycle of crisis that has since reoccurred regularly in CAR.
The last president in this cycle of coup d'états, which preceded the conflict in 2012-2013, was François Bozizé, who was himself overthrown in March 2013 by the Séléka movement (a collection of mainly Muslim armed groups).
CAR is at a critical junction of several conflict zones. It shares its borders with, Chad, the Democratic Republic of Congo (DRC), the Republic of Congo and Sudan.
The country's natural resources include diamonds, gold, oil, timber, and uranium. This has led some to conclude that the struggle for control of natural resources is really at the heart of the crisis.
Yet, despite the wealth offered by its natural resources CAR is ranked 180 in the UNDP human development index. It is one of the poorest countries in the world, with life expectancy not even reaching 50 years and an average of 3.5 years of schooling among adults. With this level of poverty, systematic looting by armed groups and lack of access to basic resources and the impossibility of earning a basic living might also help to explain the presence of criminal gangs and armed individuals in the country.
And just to recap from one of my earlier articles describing the size of Africa, which I think not many of us really appreciate.
Africa is large, in fact it is deceptively large and even our perceptions of how large it is are subtly skewed by the difficulty in representing what is essentially a sphere (the world) on a flat surface (a map) and the best description I have come across to describe this vast continent is by Tim Marshall in his remarkable book Prisoners of Geography. Here he succinctly describes Africa in a way that most of us have not thought about "The world's idea of African geography is flawed. Few people realise just how big it is. This is because most of us use the standard Mercator world map. This, as do other maps, depicts a sphere on a flat surface and thus distorts shapes. ...Look again at the standard Mercator map and you see that Greenland appears to be the same size as Africa, and yet Africa is actually fourteen times the size of Greenland! You could fit the USA, Greenland, India, China, Spain, France, Germany and the UK into Africa and still have room for most of Eastern Europe. We know Africa is a massive land mass, but the maps rarely tell us how massive."
So yes, we are talking about a huge continent. In total, Africa is more than 30 million sq km, Africa is actually bigger than the land masses of the US, China, India, Mexico, Peru, France, Spain, Papua New Guinea, Sweden, Japan, Germany, Norway, Italy, New Zealand, the UK, Nepal, Bangladesh and Greece put together.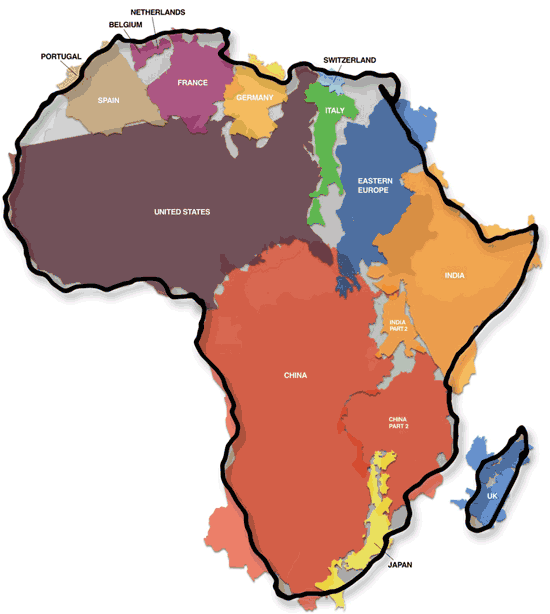 The town of Bouar is strategically situated on MSR 1 (Main Supply Route) and it is along this road that practically everything enters the country. All the produce sold in the supermarkets in the capital Bangui come on this road from Cameroon. There are generally three convoys that pass through Bouar every week and they are indeed a sight to behold. They normally overnight in Bouar and when they depart the next day the convoy is often 2 km in length!! This road has a tarmac surface from Cameroon to Bouar and after that it is graveled until about 50 km from the capital. Needless to say, driving a large truck in the Central African Republic is not for the fainthearted.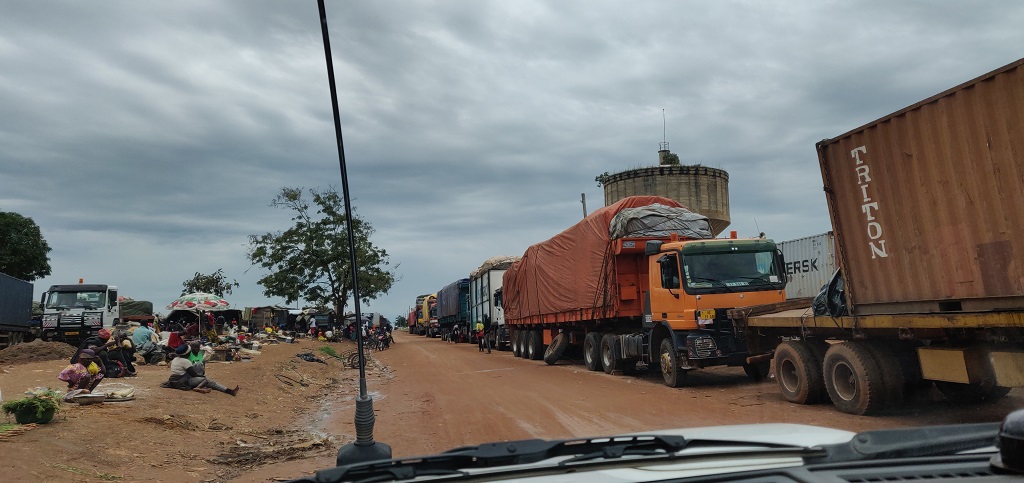 Life for the locals here is tough, but at least there is no real violence in this area and all ethnic groups and religions get along well with each other which is certainly not the case in other parts of the country. In such a vast country, nearly the size of France, it is unusual to see very little stone. The area around Bouar is however rich in Granite, which is the bedrock in the area and is in much demand for house building, elsewhere in CAR they bake mud bricks for construction. I noted with interest that they use an ancient method of breaking up the rock known as fire setting. This was actually used in Ireland at the mines at Ross Island in Killarney. Ross Island is the earliest known copper mine in Britain or Ireland, possibly in western Europe. Analysis has shown that it was the origin of most of the metal used in Ireland and Britain in the early stages of copper use. These mines came here came into use about 2400 BC and remained until approx. 1900 BC. Excavations here in the 1900s uncovered tens of thousands of stone hammers used to work on them. The mines were worked by fires being lit against the rock face showing traces of copper mineral and using hammers to pound the heat fractured the rock.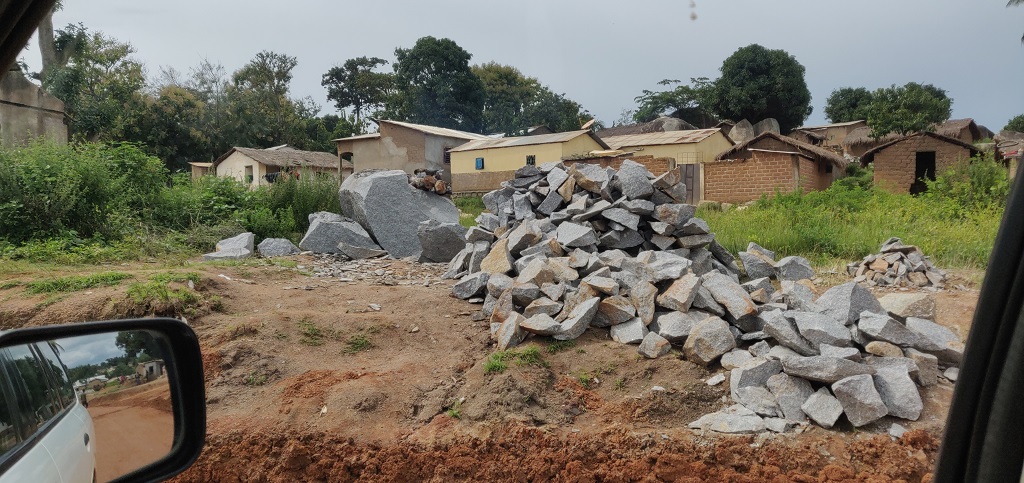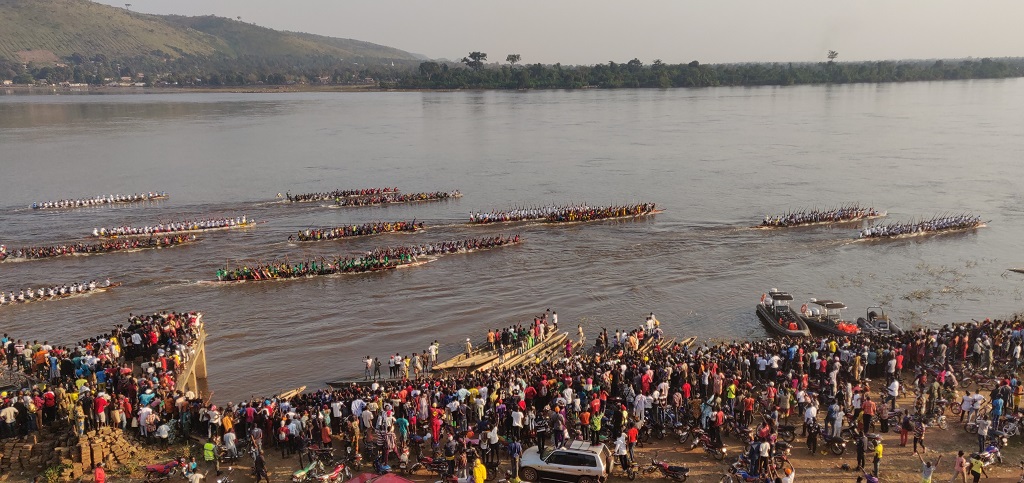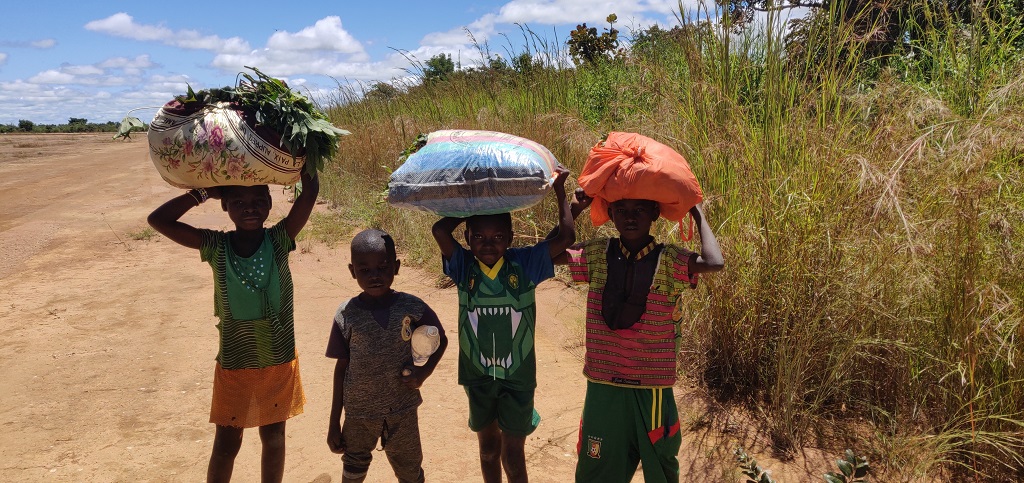 This just about brings me to the end of this update from CAR and all that remains is to wish each and every one of you a happy and Peaceful Christmas and a Prosperous New Year. I would love to be up at the Diving Board on Christmas morning but that will have to wait for another year.
Finally, I want to make a special mention of Stephen Guthrie and Michael Corcoran for their revival of The Waits. I managed to see it on Facebook and it brought back some very happy memories of when I lived in New Antrim Street and waiting to hear 'The Waits' was one of those great Christmas treats.
Best Regards to all from a warm (33 degrees) and windy Bouar
Kevin