"Cabin Crew take your seats for landing" announced the Captain as we descended to Bangui, the capital of the Central African Republic (CAR) on a hazy sunny afternoon. Seconds later the plane accelerates and ascends sharply. Everyone exchanges worried glances and the person sitting next to me mutters something about some locals running across the runway...Welcome to Africa.
I think before I write about CAR, it is worth remembering a few salient points about Africa. Africa is large, in fact it is deceptively large and even our perceptions of how large it is are subtly skewed by the difficulty in representing what is essentially a sphere (the world) on a flat surface (a map) and the best description I have come across to describe this vast continent is by Tim Marshall in his remarkable book Prisoners of Geography. Here he succinctly describes Africa in a way that most of us have not thought about "The world's idea of African geography is flawed. Few people realise just how big it is. This is because most of us use the standard Mercator world map. This, as do other maps, depicts a sphere on a flat surface and thus distorts shapes. ...Look again at the standard Mercator map and you see that Greenland appears to be the same size as Africa, and yet Africa is actually fourteen times the size of Greenland! You could fit the USA, Greenland, India, China, Spain, France, Germany and the UK into Africa and still have room for most of Eastern Europe. We know Africa is a massive land mass, but the maps rarely tell us how massive."

So yes, we are talking about a huge continent. In total, Africa is more than 30 million sq km, Africa is actually bigger than the land masses of the US, China, India, Mexico, Peru, France, Spain, Papua New Guinea, Sweden, Japan, Germany, Norway, Italy, New Zealand, the UK, Nepal, Bangladesh and Greece put together.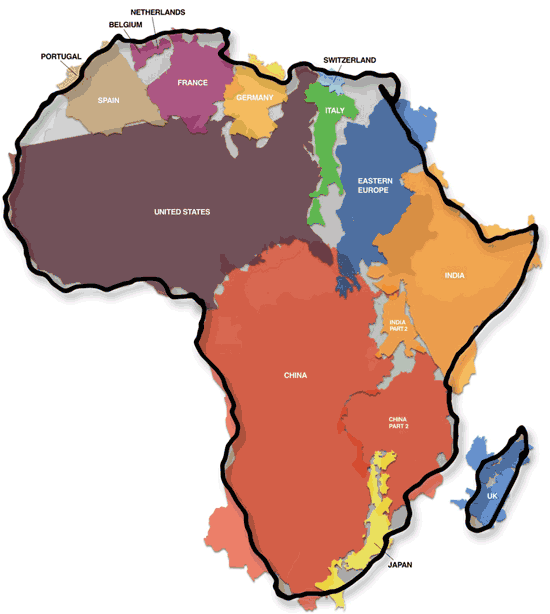 The true size of Africa
The Central African Republic (CAR) is a landlocked country in Central Africa. It is bordered by Chad to the north, Sudan to the northeast, South Sudan to the east, the Democratic Republic of the Congo and the Republic of the Congo to the southwest and Cameroon to the west. CAR covers a land area of about 240,000 sq miles and had an estimated population of around 4.7 million as of 2014.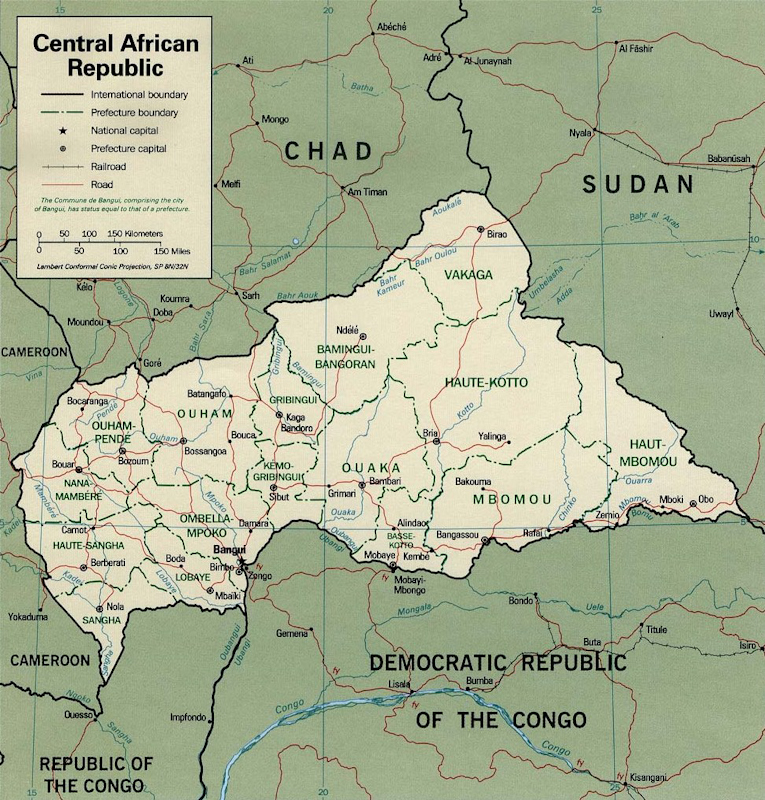 Map of CAR
The former French colony of Ubangi-Shari became the Central African Republic upon independence in 1960. After three tumultuous decades of misrule - mostly by military governments -- civilian rule was established in 1993 but lasted only a decade. In March 2003, President Ange-Felix Patasse was deposed in a military coup led by General Francois Bozize, who established a transitional government. Several rebel groups joined together in early December 2012 to launch a series of attacks that left them in control of numerous towns in the northern and central parts of the country. The rebels - unhappy with Bozize's government - participated in peace talks in early January 2013 which resulted in a coalition government including the rebellion's leadership. In March 2013, the conflict had worsened and towards the end of the year there were international warnings of a "genocide" It was further plunged into turmoil when Muslim rebels from the Seleka umbrella group seized the capital and power in the majority Christian country, the coalition government dissolved, and President Bozize fled the country. A band of mostly Christian militias, called the anti-Balaka, rose up to counter the Seleka. By August 2013, there were reports of over 200,000 internally displaced persons (IDPs)
Rebel leader Michel Djotodia assumed the presidency in late 2013 and established a National Transitional Council. Prime Minister Nicolas Tiangaye requested a UN peacekeeping force from the UN Security Council and on 31 May former President Bozizé was indicted for crimes against humanity and incitement of genocide.

On 11 January 2014, Michael Djotodia and Nicolas Tiengaye resigned as part of a deal negotiated at a regional summit in neighboring Chad. Catherine Samba-Panza was elected as interim president by the National Transitional Council, becoming the first ever female Central African president. French President François Hollande called on the UN Security Council and African Union to increase their efforts to stabilize the country. On 18 February 2014, United Nations Secretary-General Ban Ki-moon called on the UN Security Council to immediately deploy 3,000 troops to the country, bolstering the 6,000 African Union soldiers and 2,000 French troops already in the country, to combat civilians being murdered in large numbers.

On 15 September 2014, the United Nations Multidimensional Integrated Stabilization Mission in the Central African Republic (MINUSCA) became operational and it currently has a strength of 13,071 personnel including: 10,027 Troops. 380 Military Observers, 1697 International Police, 518 International Civilian Staff and 207 Civilian UN Volunteers. In less than 3 years it has suffered 34 fatalities.

Fresh elections were called for and completed in March 2016 which saw independent candidate Faustin-Archange Touadera installed as President. And on another totally unrelated positive note, CAR was named the country least affected by light pollution in the November 2008 issue of National Geographic! Considering I don't have electricity in my house between 0530hrs and 1630hrs daily, you can imagine that the lack of electricity may well be the reason for the lack of light pollution.
So what am I doing in the middle of Africa? Well I had to retire from the Irish Defence Forces last November on age grounds and never having taken up Golf, I needed something to fill up my time and was thankful to be offered a short term contract with the UN as the Chief of Security Information and Operations Center in the MINUSCA HQ here in Bangui.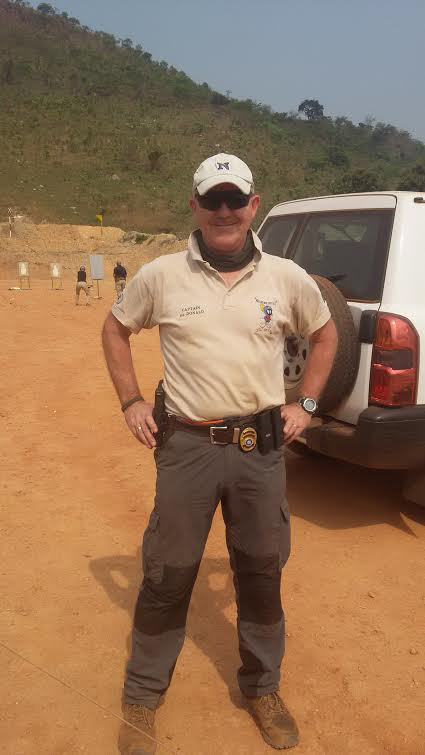 Shooting range in Bangui
Bangui is the capital and largest city of the Central African Republic. As of 2012 it had an estimated population of 734,350. It was established as a French outpost in 1889 and named after its location on the northern bank of the Ubangi River; the Ubangi itself was named from the Bobangi word for the "rapids" located beside the settlement, which marked the end of navigable water north from Brazzaville in the Congo. Bangui is a city teeming with life and variety, every day the screech of tyres, the blaring of horns, coupled with the red dust that works its way everywhere add to the assault on your senses that is an African City.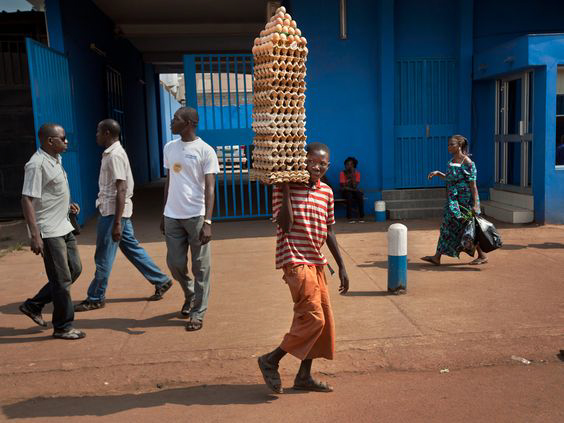 Egg Seller
The city seems to thrive on organized chaos as taxis and motorbikes vie with each other to apparently set a record for driving styles that would be better suited to stock car racing. Of course, that is not to forget the street vendors, the delivery boys pushing loads of cargo on oversized wheel barrows (push pulls), the mobile coffee sellers, and the general populace that always seems to be on the move. It makes driving here a combination of driving defensively, aggressively and using a rather large amount of 'cajones' all at the same time. Driving in Bangui is generally conducted in a state of apprehension, anxiety, disbelief and bewilderment, anger and laughter and is definitely not for the faint hearted. To reach your destination in anything resembling a calm state, is an aspiration seldom reached.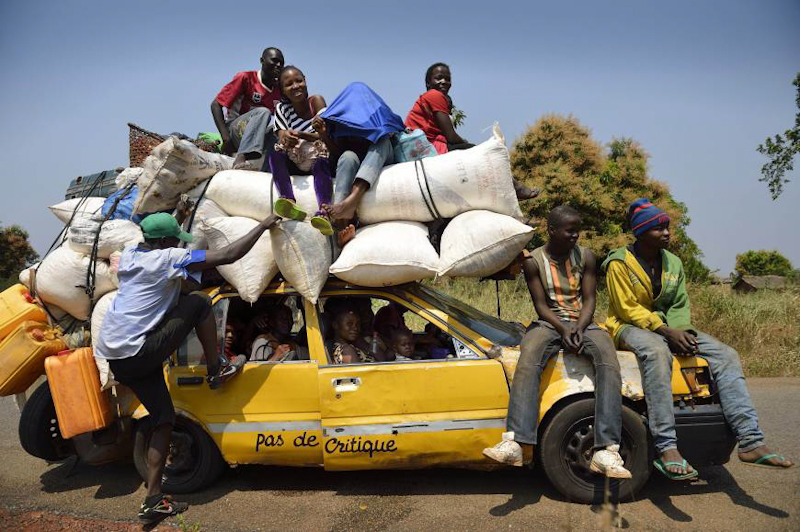 Taxi in CAR
And yet when you drive along the Ouabangui river on the way home, you can catch a glimpse of what Africa looked like for the first explorers, fishermen paddle their long, slim, low lying wooden dugout canoes effortlessly into the river, pausing only to cast a circular weighted net at pools of fish, taking advantage of the slack water behind some of the rapids. It is certainly a city of contrasts and the juxtaposition of fishermen working the same way as their prehistoric forbearers did, is in stark contrast to the cacophony of noise, hustle and bustle only a few hundred meters away.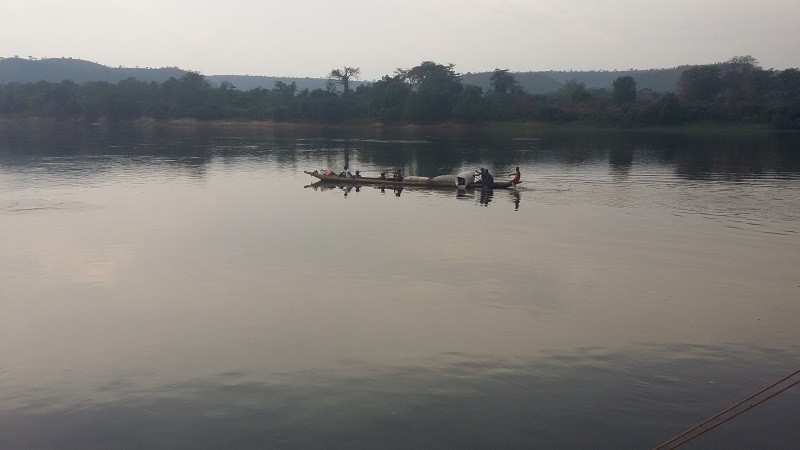 Pirogue in the evening
It is however only a short time since this city was convulsed into some of the worst violence imaginable. Gangs of local militias, both Muslim and Christian, seemed to outdo each other in not just killing and looting but unleashing a viciousness that beggared belief.
The city has gradually pulled back from the brink but a lot of Muslims have left and the Muslim quarter is now a shadow of what it used to be. There are still a large number of Internally Displaced Persons (IDP's) housed in makeshift camps around that city that have either fled from the fighting in their area of the city or fled to the city from the regions where the situation is a lot more unstable.

What has been often portrayed as a conflict between the mainly Muslim Seleka and the mainly Christian Anti Balaka, has often more to do with control over illegal diamond mines and the subsequent smuggling of those illegal rough cut stones, illegal wood cutting, illegal human trafficking and even cattle rustling. The religious lines get blurred and often family and tribe take on the only important sense of loyalty.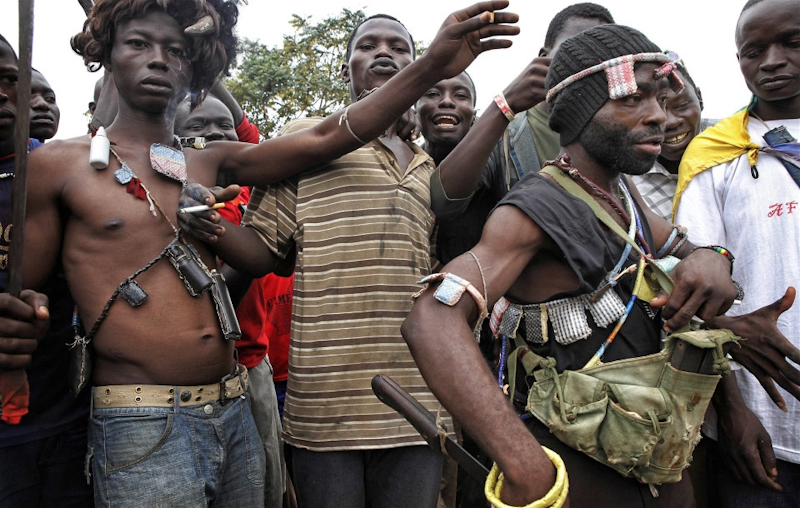 Anti Balaka fighters in Bangui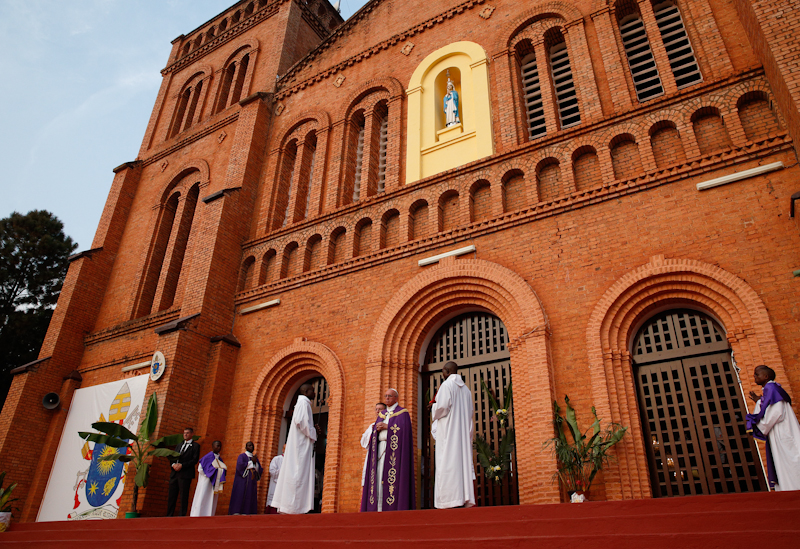 Pope Francis at Bangui Cathederal


In a sign that may signal a ray of hope for this beleaguered country Pope Francis during his first ever visit to Africa landed in Bangui last November for a 26-hour visit. During his short stay he visited a refugee camp, talked with government leaders, conferred with bishops and evangelical communities, celebrated mass and importantly meet with the Muslim community at a mosque. His visit to the Mosque in an area of the city known as PK 5 (Point Kilometer Cinque, as the city is laid out in kilometer sections) was certainly high risk as it had been the scene of some of the worst fighting between the Christian and Muslim militias. He travelled in an open top Pope Mobile and was warmly received by the local Muslim population. During his visit to the mosque Pope Francis said his visit to CAR "would not be complete if it did not include this encounter with the Muslim community". "Together, we must say no to hatred, to revenge and to violence, particularly that violence which is perpetrated in the name of a religion or of God himself. God is peace. Salaam," he added, using the Arabic word for peace.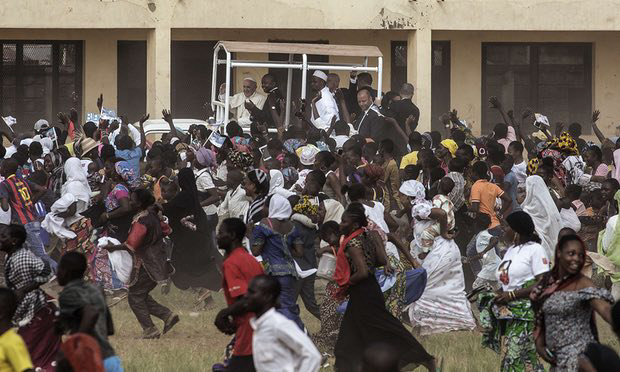 PK 5 Bangui Muslim crowds follow the Popemobile
So, on that somewhat uplifting image of peace and reconciliation I will finish off this piece as it's now time to start thinking of leave and the chance of a 'medium' in Johnnies.