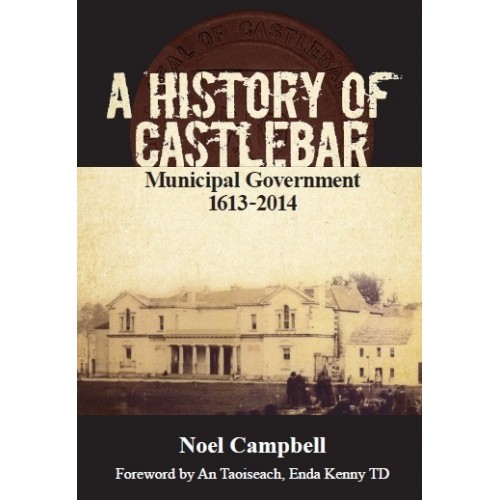 'A History of Castlebar - Municipal Government 1613-2014' written by Castlebar man, Mr. Noel Campbell

Saturday, the 10th of May 2014, saw the very successful launch of 'A History of Castlebar - Municipal Government 1613 - 2014' written by former town councillor Mr. Noel Campbell. The book was formally launched by An Taoiseach, Mr Enda Kenny TD.

There was a large crowd in attendance, comprised of former town councillors, Town Council employees and guests who have an interest in the rich and varied history of Castlebar.

The crowd was entertained with wonderful anecdotes from the many town council meetings of times past. A favourite of the crowd, was how, 18 years before the smoking ban was formally introduced in Ireland, forward thinking town councillor Ms. Eanya Egan banned smoking from the council chamber. This was proposed by the much since quoted statement, 'There is enough hot air circulating in the chamber, without us having to enhale awful smoke'.

Aside from the anecdotes and fond memories, the historical importance of this work was also noted by An Taoiseach. He cited the huge number of references and detailed appedices as an illustration of the depth and detail of the work carried out by the author, Mr. Noel Campbell.

This is a book that will stay with the people of Castlebar for generations to come.The town council may well have held its last meeting, and will make way for the newly formed Municipal Districts under the Local Government Act 2014.However, to quote the author, Mr. Noel Campbell, Castlebar town council's legacy, is and always will be that 'It built a town'.

The book is available from The Castle Bookshop, Castle St., Castlebar, Co. Mayo or online at www.mayobooks.ie.

For any queries, please contact The Castle Bookshop at 094 9024422 or castlebooks@eircom.net.