The Castle Bookshop, in conjunction with author Colum MacDonnell, are delighted to announce the launch of his book 'From Blackfort to Bosnia' on Wednesday, March 4th at 6.00pm.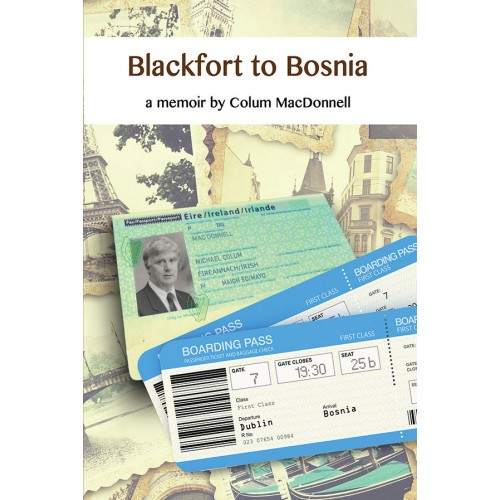 Book launch of 'Blackfort to Bosnia' by Colum Mc Donnell , Wed 4th March at 6pm at The Castle Bookshop, Castle St., Castlebar, Co. Mayo

This is an account of one man's engagement with different business cultures across the world, against the never ending background of Ireland's exports. Lessons and experiences are shared. The Arab businessman who asks about the health of your camels and wives, the Italian importer who becomes a jealous husband if you send flowers to his wife, the translator who writes, "hotel guests will be executed in strict rotation" make their appearance. As former head of the Irish Exporters Association the author is well equipped to give an insider's view of the internationalisation of Ireland's economy over the forty year period to 2013, a period when Ireland's exports increased one hundred fold. Analysing our present economic statues, he raises important questions about Ireland's foreign direct investment strategy - is it endgame or an interim strategy?

A graduate of TCD, the author joined Córas Tráchtála to promote exports to the UK in the wake of the Anglo - Irish Free Trade Agreement. With responsibility for CTT's operations, he led trade missions to Latin America and East Africa. International consultancy assignments took him from the Eastern Caribbean, assisted Serbia to set up and exporters' assocation, and carried out export development assignments in Moldova.

He grew up in Blackfort, outside of Castlebar, gathering mushrooms in fields along the Newport Road, carefully avoiding Moran's bull. He learned to cut turf and sharpen a scythe in Raheen Barr, spending weekends fishing and duck shooting on Lough Lannagh. Playing football for St. Gerald's College and Castlebar Mitchels, he won gold with Mayo's Minor team in 1953, playing for Sligo and Mayo senior teams in the following years.
---

Further details can be obtained by contacting The Castle Bookshop at 094 9024422 or by e mail to castlebooks@eircom.net