This is a wonderful book produced by Castlebar Town Council and local author James Laffey (author of the acclaimed 'Road to 51' ).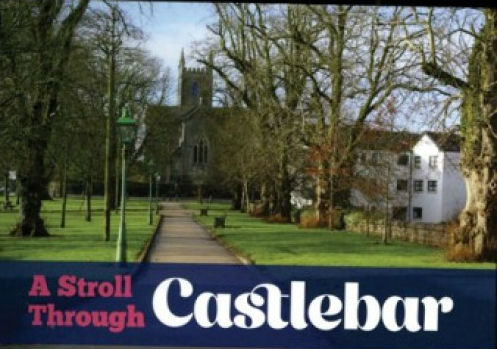 A Stroll Through Castlebar.
It is a fantastic book, it serves as both a companion to anyone who may wish to do a walking tour of the town, but it is also a great book to read at one's leisure, noting interesting facts about the town that you may have not known. For those who have moved abroad, this book will bring back memories of the county town with its lovely photographs and detailed descriptions.
It is a pocket sized book that is easy to fit into one's pocket and contains wonderful photography by local photographer, Michael Donnelly. Also, an interesting feature of the book are it QR Codes dotted throughout the publication. One can scan the relevant QR code with a smartphone and be immediately brought to a website that deals with a specific part of a walking tour. For example, on the tour that deals with Margaret Burke Sheridan, there is a QR code that brings to a clip of her singing at La Scala in Milan, a fantastic asset!
www.mayobooks.ie have added A Stroll Through Castlebar to their online catalogue - to be enjoyed by all.