Castlebar Tennis Club was host on Saturday 8 December to the Senior Connacht Team which was being honoured for their historic victory in the Senior Interprovincials last August. Former Connacht players and Council members gathered to show their appreciation of the team that made history by making this the first ever win by a Connacht team at any level. In recent years it was clear that a lot of junior home grown talent was emerging under the coaching of Garrett Barry, they played a key part in securing the win but the real strength was the combination of experience and talent throughout the entire team.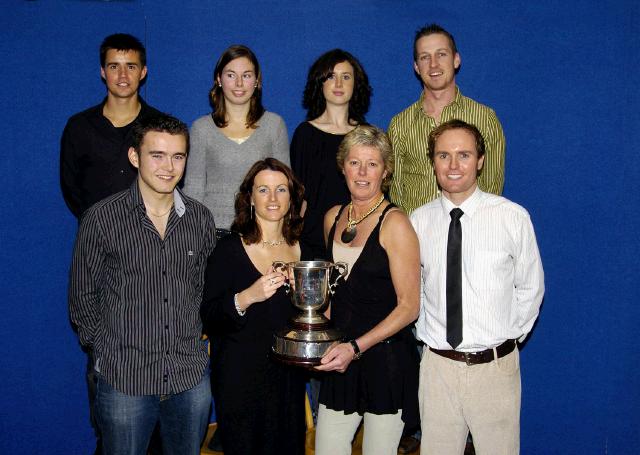 Pictured in Castlebar Tennis Club the Connacht winning team Front L-R: Glen Norman, Deidre Collins, Jenny Burrows, Tom McGrath, Back L-R: Michael Hayes, Laura Cuddy, Marian Hanley, Garrett Barry. Photo © Ken Wright Photography 2007.
Sadly the non-playing Captain Mick McHugh was unable to attend due to a family bereavement. In his absence, his contribution in terms of his enthusiasm and commitment in recent years was acknowledged. A presentation was made by the Connacht Branch to each team member. The team members are Garrett Barry, Daniel Glancy, Glenn Norman, Michael Hayes, Tom McGrath, Jenny Burrows, Laura Cuddy, Deirdre Collins, Marion Hanley, Ciara Hayes.
Next year the Interprovincials will take place in Connacht and there is every reason to believe that this team can successfully defend the Irish Team title.