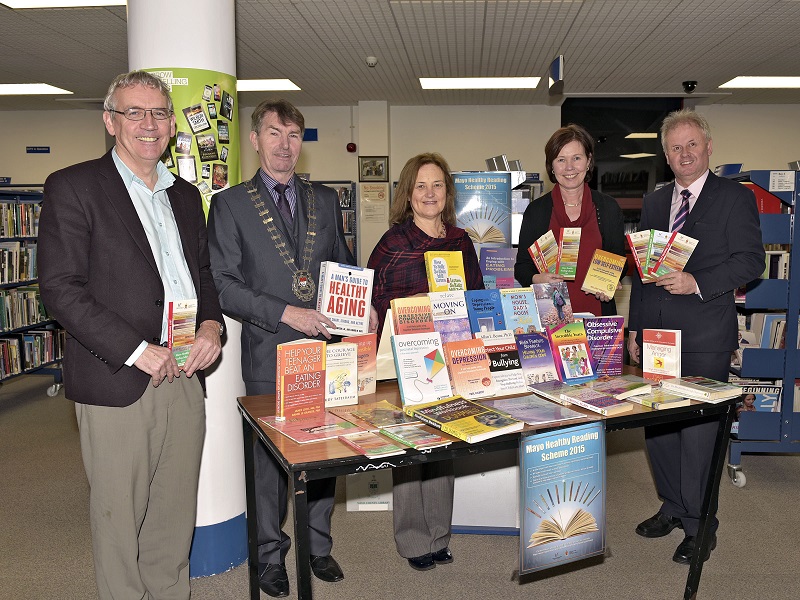 Pictured in Castlebar Library at the launch of the Mayo Healthy Reading Scheme, l-r; Austin Vaughan, County Librarian, Councillor Al McDonnell, Cathaoirleach MCC, Dr Meena O'Neill, Psychology Manager, Dr. Ann Cullen, Consultant Psychiatrist, Mayo Mental Health Services and Laurence Gaughan, Health & Wellbeing HSE. Photo © Ken Wright Photography 2017.
The Mayo Healthy Reading Scheme was recently launched at Castlebar Library. This joint initiative by the HSE and Mayo County Council Library Services aims to promote the availability of a wide variety of self help books on a range of common psychological, emotional and parenting issues.
A total of 88 books are available free to all library members at the various Library branches throughout the County. Topics covered include bereavement, depression, relationship problems, parenting issues and self esteem. Titles of available books include children and bullying, overcoming depression, Overcoming childhood trauma, the Mindful way through depression, Parent Power and many more books of this nature. All of the books have been recommended by Health Professionals.
There is now very good evidence for the effectiveness of high quality; self help books, for psychological problems such as mild to moderate depression, anxiety, panic attacks and a range of other difficulties. Studies have demonstrated that for these types of difficulties the best books can produce results comparable to those of psychotherapy or even drug therapy. Self help books can be highly effective when used as a main source of help, or in addition to counselling or prescribed medication.
Speaking at the launch of the Scheme Dr. Anne Cullen, Consultant Psychiatrist said "the majority of mental health problems are treated outside of the mental health services by GPs and community services. The Mayo Healthy Reading Scheme provides evidence based self help interventions for people experiencing mild to moderate mental health problems and is a very valuable and accessible additional resource for this group of people".
Chairperson of Mayo County Council, Councillor Al McDonnell said "This joint initiative between Mayo County Council and the HSE, has made available to adults and Parents a very valuable free resource which he hopes will be widely promoted throughout the County".
Separate reading lists have been prepared for adults and for parents. Copies of information leaflets with the reading lists and further information on the scheme are available at all Libraries, throughout the County. Further information can also be obtained at www.mayolibrary.ie telephone 094 90479224.