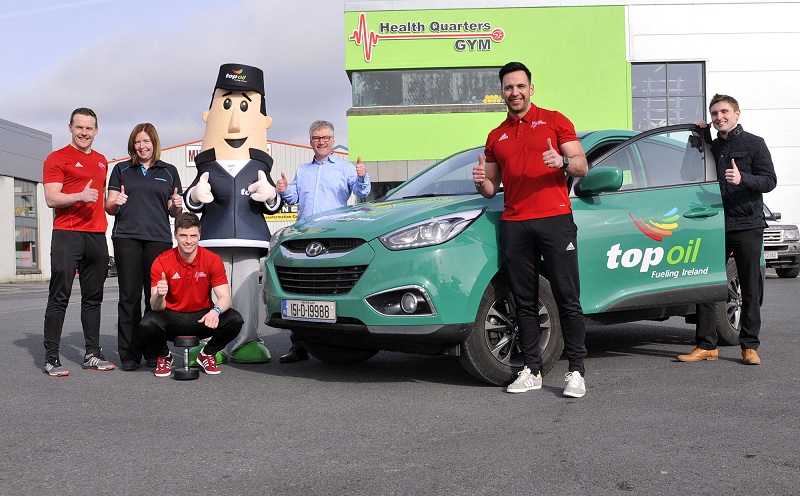 Pictured at the launch of the Top Oil loyalty cards, in conjunction with Health Quarters Gym, Front l-r; Neil Douglas, trainer/instructor, George Fitzgerald, head trainer and Mark Kiernan, CSR team manager Top Oil back l-r; Andy Moran, (proprietor Health Quarters Gym), Lorraine Reape, Manager Mace, Mr Ted, Tomas Waldron, Business Development manager Top Oil. Photo © Ken Wright Photography 2016.
"Top Oil Castlebar have teamed up with Andy Moran, Health Quarters, Castlebar to bring all of their valued customers and members a very special offer this spring.
All new and existing members of Health Quarters can now sign up to Top Oil Loyalty Card. This will allow them to receive an extra 3 cent per litre off petrol or diesel, when they fill up at either PKD Top Oil Service Station, Moneen Road, Castlebar or Staunton's Top Oil Service Station, Ballyheane.
Padriag Delaney, owner of PKD and Marie Staunton owner of Stauntons, along with Andy Moran of Health Quarters are delighted to offer additional savings to their valued customers of Top Oil and Health Quarters
Top Oil is a 100% family owned business dating back over 200 years, product quality and high standards of customer service are paramount to the Top Oil team. Tomas Waldron, Business Development Manager, Mayo said "customers continue to switch to Top Oil because we have a strong Irish brand and are known to provide Quality Assured Fuel at competitive rates. As fuel importers we can stand over the quality of our product from port to pump. We are delighted to work in partnership with Padraig and Marie with this fantastic offer. For more information or to sign up for a Top Oil Loyalty Card, speak to a member of staff at the Health Quarters or call Top Oil Castlebar on 094 9028282."