The Dr. David O'Kane Memorial Cup was held in Castlebar Tennis Club on Saturday, September 1st 2012. Despite the rather "damp weather", 34 players participated in the event.
Sponsored by the O'Kane/Connolly families this competition is now in existence for 16 years. All funds raised on the day go towards CYSTIC FIBROSIS a condition, which Dr. O'Kane worked closely with every day in his Paediatric career. Castlebar Tennis Club wish to record their thanks and appreciation to Irene O'Kane and her family for continuing to sponsor this event in David's name.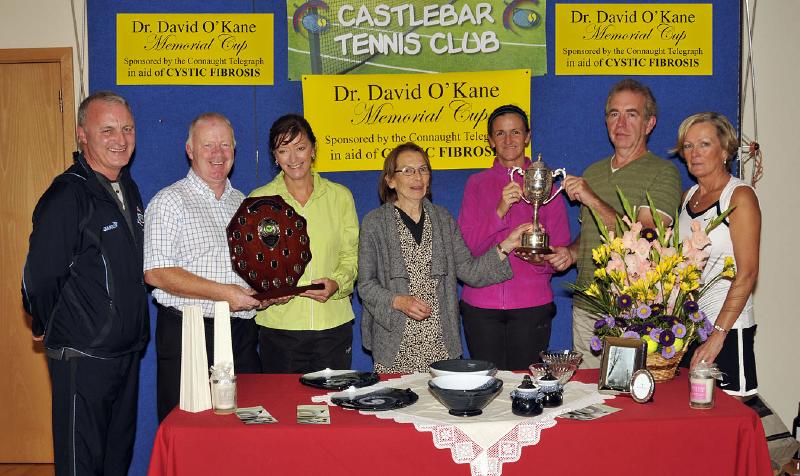 Castlebar Tennis Club, Dr. David O'Kane memorial Cup sponsored by the Connaught Telegraph in aid of cystic fibrosis, l-r; Pat Conlon, men's captain, Donie Colman and Loretta O'Malley, winners of the shield , Irene O'Kane, sponsor, Kay Neary and James Ryan, winners of the cup and Pauline O'Donohue, lady captain. Photo © Ken Wright Photography 2012.




It is a fantastic achievement for our new members, James and Kay to have won this event just edging out Donal and Loretta in the final count back. Thanks also to our Director of Tennis, Garrett for organising the draw.

Keep an eye on the Notice Board for the Club Championships dates coming up!!

Section 1: Winners: James Ryan & Kay Neary (Also Cup Winners)
Runners-Up: Roger O'Kane & Katrina Conlon

Section 2: Winners: Donal Coleman & Loretta O'Malley (Plaque Winners)
Runners-Up: Karen Martinez & Diane Kellett.

Section 3: Winners: Anne O'Malley & Bernie Caulfield
Runners-Up: Patty Merrick & Shane Coogan.