---
The pupils of St. Patrick's De la Salle BNS, Castlebar have been busy celebrating Seachtain na Gaeilge. As part of their celebrations all of the senior classes took part in a Tráth na gCeist, which was both competitive & entertaining. Many classes did project work & art work showing off their knowledge of Irish. All week music of Irish artists was played throughout the school.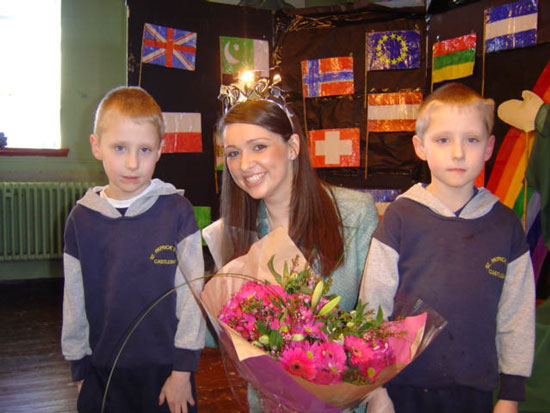 Aoibhinn receives flowers from the boys in Rang 1.
The school had a big day on Friday, March 10th when the Rose of Tralee, Aoibhinn Ní Shuilleabhain came to visit. Aoibhinn entertained the younger children with an enjoyable scéal 'Múscaill a Renée' She then visited the older classes where there was plenty of cómhrá as Gaeilge. The children had a lán ceisteanna for Aoibhinn regarding her year as a Rose.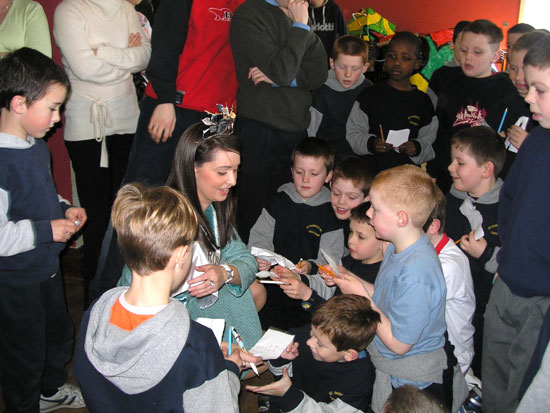 Aoibhinn is busy signing autographs for the boys in St. Patrick's De la Salle BNS
We finished off the day with a lively ceolchoirm of traditional Irish music with Mr. McEvilly and his two companions, Tommy Doherty & Peter Duffy.
The following week the boys continued to practice all their tunes in preparation for the St Patrick's Day Parade. Our pageant this year was bigger & better than ever.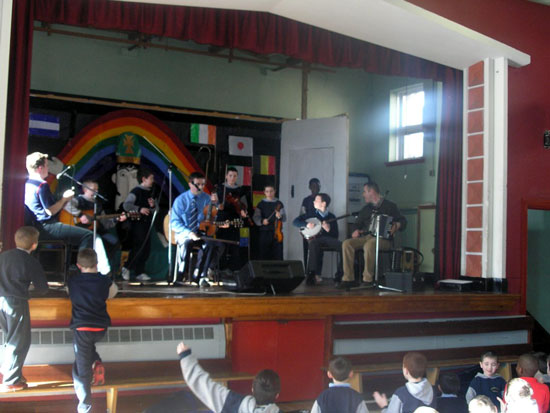 A traditional music Session led by Mr McEvilly
Bhaineamar a lán taitneamh as seachtain na Gaeilge Bhí an-spóirt agus craic ag gach duine. Bhaineamar a lán taitneamh freisean as Lá Fhéile Pádraig.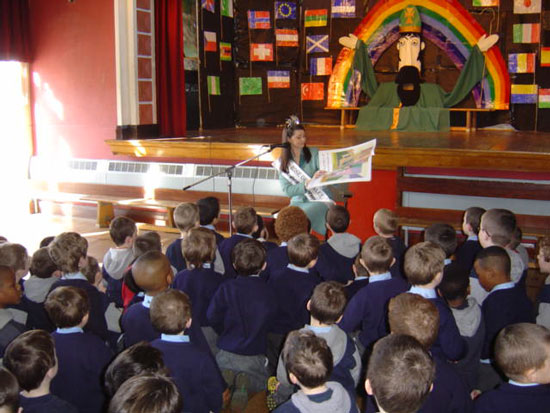 Aoibhinn reads a story to the younger children in St Patrick's De La Salle BNS
© Copyright 2006 by the author(s)/photographer(s) and www.castlebar.ie

Top of Page