---
On Friday last, 16th June, the boys of 4th class in St. Patrick's BNS made a presentation to Mrs. Peggy Lee to show their appreciation for all she did during the year in teaching them all about the history of Castlebar Town.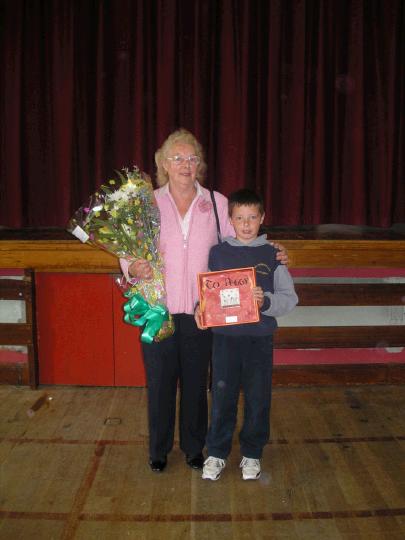 Peggy Lee & her grandson Adam.
Peggy got a fantastic response when a recent article appeared on the Castlebar website regarding her historical tours of Castlebar with the boys of St. Patrick's BNS. She received phone calls from, New York, Canada, Colorado, England & the Vatican in Rome. She was delighted to hear from friends and relatives she hadn't heard from in many years. There was also a great response on the Castlebar forum. Everybody was very complimentary to Peggy for the work she has been doing with the children.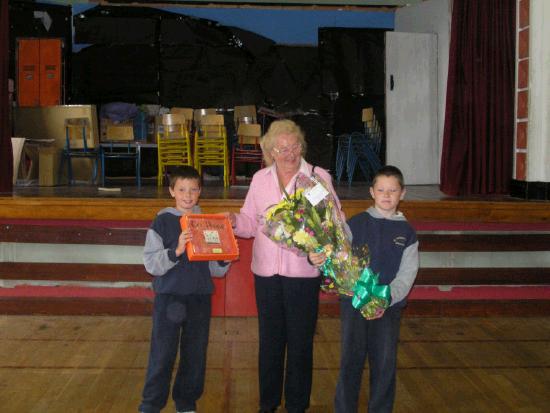 Adam & Seán present Peggy Lee with flowers & a book of photos, songs & poems.
The boys in St. Patrick's showed their appreciation to Peggy when they presented her with flowers and a book which they created themselves containing photos, pictures, poems & stories which they wrote about their historical tours. They thanked Peggy for teaching them all about local history.They look forward to working with Peggy again in September. Well done Peggy.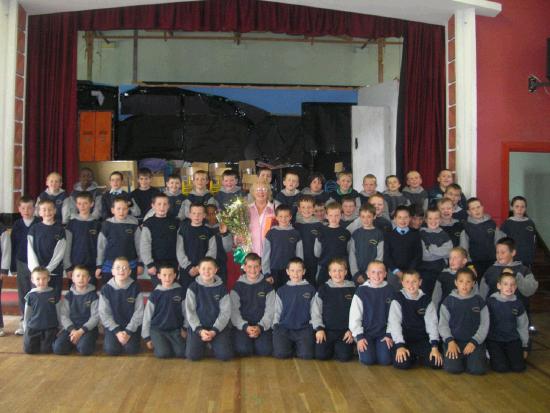 Peggy Lee & rang 4, St. Patrick's BNS
© Copyright 2006 by the author(s)/photographer(s) and www.castlebar.ie

Top of Page