---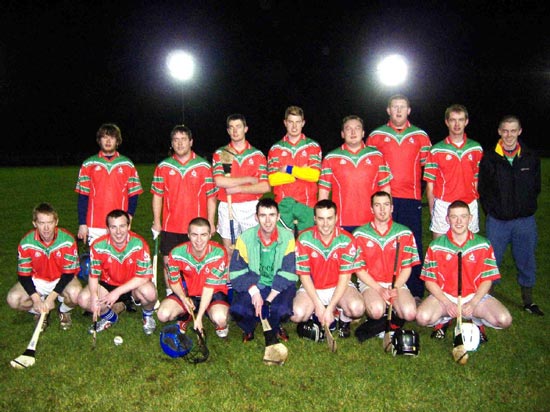 Hurlers put finishing touches to championship preparation
Men's Football
The Men's GAA team had a very short championship run when they fell at the first hurdle, failing to overcome I.T Blanchardstown. The game was played in near perfect conditions in Parke on Wednesday Feb 1st (rarely can February have arrived more pleasantly). The visitors started strongest and really dominated the opening exchanges but the backs held steady, (old stagers Conor O'Malley Daithi Condon & Nicky Corr marshalling their lines well), and thanks to one exceptional save from Robert Burge there were only two points given up before the counterattack started. Christy Keaney, who was at the heart of everything that happened for the next fifteen minutes, spearheaded that fight-back. He tacked on six points without reply winning possession time and again passing defenders with ease, and when he wasn't firing scores from long range he was pointing the frees that came from great work by Sean Walsh and Jimmy O Brien.
There was a while when this looked like being a runaway as Christy ran riot, but one error proved to have serious repercussions. At the end of another great attack he needed only pass out the line to Alan McHugh who had the goal at his mercy, instead he chose to continue the run and in the end he was caught between two, (if not more!!), minds and the resultant effort sailed harmlessly wide. This could have been the nail in the coffin; instead it proved to be the lifeline for the Dubliners as they went down the other end to score. They added another before the break to keep them very much in contention at half time.
The second half was a non-event, Blanch finally got to grips with Christy and there was no one else prepared to step up to the mark. Despite some superb work in midfield from Ruairi Leddy and Dan Breen from Breaffy the possession won was squandered time and again. Promising attacks were set up but inevitably the final pass would go astray or the wrong option was taken.
To their credit the lads never gave up and late scores form Christy again and Alan Mchugh Gave the Dubliners a few nervous moments. A late siege of the Dublin goal was laid (at a time of a two point lead) but the defence held firm and when they broke out to pick off a fine score the issue had been settled – Blanchardstown advanced winning 13 pts to 10
It was far from a soulless performance from GMIT, (with several valiant efforts at sparking the comeback required), more of a rudderless one with a lot of wasted effort wrong options and blind alleys. This was the disappointing aspect as Castlebar had arguably the best of the talent on display; they were however reaping what they sewed in terms of a poor league campaign and a haphazard approach to training.
As always it's about picking the positives and while Terence Gallagher, Conor O'Malley, David Hussey and Captain Nicky Corr bid a fond farewell to Colleges football (with thanks for all they have contributed over their long – and in the case of Hus very long! - and distinguished careers), the emergence of first years of the quality of Ruairi Leddy, Damian Dixon, Robert Burge and Dan Breen allied to the strength of Niall Quinn, Eoin Costello and the fire Power of Christy Keaney mean the potential is there for a strong fight-back next season. A first round exit presents big questions – how deep theses players search for the answers, will provide the key to what the future holds. The Final word on the day has to be reserved for Christy's virtuoso performance. Scoring all but one of the total of ten points, he was spellbinding for the purple patch in the first half when he had the Midas touch. Both sets of mentors as well as the watching Magee College of Derry (who had made the long trip to scout their opponents) were filled with quiet admiration for what was an exceptional individual performance. Everyone involved in the team wishes Christy all the best for his involvement with this years Donegal U-21 side.
Team – Robert Burge, Colin Walsh, Daithi Condon, Conor O'Malley, Nicky Corr, Damian Dixon Terence Gallagher, Ruairi Leddy, Dan Breen, Sean Walsh, Christy Keaney, John Murtagh, Jimmy O Brien, Niall Quinn, Alan McHugh
subs – Darren Newell, Tom Nolan, Eoin Costello, Noel Marley.
Hurling:
Robert Burge, Daithi Condon and Damian Dixon won't have long to wait for their change to exact revenge on Blanchardstown, as these dual stars will make the trip to Dublin next Tuesday as the hurlers start their bid to regain the ALL-Ireland crown they relinquished last year. Having slipped form the dizzy heights that saw them lift the Fergal Maher Cup in 2004 they have steadied the ship with an impressive intake of hurlers this year. They had a mixed run in the league; an excellent performance on the opening day somehow transpired not to give them the win they deserved against Sligo. Long time rivals GMIT Letterfrack turned them over on a largely forgettable (bitterly cold) November day, but they finished in fine style with an impressive win over Athlone. They have kept the pressure on in training over the winter and were looking solid in two training runs with Castlebar Mitchels in the championship run in.
They have a strong base with six Medal Holders form 2004. Barry Newell between the posts is one of the most reliable custodians you could ask for while Moycullen's Sean Callaghan now captains the side and needs only a half chance to pick off a score. Michael Byrnes and Daithi Condon are driving forces around the middle of the field. Two Clare men Stephen McDonagh and Leon Vaughan have made the transition from the bench in 04 to the starting line up with ease. The full back line is extremely solid with the inclusion of Colm O'Riordan and Robert Burge who have been probably the most consistent performers all season.
Dual star Damian Dixon has been ever reliable at centre half back. The perfect mix at Midfield has possibly yet to be struck, but whether he lines out here or in the half forwards Michael O'Connell has the potential to be a match winner on any given day. When he fetches a high ball and contorts his 6'3 frame to start of on his trade mark solo run he truly is a joy to watch, capable of picking points of either side or spotting the perfect cross-field ball, he can light up any occasion. The only question mark comes form the fact that Michael at full tilt has only been glimpsed in patches, If he can find the spark that ignites him and keep it lit for the full sixty Castlebar will have an ace that Blanch will find it hard to trump. Another potential Match winner is John Bridges from Shannon, a giant of a man John has the deftest of touches and strikes the ball sweetly. His only league start was cut short by injury but if his form in training is anything to go by we could be in for a treat if he gets into full gear. Mark Solan and Ger Walsh are just what you need in wing forwards they will fight for every ball marks is nifty and makes space brilliantly, (and is well capable of contributing vital scores), while Ger has improved beyond recognition over the last year and his fielding is undoubtedly his strongest point. Eoin O Droighneann from an Spideal has been incredible since his introduction half way through the league. It is impossible to be sluggish when you have Eoin beside you giving 130% his work rate is inspirational, he has and will be used in a variety of positions, with a midfield role possibly suiting him best. Michael O'Neill has been solid all year at full forward and will be hard to move from his berth there, winning a lot of possession and setting up countless scores for oncoming players – while being fully aware of where the posts lie. Daithi King will be a big loss, (out with a broken wrist) and between the jigs and the reels you can expect telling contributions from Tim Donnellan , Damian Conneely, Jonathan English and Ciaran Cuddy ( Ciaran is making good progress from a knee op at present and is looking good in training) whether from the start or on introduction they can all be relied on to play their part as needed.
Championship can be a cruel beast, but the lads have prepared well over the winter, some observers would be of the opinion that this side is better balanced than the All-Ireland winning side of two years ago. What has yet to be seen is how good they can be when as an entire group they fire on all cylinders. The road ahead is tough, (if they overcome Blanchardstown- they will have to beat defending champions Tallaght to reach the finals weekend). The challenge ahead of them is as a team, (and individually), to pinpoint the moments when they hit top gear and maintain that pace for a sustained period, if they can manage this and play to their potential they will be an extremely hard team to beat. Within one month the lads could be revelling in the glory of an All-Ireland win – or reflecting on what might have been. The potential is undoubtedly there; whether they are prepared to do everything necessary to turn that potential into achievement is the burning question.
© Copyright 2006 by the author(s)/photographer(s) and www.castlebar.ie

Top of Page