---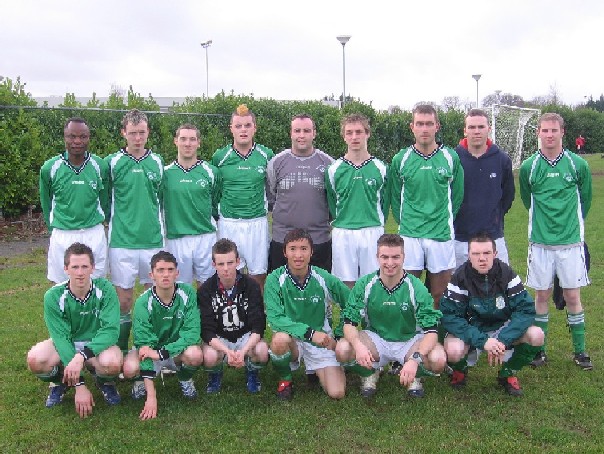 GMIT @ Castlebar Men's soccer team
The men's soccer team secured their place in the Colleges & Universities Umbro League semi-final this week when a 3-0 away to Athlone I.T. saw them come out on top of Division 1 West.
The win set them up with a home draw against Fermanagh College who were top dogs in Div 1 east, who travel to Castlebar with an impressive record and quite a reputation. The game is set for wed 6th Dec with kick off @ 1.30 in St Mary's.
The group stages saw them struggle in their first game against GMIT Galway and it took a Colin Walsh equaliser deep into injury time to salvage a point. There were signs of improvement but a long way to go when they overcame Letterfrack in their next game, a game in which Ronan Staunton put in a man of the match display to secure his place in the defence.
The following game was the top of the table clash with I.T. Sligo in St Mary's. It was in this game that all the pieces came together; first in every challenge Castlebar outfought Sligo in each position and ultimately with goals from John Carroll and Tommy Ka emerged with the priceless points which left them top going into the last day of the season. The celebrations following this game showed how much it meant to the team and indeed they had put themselves in a position where they were masters of their own destiny- a win against Athlone and they knew the title was theirs.
As it happened it Athlone came in to the game with nothing left to play for and provided little opposition in what was really an anti-climax following the excitement of the Sligo game.
As they face into this semi-final they must know that if they reproduce the form shown in the Sligo game they will be difficult to beat on their own ground. Team coach Declan Kilkelly is happy with the progress being made by the side but admits that in the short college season it is hard to get the finished product and as such the team is still a work in progress. Jason Ollerenshaw has been very steady in Goal and this always settles down the players in front of him. It now appears that team captain Ashley Devenney will miss the big game through injury, a huge blow for him personally as well as for the team. Manulla's Colin Walsh has had to revert to the centre of defence in his absence and while he will be missed from midfield he was absolutely outstanding in the Sligo victory. Noel Marley from Castlebar will partner him in the heart of defence and very few players give as much effort in the course of a game as Noel, he is proving excellent in the air and fearless in the challenge, but just might need to be a little calmer in his approach to the big day. Since the early jitters in defence John Mullins and Ronan Staunton have come in to the full back spots and given a couple of flawless performances which all points to a back four that will be hard to break down on the day. The centre midfield pairing is a perfect mix of experience and youth. Pierre Issouck has anchored the middle expertly and his strength and reading of the game are vital to this young side, his late runs into the box also cause a threat and he has already found the net in this campaign. Alongside him Daniel Loftus from Ballyglass is full of tricks and tireless running and he may just provide the creative spark that will make the difference on Wednesday. On the flanks Tommy Ka weighs in with ferocious competitiveness and great work rate while John Carroll has a more considered approach and can split defences with his insightful passing, both men have cropped up to score influential goals so far and Tommy is a constant threat from the dead ball. Up front Darren O'Grady has proved an effective target man and he holds the ball up extremely well allowing others to come into the game around him. He could possibly benefit from taking a more selfish striker approach but has several solid performances behind him. Leon Vaughan is the man on who a lot might hang on the day. He has so far this season shown so many sides to his game that it is impossible to know which Leon will appear on the day. If it's the Leon who can drift seemingly uninterested through a game and overplay the ball to the frustration of his colleagues then the outlook could be grim. However if it's the Leon who scored the wonder goal against GMIT Galway or tore the defence to shreds before setting up Pierre for a simple finish, or the Leon that single-handedly gave the Sligo back four such a hard time that they were rushed into mistakes and forced into errors that ultimately set up the platform for a Castlebar win; he could well be writing the headlines come 3.30 on Wednesday.
Kevin Rhattigan has proved that there are options on the bench and his height and strength make him a handful, as he showed against Galway cropping up to get his name on the score-sheet shortly after coming on. While Ashley and Jimmy Gruddy are sorely missed through injury and it is not yet known whether either will be fit to play even a small part there are still options on the bench where Connor Downes, Denis Tabilas and Paul Ka will all be able to make an impact should they be called on.
© Copyright 2006 by the author(s)/photographer(s) and www.castlebar.ie

Top of Page