---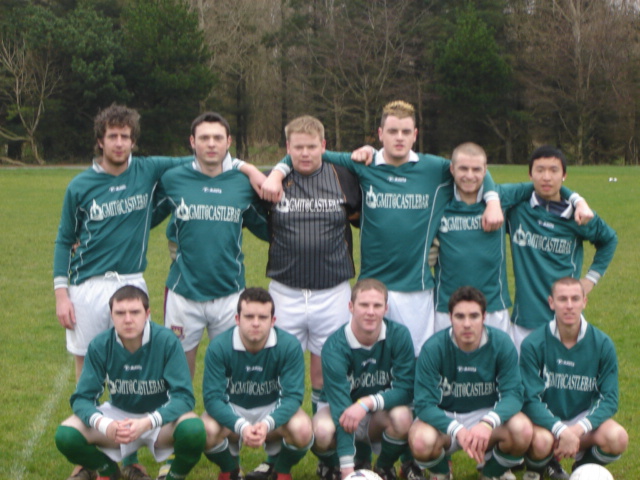 gmit Castlebar men's soccer team
Cork College Of Commerce 1-2 GMIT Castlebar (After extra time) Mon Feb 27th
The men's soccer team mounted another epic comeback to qualify for the CfAI Umbro National finals to be played in Cork on March 7th & 8th.
Sunday's club fixtures took their toll on the travelling party for cork and leaving without Alan McHugh and Christy Keaney (who both got injured at the weekend) was a massive blow. Cork were strongly fancied, on the back of impressive results and boasting a member of the Irish Colleges team, and with a weakened line-up things did not look very promising.
They looked a lot less promising within ten minutes as Cork opened strongly and dominated exchanges. The lads looked like weathering the storm until they struggled to clear their lines and the returned ball bounced cruelly off a defenders arm giving the cork men a penalty, which was coolly converted.
Castlebar gradually found their feet, thanks mainly to growing confidence in the centre of the park where Colin Walsh and Dave Lee dominated, while their chances were mainly limited to set pieces they were looking much more confident as they faced into the second half.
Cork were not without their chances But keeper Dave Hussey was on top of his game and dealt with anything that came his way. Indeed the defence in general was starting to perform much more as a unit with Noel Marley proving very effective in the stopper role at the heart of defence and Conor O'Malley and Ashley Devenney dealing comfortably with anything that came down the wings. Daren Newell was pulling all the strings very effectively as he marshalled his defensive unit and swept up anything that looked like causing a problem.
The centre of the field was where the big battle was being fought and the fact that Colin and Dave were shading it against very strong opposition gave room for a bit of optimism. The ball they were winning meant that the striking duo of Nicky Corr and Tom Nolan were no longer working of scraps.
From this possession they started asking questions of the cork defence who no longer looked so assured and Nicky was unlucky on more than one occasion. The do or die nature of the fixture gave a sense of urgency and pressure mounted, with Tommy Ka getting a bit of freedom down the left to float in some dangerous crosses. The goal when it came spoke volumes for the determination and spirit of the side. Colin Walsh came out best of a crunching exchange in Midfield, which left a cork man lying on the ground, as he progressed he was undoubtedly fouled, (as stud marks on his chest later testified), but he ref waved play on as he fell and the ball bounced into the area. With the body count rising there was certain hesitancy as many players waited for a whistle, Tom Nolan was not one of these and he charged forward to get a head to the ball a fraction before the advancing keeper. The keeper tried to claw his way back but Tom had the strength to hold him off and roll the ball into the empty net, as he looked back there were bodies strewn and confusion abounded, there was an eerie silence as everyone looked to the referee- he had seen nothing out of order and calmly indicate a goal sparking off riotous celebrations. There were still chances at both ends as tired legs started to give way. Noel Marley was superb as this pressure came on and header followed tackle followed last ditch block to ensure nothing got by, and as had been the case throughout Darren Newell picked off anything that dared to slip by. Ninety minutes passed and extra time loomed.
Ashley Devenney who had given everything had to fight through cramp, as Dave Kenny had already come off the depleted bench to relieve Leon Vaughan. And all over the field valiant efforts were being made to summon the energy to keep making the extra runs that the situation needed. If the equalising goal was down to determination, the winner was sheer inspiration. With no room for elegance in defence, clearances at some stages were of an anywhere but here nature. Nicky managed to get a head to one of these and deftly flicked it into the path of the onrushing Tom Nolan. Tom took it on his chest and knocked it into his path while checking his stride to angle himself for a fierce volley, which crashed in of the underside of the crossbar, for a goal worthy of winning any game.
There was still a long way to go as Cork found renewed vigour faced with exit from the competition and the second period of extra time was pure Alamo!
All hands were on deck and bodies were thrown in front of goal bound efforts time and again. There were heroes all over but two stood out Noel Marley who covered every blade and found an extra gear when his team mates faltered and Nicky Corr whose intelligent play and hard work upfront held up the ball to give the defence the relief it needed (and without which it surely would not have been able to hold out). But hold out it did and the celebration on the final whistle were those of a team who had once more shown that when something extra was needed in a situation they knew where to find it.
The lads now go into the finals tournament where they will again be underdogs, (at this stage they wouldn't have it any other way!!), as they face Limerick I.T. in the semi-final. But they are growing in self- belief with each round that passes. In defence no more can be asked of Ashley, Conor and Noel while Darren is looking more and more assured in his organising role. The switch of Dave Lee to mid-field has been the inspiration and it has brought the best out of Colin Walsh, any central Duo that get the better of these two will know they have been in a game, There is room for improvement out wide with neither Leon Or Tommy putting on their best display in Cork. Tommy Nolan will be buoyed by his excellent strikes while the Nicky has been getting better with each game. With Alan and Christy to come back everyone knows pressure is on for places and that's just as it should be going into a big tournament.
The Finals tournament is the pinnacle of Colleges soccer and it will be great for the lads to experience what it is all about, But knowing what they are made of and how they have fought to get here being there isn't enough, and they intend to have a very big impact on where the final honours will go.
© Copyright 2006 by the author(s)/photographer(s) and www.castlebar.ie

Top of Page