---
Hurlers advance to Maher Cup quarterfinals.
IT Blanchardstown 4-5 .GMIT @ Castlebar 3-10
A rain soaked pitch in Blanchardstown made this First round championship game a bit of a lottery. The conditions did not seem to affect captain Sean Callaghan who set a marker with a delightful score; pulling on a loose clearance, he met it sweetly to dissect the posts. When this was followed by a fine points from Michael O' Connell and a brace form the ever-improving Ger Walsh, things looked completely under control. But then the pattern of the match emerged, just when the lads looked to be opening a gap a mixture of poor communication, bad defending and the terrible conditions gifted the Dubliners a goal chance – which they took with great conviction.
Starting to get a grip in midfield they then began a period of dominance, and a few pointed frees had them edging in front.
Sean Callaghan switched out the field and when he unleashed a high ball into the square Michael O'Connell climbed highest and with a strong connection doubled on it to crash it to the net. Again the lead was short lived as the defence, (the most reliable component of the team all year), managed to work itself into a knot and gift a further goal. The switch of Damian Dixon to midfield form centre-half back, (with Michael Byrnes making the opposite journey), bolstered both departments-Dixon in particular putting the shackles on Blanhcardstowns most influential player, this duel was possibly the highlight of the game and that Damian came out of top is very encouraging as he looks like he may make mid-field his home. Ciaran Cuddy and Michael O'Neill, were both unlucky with efforts at points before Seanie and Mick O'Connell knocked over a pair each,(the pick of these coming from Mick at the end of one of his mazy solo runs).
The introduction of Daithi Condon, steadied a defence that was having a bad day at the office, despite this Keeper Barry Newell had been performing well and could not have been faulted for the previous goals. He will have to hold his hand up for the third goal as an error of judgement handed the Dubliners yet another lifeline.
The team has great strength in depth and to be able to introduce a player of the calibre of John Bridges was a great boost immediately contributing a point. Tim Donnellan also entered the arena at this stage and added some much needed steel to the attack winning several telling clashes upon his introduction.
Jonathan English and Damian Conneely were now starting to win possession and the lads started to turn the screw again. The goal that pushed them back into the lead was sublime! Moving Big John Bridges onto the edge of the square was a signal of intent and he duly got on the end of the more direct possession being bombarded that way. As he moved across the front of the small square and rose to meet the next delivery nothing seemed to be on, as the dubs were marshalled to block him on his return to earth. Foiling their plan he simply flicked his wrist and with the slightest glance of the hurl re-directed the ball to the opposite corner past a bewildered 'keeper for one of the sweetest scores imaginable. With Eoin O'Droighneann coming out on top of his mid-field battle and Mick O' Connell adding what looked like the security point, things should have been done and dusted. But the kamikaze tendency was still in evidence and when the dubs pilfered a fourth goal it looked like the trip home would be a long one indeed.
But if there is one thing this side is not lacking and that is spirit, nothing but a goal could save the day at this late stage and they threw everything in to getting it. It looked like all coming down to Seanie who fired in rocket to a packed defence, indeed it was too packed as someone got a stick on it to keep it out. That could have been game over and all lost but Michael O' Connell wasn't giving up that easily. First to recognise the block had not been properly cleared he dashed to where it fell, having more ground to cover than the nearest defender he had to lunge bravely to get there ahead of him. His bravery and strength paid off, for he got there a fraction of a second ahead of his opponent, he connected cleanly and sent the ball crashing low to the net to seal the victory.
It was a victory that was won the hard way, and the mountains that were climbed were very much of their own making, but the point remains that they scaled whatever peaks were put in front of them. While the backs were not at there best they know that they have a better performance in them and Colm O'Riordan and Robert Burge will ensure that they do not have a repeat performance. Perhaps more is now known of the correct balance in the half backs and mid-field and there can be no faulting an attack that puts up 3-10 in such terrible conditions.
The lads now face reigning champions I.T. Tallaght and they now that will have to improve a great deal to overcome them and advance to the finals weekend in Cork, (where they will share the stage with the Fitzgibbon competition). But in virtually ever area they know that they can improve. It might be no harm that the watching Tallaght Scouts went away thinking they were in the driving seat, because these lads know that there is more to their game than was on evidence here. With Mark Solan hopefully recovered from illness there will be another ace to unleash that Tallaght have not reckoned on. Now they have a week to recover and recharge. The ¼ final will be in Ballyheane on Tuesday Feb 28th. The Boys know they have a very difficult task ahead of them but if Tallaght come down without realising the same applies to them, they might be in for a big shock.
Team – Barry Newell, Stepehn McDonagh, Damian Conneely, Colm O'Roirdan, Leon Vaughan, Damian Dixon, Robert Burge, Eoin O Droighneann, Michael Byrnes, Ger Walsh, Michael O Connell, Jonathan English, Ciaran Cuddy, Michael O'Neill, Sean Callaghan. – introduced. Daithi Condon, Tim Donnellan, John Bridges.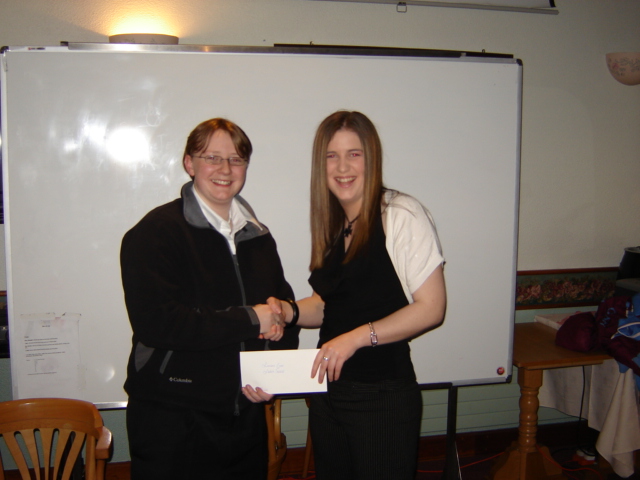 Louise Mulready presenting cheque to Lorraine Coen
Scholarship Awards for Top Athletes
Two Students of GMIT @ Castlebar were awarded scholarships for the sporting achievements at a Ceremony in Galway on Thursday last. The Scholarships are presented annually to Students who have shown themselves to excel in their chosen Sports. This years awards are thoroughly deserved and the recipients Lorraine Coen From Galway and Ruairi Leddy from Roscommon have both already represented the college with great distinction.
Lorraine received the Award for Soccer and her displays this year have been outstanding, with some breathtaking goals in the League. She was a major factor in the College winning the Indoor Intervarsities Plate at the end of January and she is awaiting results of her trial for the National Colleges Team. She has also an impressive c.v including National titles in Schools Volleyball as well as Connaught titles in Badminton and Camogie. Lorraine is a true all-rounder and is a great asset for the College.
Ruairi received his award for Rugby and indeed he was influential in the colleges great display in the national 7-a-side tournament where they were beaten semi-finalists this year. He has represented Connaught at underage level and was selected for the Connaught Colleges representative side in 2005.
He has also proved a great addition to the College Gaelic football team and lined out in mid-field for the Trench Cup. The scholarships are worth €1,200 to each of the students and both were delighted with the award. They said it was a great benefit and relieved some of the financial burden of attending college and allowed them to concentrate on their academic and sporting interests.
Upcoming events
This week The ladies take centre stage with the GAA team taking on NUIG In the Donaghy Cup and the Soccer team entertaining old rivals GMIT Galway in the league.
Week beginning Feb 27th will open with two big Games, both national ¼ finals.
First the men's soccer team make the long trip to Cork to take on The College of Commerce on Monday for the right to appear in the finals tournament of the CFAI Umbro Cup & Plate.
The above-mentioned Hurling tie will take Place in Ballyheane On Tuesday 28th with throw in at 2.00 the lads are hoping for plenty of support as they attempt to dethrone the reigning champions.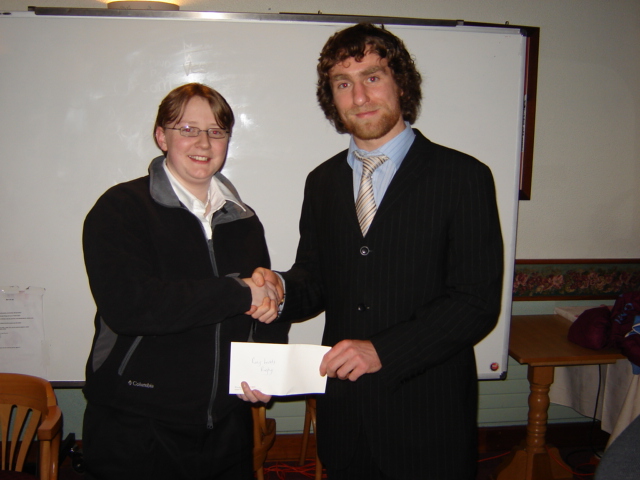 Louise Mulready presenting cheque to Ruairi leddy
© Copyright 2006 by the author(s)/photographer(s) and www.castlebar.ie

Top of Page