---
HURLING
Fergal Maher Cup Quarter Final
GMIT @ Castlebar 4-6 I.T. Tallaght 5-16
The hurlers fell at the last hurdle and wont be making it to this year's finals weekend, although when the dust has settled they will look to next year with well founded optimism. On this occasion they can have no qualms about the outcome as a very strong Tallaght team, (defending Champions and looking short odds for a repeat this year), put on an excellent display of hurling.
The conditions in Ballyheane were ideal, and the scoring was a credit to both teams. A score of 4-6 would have been sufficient to secure victory in most games, to have come up short on this occasion was a testimony to the strength of the visitors.
Honours were even for quite a while with points being exchanged. Fine points from John Bridges and Michael O' Connell kept the lads in touch but the Dubliners opened up a gap (that would be drawn back but never effectively closed) with a purple patch that yielded three goals. Sean Callaghan replied with a goal after a long free From Michael Byrnes fell in a crowded area to keep in touch as the half drew to an end.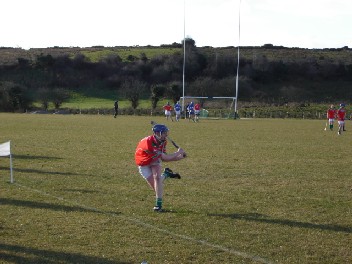 Michael Byrnes takes a sidleine cut
With a mountain to Climb in the second half Castlebar knew they would have to start strong if they were to have any chance. This they did and a superb solo run form Michael O'Connell was topped off with a nice point. This lifted the team and pressure was put on and bombardment of the Tallaght area resulted in three goals of a similar nature- strikes in a crowded area coming from Ciaran Cuddy, Michael O'Neill and Tim Donnellan. The difference with these scores and the first half hat-trick form Tallaght was that they were punctuated by downfield breaks form the Dubliners which yielded points, and on one occasion a further goal, which stopped the comeback attempts form gathering full momentum, and Tallaght always maintained a comfortable lead.
The comfort to be drawn is that only four of the starting team will not be returning next year and this is a very healthy base to build on. With the added maturity theses players will get over a summer of club hurling and hopefully some strong new recruits, they should be in good shape to mount a challenge next year.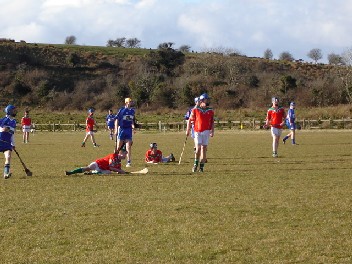 Eoin o Droighneann and Michael O'Connell giving everything to effect a clearance, Daithi watches on
It was an emotional end for Sean Callaghan, Daithi Condon and Stephen McDonagh who leave after four years with great memories and an All-Ireland medal from 2004.
Good luck also to Colm Riordan who joined us for a year but made a great impact and will be missed from the full back position he made his own.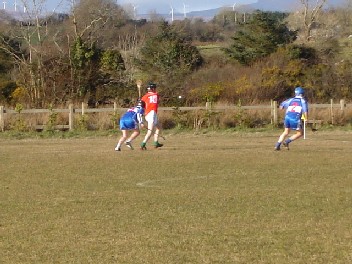 Michael O'Connell strikes for a point
© Copyright 2006 by the author(s)/photographer(s) and www.castlebar.ie

Top of Page