---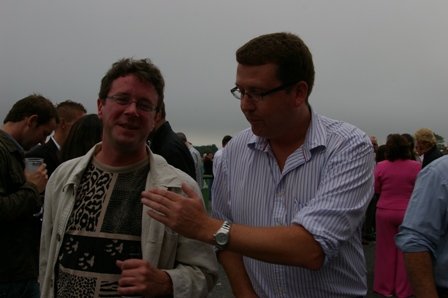 Bill Flynn Jnr. Getting tips on how to "give a horse timber" from an ex Saudi Horse owner John Bourke
Every year during the last week before the August bank holiday weekend, bookies flock from far and wide to pay thousands of Euro for a pitch in one of the 3 betting rings at the Galway races. They do this because they know there will be clowns like me who will travel similar distances to lose money.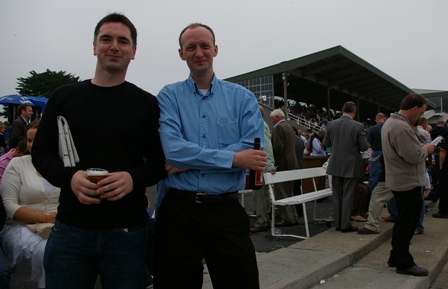 Colin Ward, and Barry Gallery with the old Galway stand in the background. Its supposed to be rebuilt for next years meeting. They could have saved a lot of money demolishing it, because I heard a man saying he would tare it down with his bare hands.
I don't know if it's the crowds or the hooch, or the late July sunshine, but for some reason thousands of people appear to thrive, on making the unbelievably, un-financially, sound decisions. Nine Euro for a roast beef roll, give me 3 of them, I'll need one for the queue at the mobile pass machine.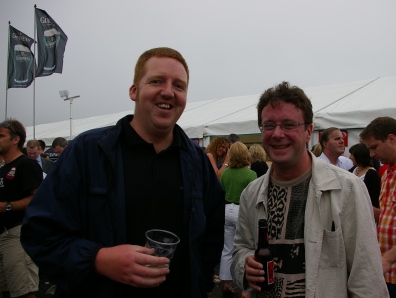 Athenry local Philip O Reilly, and his financial advisor Bill Flynn jnr.
The majority of punters are down money when they leave and begin the one-hour search for their car, and a further one hour wait for someone to let you out into the traffic. If you do manage to leave with even the smell of change in your pocket there are travellers from every halting site in Connaught that will entertain you for your last few shillings. I lost 30 Euro cutting the deck with a Packie Connors from Kilkenny, and another 30 trying to find the lady with a three-card-trick magician from Ballyhaunis. I donated my last two euro to a young "hot plate" dancer, who promised to say a prayer for me, so God would help me win next time again the bookies.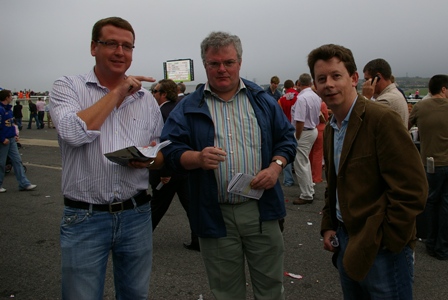 Triple winners, John Bourke, Tony Baynes, and Tom Bourke.
© Copyright 2006 by the author(s)/photographer(s) and www.castlebar.ie

Top of Page