28 January 2009

On this day in 1986 the shuttle Challenger exploded
Today's Featured Photo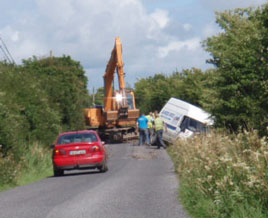 An incident observed on a rural road in Roscommon. Click photo for more.



---
Latest Headlines
Aid to Palestine

-

21, Jan 2009

Your support is needed to send some much needed aid to the people of Palestine - Collection Point at Castle Street Car Park on Friday 30 Jan 2 to 5pm.
Ninetieth Anniversary of Dail Eireann

-

21, Jan 2009

Today Dail Eireann is 90 years old. Read the text of the Declaration of Independence and the Message to the Free Nations of the World as read on 21 January 1919.





Try Our Newsfeed - updated 365 days a year

Our Random Photos:
Click on photo above quickly for more details

---
Today's Poll:
Do you think a Partnership Approach can Solve our Economic Problems?
View result without voting




The Pulldown Menus