If you have a Litter, Waste or Pollution complaint you can Freephone 1800 400256. This article adapted from Mayo County Council's website explains the law regarding litter and how to make a complaint about litter, pollution or illegal waste dumping. The attaced pdf document explains the steps involved in making an environmental complaint.
Litter Control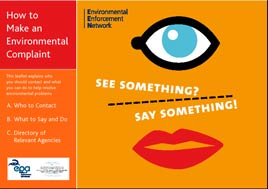 How to make an environmental complaint.

Mayo County Council provides a litter control service. This is done through a system of education and enforcement. An ongoing schools programme is run to inform children and young people of the problems of littering. Competitions and events are organized to promote litter awareness.

Mayo County Council also enforces the litter pollution laws. Mayo County Council has appointed three litter wardens. A free phone answering service is available if the public wish to leave a message regarding litter pollution.

Freephone: 1800 400 256 or during office hours complaints can be made by telephoning 094 9024444 and asking for the Environment Section. All details will be taken and relayed to the Litter wardens who will investigate the complaints.


Complaints relating to any suspected environmental breaches can also be made on line:

Make an Environmental Complaint Online or by post to the Environment Section, Mayo County Council, Aras an Chontae, Castlebar, Co Mayo. The attached 'See Something? - Say Something!" pdf brochure outlines the steps to follow when making an environmental complaint.



The Law
The Litter Pollution Act, 1997 and subsequent ammedments brought in tougher litter laws to combat the problems of litter pollution more effectively. This law has subsequently being amended by the Waste Management Amendment Act and the Protection of the Environment Act. The main provisions of the legislation are outlined below.
Fines
Leaving or throwing litter in a public place is an offence which can be subject to an on-the-spot fine of €150 or a maximum fine of €130,000 with Court proceedings.
The definition of litter is quite wide and extends beyond casual pieces of paper or cigarette ends to anything large or small which is, or is likely to become, unsightly.
A person convicted of a litter offence may also be required by the court to pay the local authority's costs and expenses in investigating the offence and bringing the prosecution.
Litter in Public Places
If you are the owner or the person responsible for a place to which the public has access you are obliged to keep the place litter free, regardless of how the litter got there. This applies to any public place.
Litter on Private Property
The owner or occupier of property which can be seen from a public place is obliged to keep it free of litter. Basically, any outdoor area on your property that is visible from a public place must be kept free of litter.
Litter Black Spots
When litter has accumulated on property for whatever reason and the litter is visible from a public place, the local authority can issue a notice to the owner or occupier requiring the removal of the litter. Such a notice can also set down precautionary measures to be put in place to prevent a reoccurrence.
If a property owner or occupier fails or refuses to do everything that has been requested, the local authority has the power to do whatever is necessary itself and require the owner or occupier to pay all of the costs involved.
Other Offences Defined As Litter:
Illegal dumping of waste.

Failure to clean up after major events (including the area around the event proper)

Mobile Food Outlets are responsible for litter within 100 metres of their business location which is related to their business

Dog Fouling

Posters and Signs placed on poles and structures

Advertising Flyers may not be left on car windscreens and local authorities may have prohibitions on distributing leaflets in the streets
Litter Clean ups:
The public are encouraged to join with their communities and local tidy towns in organising litter-clean ups in your area. Mayo County Council would be delighted to provide bags and gloves to help you out with your clean up. Contact your local area office for details.
Poop Scoops:
Remember leaving dog fouling in a public place is an offence. Contact the environment section of Mayo County Council for details of obtaining poop scoops.
---
Contact:
Environment Section
Second Floor, Mayo County Council
Aras an Chontae
The Mall
Castlebar

Phone: (094)902 44 44
Email:Environment@mayococo.ie
Opening Hours: 9:30 a.m. to 1:00 p.m.
and 2:00 p.m. to 4:30 p.m.

For more details check out the Environment section of Mayo County Council's Website