14 April 2010

George Frideric Handel died this day 1759
Today's Featured Photo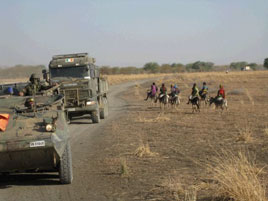 Kevin McDonald met an unexpected hiccup while on his tour of duty in Chad. Click on photo for more.
In March 2010 we had over 3.7 Million hits and 195,000+ visits to this website.



---
Latest Headlines
NW Angling News - 11 Apr 2010

-

13, Apr 2010

High water on the Moy - free ridge pool - reports from L. Conn, Carrowmore, Beltra, Newport, Ballin, Ballisodare and Doon.
The Habit of Art - Alan Bennett

-

10, Apr 2010

The Habit of Art - a new play by Alan Bennett - relayed live from the London Southbank National Theatre - in HD at Mayo Movie World
Another Week in Africa

-

9, Apr 2010

An appendectomy in Africa - more from that soccer match - taking down the camp











---

Try Our Newsfeed - updated 365 days a year
---