5 August 2010

A 20% Chance of Rain
Today's Featured Photo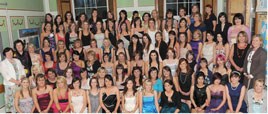 Tom Campbell has a photo of St. Joseph's Graduation Class of 2010. Click on photo for an enlargement.



---
Latest Headlines
NW Angling - 1 Aug 2010

-

5, Aug 2010

In spite of low angling effort over the holiday weekend 741 salmon were caught on the Moy last week.
Winter Food

-

28, Jul 2010

Farmers are busy at the moment storing up winter food for the 8 million bovine residents of our green shores.











---

Try Our Newsfeed - updated 365 days a year
---