Tourmakeady bids farewell to adopted member of community, Fr. Standún leaves for new posting after fifteen years
Sunday 11th July, Tourmakeady Community Hall, at 7.00 p.m.
Pádraig Standún is widely considered as one of the most accomplished novelists in contemporary Irish-language literature. Since the beginning of the eighties he has closely examined both Irish people in general and Gaeltacht communities in particular. In his latest book he takes on a new challenge: the history and lore of the area where he has been stationed as a curate since 1995: Tourmakeady, Co. Mayo.
Within this book are accounts of proselytism in the 19th century, accounts of the lives of the ordinary people in olden times and an account of the War of Independence in the area, as well as a history of the buildings, the institutions and the people that still call Tourmakeady home. Tourmakeady natives, both at home and abroad, will find plenty to think and reminisce about in this book.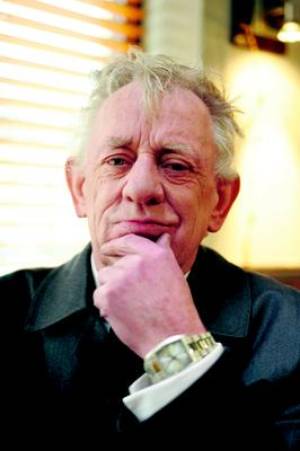 Tourmakeady native and actor Mick Lally who will launch new book

Pádraig Standún was born in Ballydavock, Castlebar, Co. Mayo in 1946. He is a well-known writer, activist and priest, best known for his novels but many of his plays have also been produced. Stigmata was produced by Taibhdhearc na Gaillimhe in 1996, and others have been staged on the amateur circuit in Belfast and London. His play Uisceinafhíon (Wineintowater) was shortlisted for the Cló Iar-Chonnacht Literary Award in 2001. The film maker Bob Quinn based his film Budawanny (1987) on Standún's first novel, the controversial Súil le Breith.

Standún has spent time as a priest in Carraroe, Connemara and on the Aran Islands, (Inis Meáin and Inis Oírr). For the past fifteen years he has been a curate in Tourmakeady, Co. Mayo. In July of this year, his time in Tourmakeady will come to an end and he will take up residency in the Carna parish in Connemara.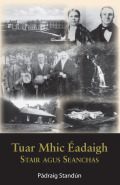 Cover of the new history of Tourmakeady by Fr Padraig Standun

His most recent novel was Díbirt Dé published by Cló Iar-Chonnacht in 2007.

Tuar Mhic Éadaigh: Stair agus Seanchas (Tourmakeady: History and Lore)

Pádraig Standún

Cló Iar-Chonnacht

Paperback €15.00

ISBN: 978-1-905560-39-4