16 March 2011

Getting ready for tomorrow
Today's Featured Photo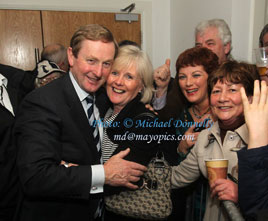 Maureen McDonnell welcomes Enda Kenny home following his election as Taoiseach - click on photo for lots more from Enda's Homecoming by Michael Donnelly.



---
Latest Headlines
Johnny Lawless

-

16, Mar 2011

Do you recognise the people in this old photo?
Seisiún na nÓg

-

14, Mar 2011

Oíche Cheoil in Welcome Inn Hotel on Wednesday 16th March
An Taoiseach, Enda Kenny

-

14, Mar 2011

Photographs of Enda Kenny with family and friends and well-wishers at the TF on Saturday last following his election as Taoiseach.
The Challenge 2011

-

12, Mar 2011

Photos from the snowy peak of Croagh Patrick during the Croagh Patrick Challenge which continues until 17 March
If Maps Could Speak

-

10, Mar 2011

Fans of maps (and there are many) attended the recent talk at Castlebar Library by former director of OSI.











Try Our Newsfeed - updated 365 days a year
---