Attention Salmon Anglers
As anglers once again take to the rivers in search of the elusive spring salmon, they will undoubtedly encounter kelts during their efforts. These mending fish are currently migrating back to sea, and anglers should take great care to land and safely release kelts as quickly as possible, to give them the greatest chance of survival. For full details of the 2011 salmon angling regulations, including details of open and closed river systems and tagging regulations please see www.fishinginireland.info/salmon/salmontagging.htm.
Congratulations to Mr Ian Wise, Crossmolina, who caught the first spring salmon of the season within the Western River Basin District. Ian, a well known local angler and angling guide was fishing the tidal section (below the weir) of the Owenduff River on Sunday 6th February. Just before heading home he changed to a 2 inch Waddington, and was amazed to hook into and land a fine fresh, sea liced salmon of 9.5lbs. Water conditions were slightly high at the time. However, he revealed that he has had similar luck in the past, catching a fresh fish on the Owenduff on the 15th February some years back.

Pike Angling
Boyle based angling guide Bodo Funke, reported good pike angling in the Sligo Fishery District recently. Fishing with his regular boat partners Brian and Michael Rush they boated some cracking pike over the weekend. It was Brian that caught the two best fish of the session, weighing 21lbs 2oz and 17lbs7oz respectively. All fish were caught on jerk baits.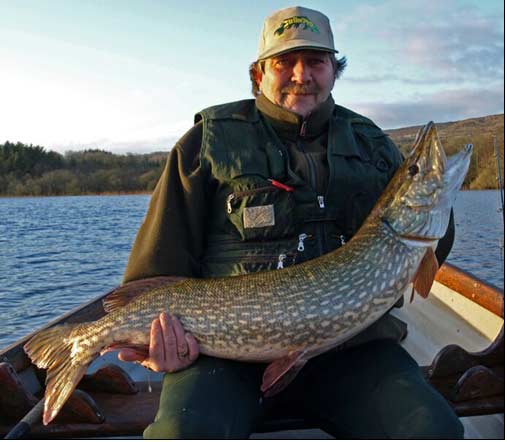 Brian Rush with his fine pike of just over 21lbs.
For guided pike fishing in the Sligo area or boat hire contact Bodo Funke,
Angling Services Ireland at www.anglingservicesireland.com or on +353 (0)86 6011878.

On Sunday 27th February Matt Dean and Connor Mac Gorman, Enniskillen, travelled to Foxford to fish with guide Kenny Sloan on the local lakes. Despite cold temperatures and a northerly wind pike were in a taking mood. Matt caught the best fish of the day at almost 20lbs, while Connor had one of 16lbs.The pike were caught on float trolled roach and pollan. Conditions look good for the coming week with settled weather forecast. For guided pike fishing or boat hire in the Foxford area contact Kenny Sloan on +353 (0)94 9256501 or +353 (0)87 9670310.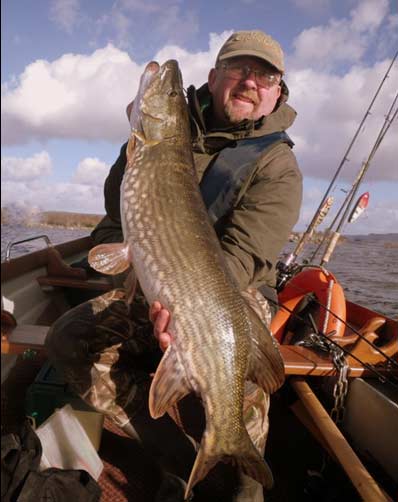 Matt Dean, Enniskillen and his 20lbs pike.