Western Lakes
Fishing picked up on the Western Lakes over the last week, as milder weather set in. The weather is definitely spring-like now, and I have even seen a few hatches of small chironomids over the last couple of days.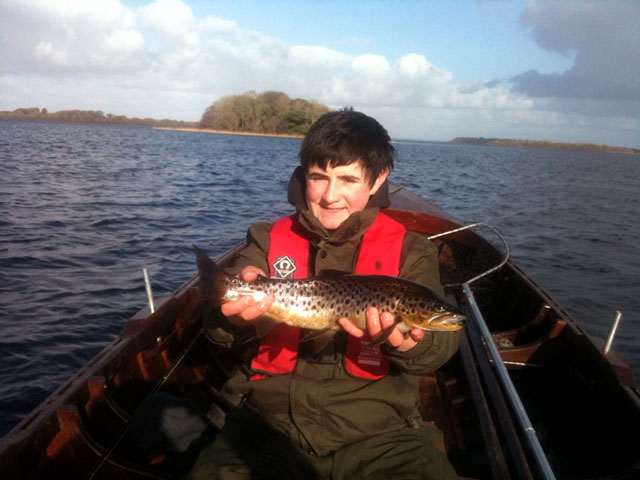 Liam Butler with a nice early season Corrib fish.




Mask fished reasonably well over the past week to wet flies (mainly shrimp patterns). Tim Hannon, Ballinrobe, fished out of Cushlough on Wednesday last and landed 3 trout for his efforts (best 1.75lbs). Tim fished again on Saturday with local angler Sean Maloney and they landed 5 trout (best 2lbs). Kevin Beattie, Ballinrobe and boat partner Declan McAllorum from Dublin fished on 2 occasions last week and had 4 fish to wet flies (best 1.5lbs). Paul Loscher and Greg O'Donoghue from Ballinrobe fished on Friday last and had 2 trout (best 1.5lbs). Most of the fish reported during the week were caught in very shallow water and were feeding heavily on shrimp and hog louse.

Shore anglers in Tourmakeady struggled this week due to the dry spell and drop in water levels. Trout that were in gorging on worms over the flooded grassy plains along the western fringe of Mask seemed to have moved out and found sanctuary in deeper water.

While fly anglers were having sport on Mask, trolling proved more successful on Corrib, but I have only 2 reports. Young Liam Butler from Glann, Oughterard, fished with Gerry Molloy on Sunday, and they landed 10 trout to the boat, including 5 undersized fish, and 3 more over the limit that were released.

Donal Connolly from Nonaim Lodge also reported on a cracking trout last week for 16 year old John Kavanagh, from Glann, who took advantage of the school mid-term break to spend some time fishing and bagged himself a fine 14lbs trout, despite wild and windy conditions.
With the improvement in weather conditions I expect to see a few more boats on the lake this weekend, and hopefully report on more fish next week.

Delphi
Fishery manager David McEvoy reports from Delphi on a good end to February: "A regular party of our German anglers arrived on the 25th and as often is the case, fishing changed for the better. The weather settled which brought water levels to a more reasonable level for fishing.


On Saturday young Max Dittrich landed his first ever salmon, a fresh run ranched fish of 9lbs 14oz on Finlough. The fish was taken on a Collie Dog.





Not to be outdone by his son, Marcel his father landed and returned a sea-liced wild fish of 9lbs from the Rock Pool. This fish took a Willie Gunn.


Then this morning Yvonne Zirngibl lost a fish in the Rock Pool which her husband Werner fished 20 minutes later. He then hooked and Yvonne netted after a battle a sea-liced ranched fish of 16lbs 9ozs on a Collie Dog! The water level at the time was perfect at 45. This is the heaviest ever February fish and the joint fourth heaviest in the last 26 years at Delphi.


The fish was only 85cms which according to the conversion table should only weigh 14lbs13ozs. It is without doubt one of the best made fish I have seen here."