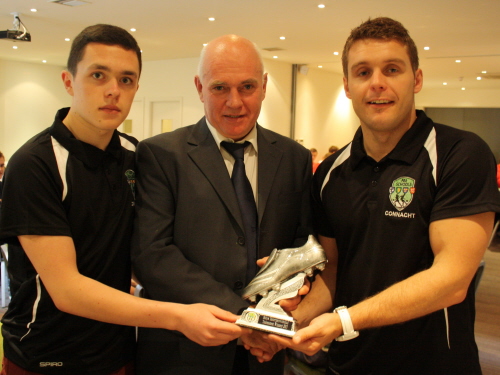 Presentation to Connacht



CONNACHT were crowned Boys' Interprovincial Champions for 2013 following a wonderful display of football at the conclusion of the three day event in the AUL Complex this afternoon (October 6).

THE WESTERNERS came close to snatching victory in 2011 and 2012 but it was third time lucky for Alan Murphy's (St. Joseph's College) crew as they sailed home to victory following two wins and a draw in the tournament.

Leinster proved to be the closest challengers for Connacht as the final series of games came to a close on Sunday.

The Leinster lads secured a win against a fatigued Ulster outfit in their final game. This meant that Connacht required a victory; anything less could see Leinster snatch the title on goal difference if Connacht only managed a draw with Munster.



Leinster


Connacht 1-0 Leinster

The Connacht squad got the perfect start to their campaign with a closely fought 1-0 victory against 2011 title holders Leinster in their opening game of the series on Friday.

Liam Flately gave Connacht a boost early on when his strike on goal deflected off a Leinster player for an unfortunate own goal.
Leinster battled hard in the second period and were unlucky to have a goal disallowed for an off-side in the dying minutes of the game. Connacht just edged the battle with a determined exhibition of football and more importantly two valuable points on the board

Munster 2-2 Ulster

The second game on Friday evening led to a four goal thriller. Munster made a promising start to the game as Jamie Bromell and Evan Shine were linking well down the left wing and Shine came close to scoring at the near post but keeper David Tyrell pulled off a superb save to deny the CBS Sexton Street student.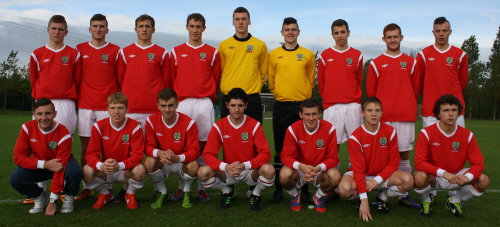 Munster


Munster took the lead with 25 minutes played as Shane Walsh slipped through the Ulster defence to put the ball past the on rushing keeper Tyrell. The clash unfortunately saw Walsh go off injured in the game but he eventually made his comeback on Sunday morning with a marvellous performance against Connacht.

Ryan McCloskey equalised for Ulster on 33 minutes following some excellent manoeuvring from teammates Georgie Kelly and Dara Black

Munster went in front two minutes later as Connor Ellis made a penetrating run down the centre to produce a polished finish to the keeper's right, leaving Tyrell with no chance.

Ulster pressed forward at every opportunity and their determination was rewarded in injury time as Joe McIntyre scored from a wonderfully worked set piece. Points shared as the game ended 2-2

Leinster 3-0 Munster

Saturday's games saw Leinster move up a gear.

A goal on the half hour mark courtesy of Beneavin College student Ryan Swan gave Leinster the advantage.

Troy Carey (St. Paul's Brunswick St.) got Leinster's second of the day with only four minutes gone in the second half.

Cian Kavanagh wrapped up proceedings for John McShane's team on the hour mark as he slotted home from close range to make it 3-0.

A valuable two points for the Leinster lads, disappointment for Munster




Connacht


Connacht 1-1 Ulster

Padraig Cunningham put the Connacht lads ahead on 37 minutes against Ulster in the second game on Saturday afternoon.

This was a tense affair as Ulster equalised with only ten minutes remaining. The equaliser came courtesy of Loreto CS, Milford student Dara Black.

The final minutes was enthralling as Patrick Madden was one on one with the Ulster keeper Lee McCarron but the young Crana College net-minder pulled off a magnificent save to deny the St. Jarlath's pupil.

Ulster's Georgie Kelly had a goal disallowed following a foul on the Connacht keeper which could have wrapped up proceedings for the Ulster lads.

Connacht also had a trio of scorned opportunities with only seconds remaining when Liam Flately's shot from close range nicked the post, Ben Brennan's rebound was saved by McCarron and the follow up from the on running Darren Kilcawley sailed over the up right.

The points shared on this occasion following a cracking encounter.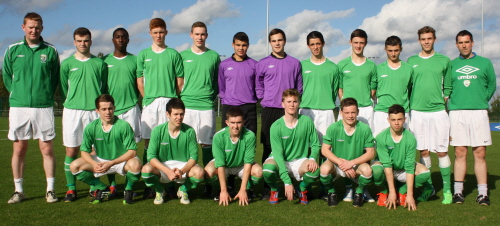 Ulster


Leinster 4-2 Ulster

Troy Carey converted a penalty in the first half for Leinster in the penultimate game on Sunday morning.

The Ulster equaliser came from Moville's Aiden McCauley.

Troy Carey got his second of the afternoon seven minutes into the second half and this was shortly followed by Cian Kavanagh's pile driver from 20 yards two minutes later.

Leinster's fourth came from an Ulster own goal as Dylan Kavanagh made a penetrating run down the left to cut into the box. His powerful strike was defected into the back of the net.

Ulster got one back following some excellent footwork from Kennedy Boachie Ansah down the right wing. His pass through the centre found Aiden McCauley who slotted past the outreached palm of Paddy Dunican. The game ended 4-2 to Leinster

Munster 0-3 Connacht

A hat-trick of goals against defending champions Munster in the final game on Sunday saw Connacht capture the elusive title in fine style.

Patrick Madden scored in each half while Darren Kilcawley secured the title with Connacht's third late on following some great work from St. Joseph's Ben Brennan.

Connacht played very defensively following Madden's early goal which made it very difficult for Munster to impact on the score line. A few chances were carved out for Munster courtesy of Evan Shine and Aaron O'Connor.

It wasn't until the final seven minutes that Connacht finished out the game as Kilcawley and Madden scored within minutes of each other to seal the win.

A magnificent win for the Connacht contingency lead by Alan Murphy, Alex Lee and Kevin Murphy.

INTERNATIONAL SELECTION

The International management team of Ollie Horgan (St. Eunan's College, Letterkenny), Paddy O'Reilly (Trinity Comprehensive College, Ballymun) and Dave Archbold (Palmerstown Community School) will have a difficult task to whittle down a provisional squad to attend trials at the end of the month. Horgan is also conscious of the fact that a number of key players were unavailable at the weekend due to injury, club commitments and trials abroad.

A provisional panel will be invited to attend trials in the coming weeks. A final squad of sixteen will be selected for the Centenary Shield campaign which commences on March 6 away to Wales.

PROVINCIAL PANELS:
Leinster: Paddy Dunican (Killina Presentation School), Liam Traynor (St. Colmcilles, Dublin), Pearse Traynor (Gonzaga College SJ), Conor Dunne (Maynooth Post Primary), Seán Heaney (Ard Scoil Rís, Griffith Ave), Gregory Slogget (St. Oliver's CC, Drogheda), Troy Carey (St. Paul's CS, Brunswick St), Cian Kavanagh (Patrician College, Finglas), Ryan Swan (Benevin College, Finglas), Jack Bayly (Salesian College, Celbridge), Dylan Kavanagh (Salesian College, Celbridge), Jamie McGrath (Rockbrook College, Dublin), Thomas Iiunga (Salesian College, Celbridge), Ryan Doolin (Drimnagh Castle, Dublin), Maxime Kouogum (Coláiste Chairin, Leixlip), Lee Doyle (Chanel College, Coolock)
Management: John McShane (Dublin Oak Academy, Bray), Fintan Sheridan (St. Kevin's CC, Clondalkin), Albert Sugg (St. Kilian's Deutsche Schule), Ian Fowler (GK Coach)

Munster: Jack Brady (St. Anne's CC), Michael Guerin (St. Nessan's CC), Timmy Murphy (CAPT) (Glanmire CC), AJ O'Connor (Desmond College), Gavin Whyte (St. Caimin's CS, Shannon), Shane Walsh (CBS Sexton Street, Limerick), Andrew Phelan (De La Salle College, Waterford), Aaron O'Connor (DLS College, Waterford), Evan Shine (CBS Sexton Street, Limerick), Connor Ellis (Colaiste Pobail Bheanntrai), Jamie Bromell (CBS Sexton Street), David Grant O'Sullivan (Presentation Brothers College), Brendan Martin (CBS High School, Clonmel), Maurice Shanahan (DLS College, Waterford), Conor Maguire (St. Anne's CC), Matthew Connor (CBS Tramore)
Management: Derek O'Brien (CBS Tramore), Conor Uhi (Coláiste Mhuire, Cobh), Gary Power (FAI DO, Waterford), Conor Morrissey

Ulster: David Tyrell (St. Eunan's College, Letterkenny), Mark Hammond (St. Clare's College, Cavan), Aiden McCauley (Moville CC), Seán Hume (St. Eunan's College), Johnny Carlin (St. Columba's College, Stranorlar), Christopher Flanaghan (St. Eunan's College, Letterkenny), Joe McIntyre (Abbey Vocational School), Ryan Varma (Scoil Mhuire, Buncrana), Georgie Kelly (Scoil Mhuire, Buncrana), Dara Black (Loreto Community School, Milford), Mark Coyle (Scoil Mhuire, Buncrana), Ryan McCloskey (St. Catherine's VS), Kennedy Boachie Ansah (Errigal College), Patrick Diver (St. Eunan's College), Oisin Hassett (St. Eunan's College), Lee McCarron (Crana College, Buncrana)
Management: William O'Connor (Scoil Mhuire, Buncrana), Paul Browne (St. Eunan's College, Letterkenny), John Kerr (Patrician High School, Carrickmacross).

Connacht: Peter Healy (St. Enda's College, Galway), Keelan Kennoy (Ballinode College, Sligo), Jason Hunt (Davitt College, Mayo), Robert Carroll (St. Mary's College, Galway), Paul Healy (St. Mary's College, Galway), Ryan McManus (Summerhill College, Sligo), Darren Kilcawley (Summerhill College, Sligo), Aran McConnell (Colaiste Iognaid, Galway), Padraig Cunningham (Headford CS, Galway), Ben Brennan (St. Joseph's College, Galway), Liam Flatley (Bella Secondary School, Mayo), Patrick Madden (St. Jarlath's College, Galway), Patrick Moran (Rice College, Mayo), Antaine O'Laoi (Colaiste Cholmcille, Galway), Peter Walsh (Ballinrobe CS, Mayo), Kevin Horgan (St. Enda's College, Galway)
Management: Alan Murphy (St. Joseph's College, Galway), Alex Lee (St. Joseph's College, Galway), Kevin Murphy (St. Joseph's College, Galway)

RESULTS
Friday, October 4
Leinster 0-1 Connacht
Munster 2-2 Ulster
Saturday, October 5
Munster 0-3 Leinster
Ulster 1-1 Connacht
Sunday, October 6
Ulster 2-4 Leinster
Munster 0-3 Connacht

Winners: Connacht

TEAM

P

W

D

L

F

A

GD

PTS

Connacht

3

2

1

0

5

1

4

5

Leinster

3

2

0

1

7

3

4

4

Ulster

3

0

2

1

5

7

-2

2

Munster

3

0

1

2

2

8

-6

1