It is told that the then Nan Denning was in a world of her own, singing away as she made her way down McHale Road, Castlebar at the ripe old age of fourteen, when she was over heard by Tony O'Grady from Manulla. He enquired if Nan would sing in his band which comprised of John Lally on saxophone, Toddy Buckley from Knockthomas on drums and Tony himself on accordion. Nan's first gig was at the "Eclipse Ballroom" in Ballyhaunis with her opening number "Buttons & Bows"! From there started a long and talented singing career which brought Nan from the dance halls of Mayo to the Castlebar Pantomime stage!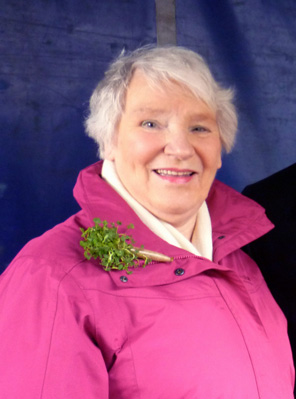 Nan Monaghan 1934-2011. Photo J. Loftus.

At the time there were many bands working within the Mayo area and if you were not working on a particular night, is was not uncommon to be asked to help out another band if their singer or musician were unavailable. Ena Flaherty from Lucan Street was unable to sing with Tommy Gavin's band from Clogher, Claremorris due to illness. Nan was asked if she could step in and with ten minutes to get ready, found herself being introduced to the rest of the band, Dominick Kerins from Turlough, Paul Flannery from Rush Street, Castlebar and a drummer called Mick Monaghan! Nan & Mick went onto celebrate over 57 years of marriage and were the same remarkable team through all those years as when they first met.

Among many claims to fame, Nan entered the Castlebar Song Contest on four occasions. She may have been pipped to the post in 1961 with her own composition "My Home Town Castlebar", but considering this number has been played in most parts of the world where Castlebar expatriates now reside, which was the true winning song since we wonder?

Even through over 57 years of marriage, Nan could still be referred to as Nan Denning. It was a rare conversation with Nan that did not include at least one mention of a family member either Denning or Monaghan! Family was everything to Nan; they all either supported or were involved in anything she was involved in. There was many a Castlebar Pantomime with son Andrew and husband Mick helping back stage, her daughter Michelle in Panto roles, along with her nieces appearing and Nan as M.C! Even back in the 1960s Nan was joined on stage with her sisters Angela & Irene; through this the Denning/Monaghan name is closely associated with Castlebar Pantomime up to Nan's reluctant retirement from Castlebar Pantomime in 2009. Nan believed that Castlebar Pantomime had changed direction from its traditional roots & after much thought, left one of her greatest loves.

Pantomime was not the only cause close to Nan's heart, her work within and support of CRC (Castlebar Community Radio) has been outstanding and typically of Nan her commitment was 100%. Nan's voice was perfectly suited to radio and her shows each Monday through to Wednesday had a large following. CRC was not the only radio station charmed by the warm character of Nan. In 2002 Nan was interviewed on Mid West radio and times like her appearances with Nan and The Jets were recalled. There were some lovely moments when neighbours like Johnny Mee, Ernie Sweeney and Kevin Guthrie came on air to chat with her. Others like Tomas Walsh from the Brose Walsh Band recalled memories of her time singing with their band while Pat Stanton from CRC also joined in the on-air tributes.

Although during her time in Castlebar Pantomime Nan called herself the Elder Lemon, for many she will always be the Queen of Castlebar Pantomime! Her long standing dedication and contribution to Castlebar Pantomime has been amazing! In all weathers Nan has stood with children waiting to be collected after rehearsals, sang on stage, attended auditions, positively charmed money from people on Pantomime Flag Days & few parted without a laugh as well. Nan encouraged many Pantomime performers who doubted their talents, she ensured every window in Castlebar had a Pantomime poster and performed miracles on getting things done with only a mysterious - "Leave it with me!" However there were two things in Pantomime you would never get from Nan; one was the secret recipe for her Pantomime Coffee which tasted suspiciously of whiskey and two, any chance of getting a drop of it at the Sunday Matinees before 6 O'Clock!

For years Nan would lead the cast of Castlebar Pantomime in a prayer of her own words before each performance, so it is only right that so many met during last week's ceremonies to pray for Nan. In a fitting tribute to her life at her funeral mass Nan's extended family remembered her love of performing, her early accomplishment as a drummer (which was a pleasant revelation for those present who knew her in her later years), her Connaught Telegraph Hall of Fame Award, Nan's "Woman of the Year Award", her work on radio and her dedication to her garden and to Castlebar's St.Patricks Day Parade! "Our Lady Queen of Knock" was sung by Dana in a moving remembrance of Nan's strong faith.Tributes from many were told by Henry McGlade, including Pat Jennings from the TF describing Nan as " A legend in her own stilettos". Frank Forde spoke about Nan's involvement in Castlebar Pantomime and where you always knew she had a job in mind for you when she approached you with a "C'mere I want ya"!A Guard of Honour was comprised from CRC, Castlebar Order of Malta & Castlebar Pantomime.

Although Nan's voice was not heard for the past two Pantomimes, many will remember how it felt to stand nervously on stage behind a dropped curtain, hear Nan's wonderful voice ask the audience to "Sit back, relax and enjoy Castlebar Pantomimes production of .......", watch the curtains fall back with the feeling of calm on hearing something so familiar and the knowledge she was sitting out there believing in everyone's performance. If anyone deserved the title of Queen of Pantomime or Queen of anything else just by being herself, it is Nan Monaghan! May you rest in peace Nan, with love from all those who came to know you as friend through Castlebar Pantomime.