Mayo Male Voice Choir Annual Gala Concert 2011 - Thurs. 7th April, Royal Theatre, Castlebar.
For Mayo Male Voice Choir 2010 was a special year, our 10th anniversary, and an occasion to be celebrated in style with an ambitious concert in the magnificent surroundings of the Royal Theatre, Castlebar. Such was the success of the night, with a very large crowd really enjoying the music and entertainment on offer, that our choir decided that we must continue to hold our annual concert in the leading entertainment venue in the west of Ireland.
This year the our choir are again joined by a similar lineup to last year but with a whole new programme of songs. The ladies from the Church of the Holy Rosary choir have joined in our rehearsals over the last few weeks and the combined sound of the two choirs together is really special. Added to that we again are joined by Anne Marie Gibbons, Sean Costello and David Durham with music, on this occasion, being provided by Wolfgang Ensemble.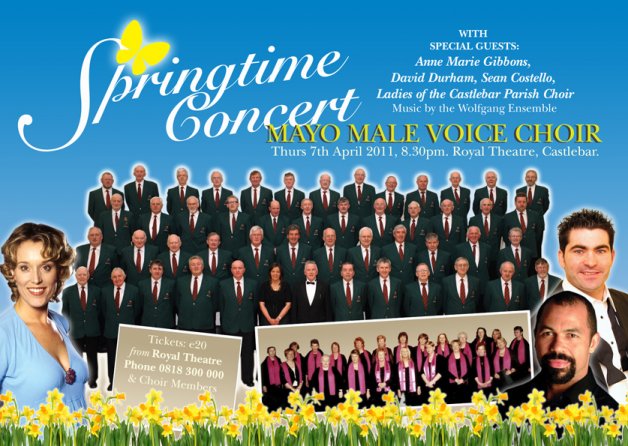 MMVC Springtime Gala Concert in Royal Theatre.
We hope to meet all of our friends on the night, it promises to be a really special evening, one not to be missed. It was an amazing success last year, this year will be even better. Guaranteed to lift your spirits from all the recessionary doom and gloom. Tickets available from any choir member or Royal Theatre box office.