Mayo County Council is taking decisive action to prevent a Cryptosporidium outbreak in Mayo. The council has come up with a unique solution that will protect all of County Mayo's drinking water supplies from Cryptosporidium. A Mayo County Council spokesperson has stated that an innovative bye-law will come into force in Mayo this very Sunday protecting the entire population of Mayo.


Cryptosporidium - Infectious oocysts

The recent Lough Corrib outbreak affecting the drinking water supply to some 90,000 people in Galway has obviously caused great concern here in Mayo. Because people living in parts of south Mayo also get their water from Lough Corrib at Cong there is an obvious worry that this parasite could affect Mayo people too. In the longer term if Lough Mask were to become infected, Mayo's water consumers could also be affected. A very large number of people in Mayo depend on Lough Mask for their water supply.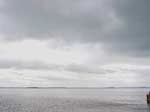 Lough Mask - Mayo's most important water source

At a specially convened meeting of Mayo County Council held last Thursday a new emergency bye-law was introduced under Health and Safety Act of 1965 and Local Government 1963 Act. The effect of the bye-law is to simply BAN Cryptosporidium from all Mayo's waters: both fresh and saline waters. The bye-law forbids the protozoan parasite, Cryptosporidium from entering any and all of Mayo's rivers, lakes, groundwaters and beaches. The basic bye-law is very simple and crystal clear in its message. However, because there are a number of different species of Cryptosporidium that can infect humans the new bye-law includes a detailed annex with a list of all important infective species that will be banned from this Sunday when the bye-law comes into effect. The list of species in the bye-law annex includes:
Cryptosporidium parvum , C. hominis (previously C. parvum genotype 1), C. canis, C. felis, C. meleagridis and C. muris.
All of these species are now banned in Mayo. The council's elected Health and Security spokesman pointed out that, by naming all the major species and sub-species of Cryptosporidium in the bye-law, they were being inclusive. The spokesman added: "If we just banned the main type that comes from farm slurry we would offend the farmers; and likewise, if we just mentioned the type that comes from septic tanks situated along the many beautiful lakeshores in the county we would offend the one-off-house lobby. Our all-inclusive ban on Cryptosporidium is therefore fair to all involved. We are ecumenical in our ban, shall we say," he concluded.
When the spokesman was asked how the various Cryptosporidium species mentioned would actually know that they were banned from drinking water in Mayo, he looked at your intrepid reporter as if he was an idiot for asking such a stupid question. "Notices will be posted at all water abstraction points around the county so that these damned protozoans get the message that they are not wanted here."
The spokesman went on to point out that issuing a bye-law is a most serious step especially when it arises from a specially convened emergency meeting of the Council. It will be announced on radio and will also be in all the local papers - even the freebie papers like the Mayo Echo and Mayo Advertiser," he added disdainfully. "They will have absolutely no excuse for not knowing that they are banned. The making of bye-laws is one of the principal functions of county councillors you know? We are legislators elected to make laws. I'm not sure but I think this is the first major important bye-law passed by the current council and just think of the benefits it will have."
We asked him if the ban will also apply to bathing beaches as well as to drinking water supplies - swimmers sometimes swallow water?" Of course we will fight them on the beaches too - especially the Blue Flag beaches. Our Blue Flag beaches are very important to our tourism income.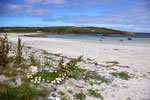 Mayo's Blue Flag beaches will come into their own

So next summer when Galway has lost all its tourists due to contaminated water it looks like Mayo will be booming. Our official Cryptosporidium-free status - resulting from the bye-law ban - will ensure that our Blue Flag Beaches and indeed our Hotels will be all full of tourists that would otherwise have gone to Galway. The Celtic Tiger will finally come to Mayo as a result of our ban on Cryptosporidium.

Will there be penalties for Cryptosporidia that try to breach the ban? "Well that's a difficult one," the spokesman mused. "Obviously we discussed this in some detail and it was quite clear that monetary penalties would not mean very much to single-celled organisms - you do know that protozoans like Cryptosporidium are not bacteria but single-celled higher life forms? So we went for a jail term instead of fines. Any Cryptosporidium caught trying to breach the bye-laws will be put in an amoeba cage. Okay I know what you are thinking that because one single infected cow calf will release upwards of 50 billion spores over quite a short period that it means a lot of cages will be needed. But like George Bush in Iraq and Gauntanamo we have to be prepared to pour resources into this - and indeed we have to be prepared to fight them on the beaches too - just like Churchill - on an ongoing basis - going forward and into the future….

Additional Material from our special correspondents:

From our Business Correspondent

The council has published an official tender on the government procurement site www.e-tenders.ie and into the EU's Official Journal. The requirement is for an initial order of 10 quadrillion amoeba cages. "We are hopeful that a Mayo manufacturing company will win the tender by providing the best - but not necessarily cheapest - tender" the spokesman indicated. "We like to support Mayo industry of course but we do have to adhere to the rules of the EU Procurement Directive. We must accept the best tender no matter where in Europe it comes from - even if it's a Latvian or Polish manufacturer of amoeba cages. The intention is to use the cages to incarcerate the Cryptosporidia for a minimum of 5 years - without trial - a la Guantanamo. Those cysts remain viable for a considerable period and thus long terms of imprisonment are justified. That will show them that we really mean business - zero tolerance in fact. There is no escape for Cryptosporidium once this bye-law comes into force this Sunday.

From our Special Sports Medicine Correspondent

There is great excitement here in the Mayo Camp at McHale Park. The team members feel that the ban will give them definite advantage when they come to play Galway in that inevitable clash in the run up to the All-Ireland. The Galway players will most likely be playing loose and free, with fairly fluid movements, whereas the Mayo players will be solidly resolute in their movements - on the pitch of course - due to this innovative bye-law ban. Mayo Team Manager John O'Mahony grinned: "We will be requiring the Galway players to bring their own water to McHale Park." John O'Mahony is likely to be a TD by then following the election on May 17 so undoubtedly we will not simply be going through the motions here in Mayo as the team heads for SAM 2007.

From our Religious Affairs Correspondent


Holy Water will be safe

The new bye-law is a great relief for Church authorities in Mayo in the run up to Easter. RTE gave big publicity this week to the need for Galway churches to source Holy Water outside of Galway. Because Castlebar and much of Mayo is in the Diocese of Tuam it is possible that substantial export of Holy Water to Tuam, Headford and Galway will be seen this week. It is likely too that many thousand additional worshippers will turn up in Mayo churches to take advantage of the Cryptosporidium-free Holy Water that will be available in all fonts in Mayo thanks to the innovative bye-law introduced this Sunday. The Bishop, however, issued a statement saying that just because the Holy Water is blessed does not mean that the Cryptosporidium is not present. There is a deep suspicion in theological circles that most protozoans and thus Cryptosporidium are in fact atheists and do not heed such blessings. Whether they will actually pay any attention to the new bye-law or not only God knows at this stage. We will pray for a parasite-free Mayo.