Special Government Planning Provision allows lKEA to come to Castlebar
Officials announced today that a Mayo site for the Swedish FlatPack Giant is now almost definite for the first lKEA outlet in Ireland. Planning difficulties and local opposition at the proposed Dublin Ballymun site are now so severe that the Dublin proposal is likely to be cancelled completely. The Castlebar site will then almost certainly be fast-tracked by both government and local politicians such is its economic importance at both national and local level. While it is too early to get hopes up yet, the town was on the verge of a celebration late last night as the news broke; Dublin's loss is already being seen as Castlebar's gain with a promise of 500 jobs.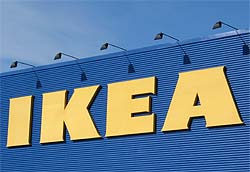 Severe objections to the Dublin site had been raised by RGDATA, representing the grocery trade, and by the Irish Hardware & Building Materials Association, representing 600 hardware and DIY merchants operating 800 retail units throughout Ireland. Both are well-known for their opposition to large retail units and the Dublin lKEA in particular. Environmental activists and architectural preservationists wishing to conserve the Ballymun towers (which were designed in the 1960s by American architect Lloyd Wright) have also joined forces and promised to tie the proposal up in court for years.
The government has bowed to pressure from Independent Deputy FIynn and FF Deputy Carthy and have agreed that Castlebar should be the preferred location – "It was either that or lose lKEA to Northern Ireland altogether" said Minister Roach, "and we can't have that". The FG party, while welcoming the decision in principle, strongly objected to the location chosen in Castlebar - preferring that it should be located on a different plot of land to the one now believed to be close to a final decision.
A major 25 acre site just at the Gateway to Castlebar which is conveniently located on the N5 will boost property values in the area said a local councillor welcoming the decision. Traffic management will be a paramount feature of the site with major road widening required for much of the roads in Mayo and Galway in order to facilitate the additional traffic which could peak at 16,000 car journeys a day on Sundays, the peak shopping day for lKEA's flat-pack lovers.
Major new car parking space will also be required in Castlebar. Both Castlebar Town Council and Mayo County Council are actively looking for solutions to parking as both local authorities will benefit from the major newcomer. Space for 800 cars will be required. Rumours are already rife that McHale Park will become a park and ride facility. "Sure the team were useless anyway – we might as well earn a few bob from it," said the county board, the new operators of the park.
It is believed that the deal is almost concluded and lKEA is close to purchasing a 25 acre site from an as yet undisclosed vendor but believed to be a well-known Mayo farmer with a lot of land. The price is also undisclosed, but believed to be in the region of €18 million. The vendor is totally disillusioned with the Fischler Cap Reform and wants to divest himself of as much of his land as possible. "I am fed up with receiving cheques in the post - and even worse - now we don't even have to produce any food at all," he said. "Selling land to lKEA is much more profitable than farming." The seller of the 25 acres is reported to have said that it is no longer possible to earn enough from selling milk and meat to pay the bank interest on money borrowed in the past to buy the farm land he is now selling. The auctioneer responsible for brokering the deal is delighted with the boost to Mayo provided. "I will propose a vote of thanks at the next council meeting," he told Castlebar.News.
lKEA requires very large retail floor space and this had forced the government to make special provisions in order not to lose lKEA to Northern Ireland. The Swedish furniture giant requires at least 25,000 square metres in order to operated successfully. In contrast Irish planning regulations had long restricted single developments to 3,500 square metres in Dublin and 3000 square metres outside Dublin. According to RGDATA the grocery lobby group The Retail Planning Guidelines, which were prepared by the Department of Enterprise, Trade & Employment and the Department of Environment and Local Government, in conjunction with Goodbody Economic Consultants, represent the best retail planning practice in Europe.
Already it is known that hundreds of Irish make the pilgrimage to the UK to avail of the keen design and fine prices offered by lKEA. Furniture sold in lKEA has always been known for its modern lines and its cost. Its simple but attractive flatpack furniture designs and prices generate massive sales worldwide, with the average lKEA store stocking an incredibly awsome 11,000 products.
At the last count there were 185 stores in 31 countries, including 29 in North America, making lKEA the world's largest home furnishings retailer. lKEA plans to open five new stores each year in North America over the next decade. Next year lKEA will open the first shopping center in Kazan, Russia comprising 62,000 m². lKEA is planning to launch a total of 22 stores in Russia. lKEA employs some 70,000 people worldwide and now Castlebar will benefit from the companies magnificent record in employing people to work for them.
Safety concerns have been expressed by the consumer health association charyman Michelle Kilcoin – "People were almost killed at the recent opening in England so popular were their money off vouchers and special opening deals" she reminded RTE New's reporter Seamus Fahy on Morning Ireland. "And what about the back problems of people lugging flatpack furniture to their car?" One of lKEA's reputed secrets to success is its reliance on customers to carry, load, haul and assemble the furniture they buy. Even small items are wrapped and bagged by their purchasers. "A typical lKEA store would be in the region of 28,000 square metres. So that's a lot of walking and hauling - a lot of back pressure."
Town councillors are delighted with the €2 million in property tax benefits likely to paid each year into the coffers of the town of Castlebar - and Mayo County Council will also gain income from the deal. The Town Council's push to extend the town boundary has finally been resolved by the fact that the 25 acre site is on the boundary straddling both town and county. Both bodies will charge rates to the superstore owners. A spokesman, Mr. Sven Andersen stated, "This N5 site represents a great opportunity for us to expand our identity in the Castlebar and Mayo Gateway region and for us to become a significant economic contributor to the local community." In addition to an investment of €100m, 500 construction jobs and more than 400 co-workers will join the lKEA family when the new store is fully built.
In its most recent financial year, 2003-04, the Swedish furniture and home goods chain sold more than £1 billion worth of goods This was a rise of 15% over the previous year. It was achieved in difficult trading conditions at the same time as one of its main competitors, Courts, went into insolvency lKEA increased its sales despite introducing a €1 charge on all credit card payments in 2004. It is believed that their car-parking charges are quite a substantial source of revenue also.
The Irish Hardware & Building Materials Association representing 600 hardware and DIY merchants operating 800 retail units throughout Ireland has commissioned the first report on the impact of changes to the Retail Planning Guidelines on traffic. The report states that: "It is considered that not withstanding the proximity of a high capacity motorway or dual carriageway, it is evident from the number of outstanding road schemes that the surrounding road network which feeds into these routes does not have the capacity to cope with the volume of trips associated with these large scale developments.
The Irish national road network is insufficient to cope with traffic generated by mega stores. The major regional impact of mega store developments in Gateway towns - hubs such as Castlebar will feel the brunt of retail & traffic impact.
Finally a comment from a shopping website about flatpack tourism abroad:
'Been there done that. It was brill, we got some great stuff and saved a fortune. Had a good day out too. We went to the Warrington one, checked in advance if they had the suff we wanted, you can do it online. Could've done with another hour or two but i think that's just me & shopping. Watched a movie or tow on the boat. I have now got 7 built in wardrobes and the coolest dressing table complete with 'movie star' lights, built in fecking everything and all for less than half sister spent on hers

Mind you I used to buy a lot of stuff there so I was pretty sure about what I wanted and I'd had the chance to check out this stuff beforehand so I knew it wouldn't be wasted. Some of their cheaper stuff isn't worth the effort so you'd need to have a couple of ideas from the catalogue before you go.
And some comments from a Dublin website that give a feel for the depth of the objections faced in Dublin:
I don't think lKEA should come to Dublin because it will kill out numerous smaller furniture stores among other places. The huge store will cause more traffic, make more garbage, and cause more problems than any of the smaller stores. Perhaps the fact it was halted was a good thing. It may bring lots of money into Dublin, but the problems are not worth it.
Ciera "Kat" Davidson
If you looked at Dublin a few years ago, you would see a tiny town with little shops, and everyone knows everyone. But Dublin has grown up in the last few years. I think lKEA would be good for our little city of Dublin. I think it would help the economy, bring publicity, and make good moves in technology.
Amber Smidebush
The Chairman of The Competition Authority, John Fingleton, said the move was a positive one for Irish consumers and will lead to greater choice and lower prices.
Exciting times ahead then for Castlebar as the town revives the spatial strategy, recently killed by Charlie McCreevy before he was himself decentralised, and now it becomes the new gateway and a true Mecca for Ireland's flocks of flatpack-furniture-lovers. "Amo, amas, amat" as they used to say about lKEA in ancient Rome. But you can't not love the cool, sleek lines of that flatpack bookshelf as you strap it onto your roofrack and head off into the sunset traffic jam.