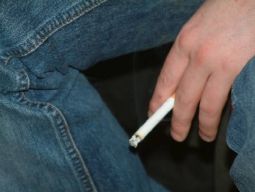 Herbal or Tobacco? It's hard to tell in the dark, smokey, atmosphere.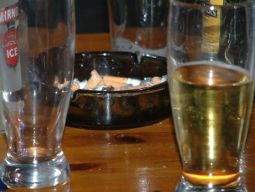 Ashtrays are still needed for herbal cigarettes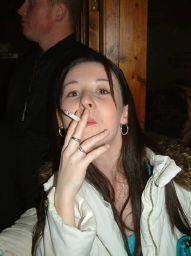 Smoke gets in your eyes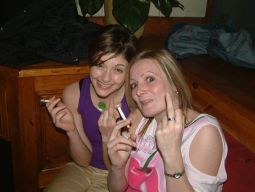 Blatant disregard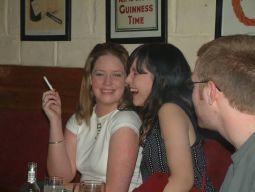 Happy Herbalists?
Photos by Peter Jordan
---
Publicans and Inspectors agree to call it a day.

A mere three days into the new no-smoking regulations the smoking ban in pubs is declared a non-starter here in Castlebar, Co. Mayo. Tobacco inspectors have came to an amicable agreement with local publicans; agreeing to call it a day and give up on trying to enforce the ban as it stands at present.
This is the result of a clever ruse which exploits a loophole in the legislation. The ban had been widely felt to be unenforceable by publicans and Castlebar smokers have now reinforced, if not confirmed, this view. It's back to the drawing board for the legislators.

The herbal cigarette loophole has succeeded in running rings around the ban in Castlebar. Tobacco inspectors on Monday, Tuesday and Wednesday night went from pub to pub to be greeted by noxious-smelling clouds of smoke.

They discovered that most of the smoke, however, was coming from herbal cigarettes rather than real tobacco. Herbal cigarettes which had been lit and prominently displayed by smokers (see photographs) or left smouldering on ashtrays bar counters and tables. Inspectors were convinced, however, that the herbal cigarettes were being used to mask the use of real tobacco products. But in the cloudy atmosphere, and with the suspiciously dim light levels in the Castlebar pubs inspected, no ignited tobacco products were found in spite of all the fumes. Inspectors were fuming themselves after a third night of unsuccessful inspections on Wednesday.

It is not sufficient under the regulations to find recently stubbed out butts on the floor according to one very frustrated tobacco inspector. The person must be observed actually smoking tobacco products to be prosecuted. People were apparently smoking herbal cigarettes when the inspectors arrived so no prosecutions could be taken. Similarly, pub staff themselves said they were unable to distinguish between herbal and real tobacco cigarettes even when customers were standing right in front of them smoking.