The Minister for Finance Mr Brian Lenihan in a surprise pre-budget budget announced a tax on that most basic of human needs, i.e. a tax on sex! A tax on sex – not attacks on sex but a tax on sex (just in case you are driving or blind and someone is reading this aloud to you and you are getting confused it's Tango Alpha XRay and Sierra Echo Xray not Sierra Echo Charlie Tango).

But how will they implement this new sex acts tax? The first line of attack is the obvious one - by counting the number of children you have in your possession and taxing you accordingly. If you have one child you will pay and if you have more than one you will pay even more, with the tax going up exponentially the more prolific you have been (see table). Instead of children's allowance it's going to be a parenthood tax from now on!

They used to give but now in these recessionary times they taketh away. According to a usually reliable source the new tax will be exactly the same as the old child benefit and pre-school child-minder naonraoi payments except with a minus in front of them. You will pay not receive.

The Minister explained his thinking in an exclusive interview with Castlebar.News early this morning - just as he was lining up to go on Morning Ireland we managed to catch him on his mobile by putting on a culchie accent and pretending that we were also someone called Brian.

"Brian" he said, "Unemployment has already reached 9% and it will go higher - through the proverbial roof before the end of the year - even that glass ceiling will be no help. It's obvious that emigration is not the safety valve it once was. We need a final solution. We will return to the great tradition of DeValera's Ireland when sex was unknown in Ireland and in so doing return Fianna Fail back to its former greatness before sex was invented.
It's obvious that we need fewer people hanging around at the cross roads so we will put a tax on sex.
" He went on "Jackie Healy Rae put it well that time during the boom he said we should all live in one-off houses instead of living on top of each other like rats. He knew how to put An Taisce in their place, Har Har!. Or was it breeding like rabbits?" he muttered.

Listening to the Minister though, your correspondent realised that he could be correct - everyone knows that people who live in one-off houses do not have sex (well not very much anyway). So this is the second prong in the government's sextax campaign. There are now thousands of unoccupied one-off houses in remote parts of the country that no one wants to buy – they can't give them away. On the other hand there are lots of people who cannot afford to buy a house in a city and we know this is where the real unemployment is mainly located - most people still live in cities. The housing lists are longer than they've ever been and the banks won't give them mortgages. These are also the people that are having too many children – they can no longer fit into the rented one-bedroom apartment because they have gone and had one or more children. And you know how much paraphernalia a small child generates! These children are costing the taxpayer a mint at the moment and they will cost even more when they grow up and start claiming unemployment benefits too.

"So, going forward, the solution is obvious" the minister declared with that glint of certainty in his steely eye. "We will relocate the people who are renting in the cities to the one-off houses and holiday developments in places like Port Urlin or Pollathomais in beautiful North Mayo or like Windsor on the N5 just outside Castlebar." Of course it's true that our national routes are not as busy now as they used to be so we will be able to build more and more houses along their length without having to worry about the NRA and their traffic hazards. Hardly a car going up and down the N5 now - it's like the 1980s sure before it was even built out there at Windsor and Ballyneggin. You could herd cows down it and no one would notice." He finished.

Just in case you thought you were Scott free just because you don't have any children in your possession at the minute remember that this is a tax on sex not just on children arising from the said act – a sex acts tax in other words. The need to raise a lot of money fast is obvious. While a tax on text is a no-brainer in the main budget next week, it is understood that one billion text messages is only a drop in the ocean compared to...... It is now believed that in the last ten years since Pat Kenny took over from Gay Byrne on The Late Late Show not only have text messages taken off with gay abandoned but so too has sex in Ireland. Gay introduced it and explained it but Pat made it popular – why else has the population gone up so fast?

But how will they impose the tax on this less visible aspect - in your own bedroom so to speak? The minister explained: "It's the Google Car stupid! You didn't really think that black Mariah yoke with the flashy cameras on top and the silly logo on the side was really out there just taking photos of streets and buildings in Ireland now did you?" It seems that in reality the Google Car has highly sensitive antennae that are tuned in to your bedroom. The laser beam up against the glass of your windows can detect micro vibrations and listen in to your activities behind closed doors and curtains as if they were loudspeakers broadcasting your most intimate details to the taxman crouched in the back of the black car with his headphones. The Google Car is the government's secret weapon when it comes to collecting the tax on sex. And then there's Google Satellite too….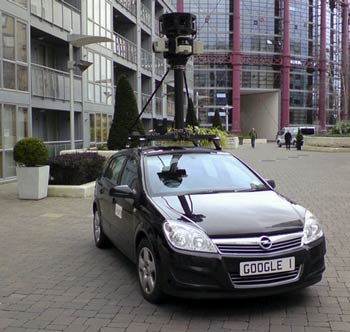 And of course the Green Party with their BER, or is it Brrrrh? for buildings with cars driving around the town with heat sensors supposedly checking out the heat loss through your walls whereas in reality these are sophisticated thermal imaging systems taking pictures of – well you know what – speed cameras of the bedroom so to speak. And the speeding tickets will begin to drop onto your doormat starting from midnight on the 7th April when the tax on sex comes into being. It's like the taxes on the other old reliables: drink and cigarettes it starts on the day of the budget to prevent you going out and stocking up at the old price.

Of course those boasting about their sexual activities on Bebo, MyFace, Your Space and Twitter will also have their sex tax contributions deducted directly from their credit card, paypal account or bank account – the Government owns the banks now remember?

Another related government announcement was also published late yesterday with an embargo of 7:00am this morning and this time it was actually issued right here in Castlebar. According to publicity on the Castlebar Bulletin Board (or Online Forum) the minister for enterprise and social welfare has been in town. She was recently spotted coming out of Moka on Spencer street where she was believed to be searching for her roots and links with a famous family that gave its name to the street as well as to the park with the Section 23 flats. But we diverge. The announcement is that there is also going to be a tax on sects – that's a TAX on sects not attacks on sects just in case that person is still reading this to you. (Although I can't think why they would bother reading this far it must be at least 1324 words by now.) It is believed that this announcement was actually in error made by one of the Minster's minders who was on a bad connection while having lunch upstairs in Rua writing down the words of wisdom from one of the two Brians up in Kildare Street in Dublin. "A Tax on Sects?" he was heard to query by other diners in Rua, "Well great - I never did like dem scientologists..."

When asked for a statement the bishop said he was delighted - "We all know that sex, sects, texts, drink and fags all sources of evil. Even though we don't believe in the divil any more these are still some of the principle sources of all evil and there should be attacks on them all in the name of God and a tax on them all in the name of Mammon. We are addicted to them all and it is bad, for sure, for sure" he added. "Of course the root of all evil is money of course and the FF Government has done an excellent job in breaking our addiction to money over the last year. People are coming back to the churches. A few more years of recession and we will all be well and truly cured of money. Cold turkey works a treat every time. As long as they don't start printing it." He said as he blessed your correspondent.

The new child tax rates are given below. It is believed that the new sex acts tax will amount to 5 euro per act but there is a rumour that it will be a progressive tax that will penalise those who indulge more frequently. The equal opportunities commission were anxious to point out too that there will be no discrimination in this – you will pay no matter what your persuasion and no matter whether you have a licence or not. Details in the budget supplement on 8th April.
| | |
| --- | --- |
| New Child Tax | Monthly Payment to Tax Man |
| One child | €166 |
| Two children | €332 |
| Three children | €535 |
| Four children | €738 |
| Five children | €1500 |
| Six children | €3000 |
| Seven children | €6000 |
| Eight children | €12000 |