12 February 2009

Ireland: 2 - Georgia: 1 - Banks: 7 Billion
Today's Featured Photo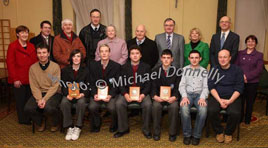 Michael Donnelly photographed the winners of the recent Mental Health Public Speaking Competition. Click on photo for more winners.



---
Latest Headlines
Mayo VEC Adult Education Awards

-

12, Feb 2009

Mayo VEC presented Adult Learners from the East Mayo area with FETAC awards during an Adult Learners Fair in the McWilliam Park Hotel in Claremorris
Winter Special Olympics

-

9, Feb 2009

Send your greetings to the eight Irish athletes who have just reached Boise Idaho in the United States for the Winter Special Olympics 2009.
Museum Public Programme - Feb 2009

-

6, Feb 2009

Sources of Land-use History and their value for Irish Historical Ecology - Embroidery for Beginners - Mad about Meteorites! - Weaving

London Snow on St Brigids Day 2009

-

3, Feb 2009

More London photos but this time from a very snowy London taken on St Brigid's Day by Caroline Fahey who emigrated from Mayo in 1988.
Table Quiz

-

3, Feb 2009

Castlebar Cycling Club Table Quiz - Castlebar on Monday 9th February 2009





Try Our Newsfeed - updated 365 days a year

Our Random Photos:
Click on photo above quickly for more details

---
Today's Poll:
How Long do you think this Government will Last?
View result without voting




The Pulldown Menus