21 January 2009

First sitting of Dáil - on this day 1919
Today's Featured Photo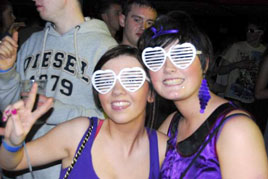 Celebrating at the TF over the Christmas. Have you ever been at a post-Christmas bash in Castlebar? Click on photo for the pictures!



---
Latest Headlines
Aid to Palestine

-

21, Jan 2009

Your support is needed to send some much needed aid into the people of Palestine - Collection Point at Castle Street Car Park on Friday 30 Jan 2 to 5pm.
Ninetieth Anniversary of Dail Eireann

-

21, Jan 2009

Today Dail Eireann is 90 years old. Read the text of the Declaration of Independence and the Message to the Free Nations of the World as read on 21 January 1919.
Writing Competition

-

18, Jan 2009

Creative writing competition for adults & schools based on Moylough Belt Shrine Exhibition currently at Turlough Park
Museum Public Programme - Jan/Feb 2009

-

18, Jan 2009

Rocks from Space - hold them in your hands! - Everyday Life in Irish Art from the 19th Century to World War Two - Embroidery for Beginners - St. Brigid's Girdle - Astronomy Ireland Sky Watch - Introduction to Silk

Green Hotels

-

16, Jan 2009

Mayo does well in Green Hotel Stakes...
Healthy Reading Scheme launched in Mayo

-

16, Jan 2009

Launch of Healthy Reading - guidance in the choice of self-help books for common psychological and emotional difficulties - at the Mayo County Library.
Winter Special Olympics Fundraiser

-

16, Jan 2009

Paul Behan is raising funds to attend the 2009 Winter Special Olympics as a volunteer with the Irish Winter Olympic Team.





Try Our Newsfeed - updated 365 days a year

Our Random Photos:
Click on photo above quickly for more details

---
Today's Poll:
Did you watch any of the Obama Inauguration Ceremony?
View result without voting




The Pulldown Menus