1 January 2010

The New Year dawns Bright and Clear
Today's Featured Photo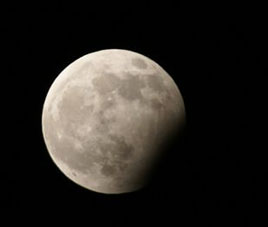 New Year, Full Moon - but with a bit missing. Noel O'Bryne was one of the photographers to capture last night's partial eclipse of the Moon.

Happy New Year to all our Readers, Volunteers, Photographers and Contributors.




---
Latest Headlines
Winter Horses

-

1, Jan 2010

Horses in a field - waiting to be fed - on a clear day December 2009.
December Days 2009

-

31, Dec 2009

December Days in Mayo - 2009 - photos from the end of the decade.

Noel Kilfeather Retires

-

30, Dec 2009

A retirement function for Noel Kilfeather, Mayo No 2 Branch, was held recently at The Welcome Inn Hotel, Castlebar.
Mayo Cancer Support

-

30, Dec 2009

Proceeds of the Clare Island Walk 2009 presented to Mayo Cancer Support Association.
Chefs of Mayo supporting Emigrants

-

28, Dec 2009

Chefs of Mayo present a cheque for €8,000 to Mayo Emigrant Liaison Committee, following their 'Gourmet Tour of Mayo' fund-raising event.











Try Our Newsfeed - updated 365 days a year
The Pulldown Menus