The Most Westerly of Christ's Fortresses in the Ancient World:
New Insights into Skellig Michael and the Mountain Pilgrimage Tradition in Ireland.
Archaeologist Mr. Michael Gibbons will be the guest speaker at our next meeting in the Failte Suite, Welcome Inn, Castlebar, on Monday night, December 7th, commencing at 8 pm.
Michael Gibbons is one of Ireland's foremost field archaeologists and tour guides. He has worked extensively on digs in Ireland and abroad, and he has lectured on both sides of the Atlantic and in Australia. His upcoming illustrated lecture is one he delivered at Harvard University last year, and it questions previously postulated theories about some of Ireland's holiest places.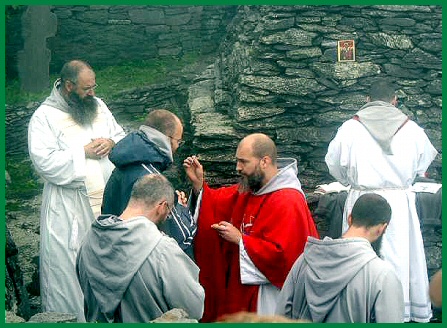 Orthodox monks on Skellig Micheal.
In his lecture abstract Mr. Gibbons writes-"Skellig Michael, Mount Brandon, Croagh Patrick and Slieve League (associated with Aedh mac Bricne) are among the most extraordinary sacred mountains worldwide; having acted as both physical and spiritual anchors since the beginning of the early Christian period. Crowning their summits are a range of beautifully sited monasteries and all either have or had active pilgrimages until recently. In the last year a series of new discoveries have been made on Skellig Michael; a World Heritage Site off the Kerry Coast, which offer new insights into how this magical and sacred landscape was used during the early Christian and Medieval periods. Like Croagh Patrick, Skellig Michael is crowned with a great fort, the existence of which has been ignored or forgotten in recent discussions of the site. Some recent scholars have claimed that these pilgrimages date back deep into pre-history but, while a number of pilgrimage mountains such as Drung Hill and Slieve Donard are topped with ancient cairns, this seems a little farfetched given the evidence available".
This promises to be a most interesting and controversial lecture
All Are Welcome.