The ROYAL THEATRE in Castlebar continues to make rapid progress in developing into the premier venue for the promotion of the arts, music, theatre, and social events in the west of Ireland.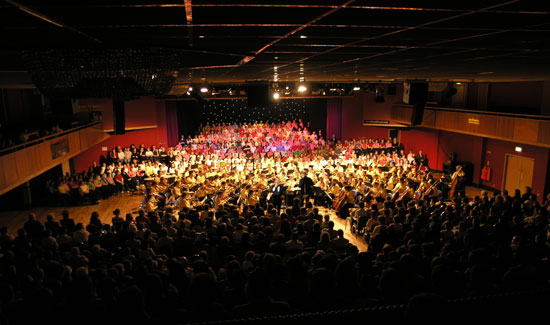 The 130 piece Cross Border Orchestra of Ireland performs with a 300 strong Mayo combined school choir preforming in the Royal Theatre on 5th and 6th of May 2006.
The key to its success is its flexibility and adaptability. The Royal Theatre can now comfortably accommodate anything from 300 to over 1500 patrons at any seated event and up to 2200 at a standing event, making it the third largest entertainment venue in the country. Ice shows and operas, comedy gigs , west-end musicals and cabarets, plays and orchestras, children's shows and sports events – enter a whole new world of entertainment right on your doorstep.
The Royal Theatre aims not to simply provide a show, but to provide an experience. To achieve this goal, it has to be innovative in its approach and look at all the facets of the experience, which includes in the last year refurbishing and making way for top class hospitality suites, installing a brand new computerised ticketing system and bringing in a top of the range new sound and lighting system. In July, with the opening of the adjoining 300 space car park with suspended skywalk to the Theatre, it will complete the experience. And in October, watch out for the new DAYS HOTEL development, which will be the first new hotel in Castlebar town centre in 55 years!
The Royal Theatre has now installed a new computerised ticketing system as well as partnering with Ticketmaster, enabling outlets to provide up to the minute ticket information to all patrons. Tickets may be purchased from Ticketmaster nationwide, as well as the Royal Theatre Box Office, the TF Royal Hotel Reception, online at www.royaltheatre.ie and dedicated outlets Downtown Records Castlebar and Westport, and Hot Shot Records Ballina. Private or corporate groups can now also book a hospitality suite which adjoins the Theatre, and enjoy private bar facilities, refreshments and easy access to their reserved seating. You decide the date, and our professional management team will look after the rest. It's that simple.