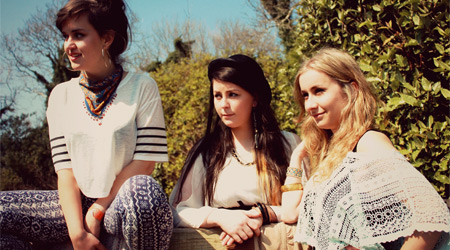 Wyvern Lingo: Karen Cowley, Saoirse Duane and Caoimhe Barry
Female vocal group Wyvern Lingo have been making a big splash on the Irish music scene as Hozier's backing singers.
Now, the soulful, passionate, and haunting Bray trio are taking centre stage for their own show in the Ruby Room at the Royal Theatre, Castlebar, on Friday February 6.
Karen Cowley, Saoirse Duane, and Caoimhe Barry are generating plenty of rave reviews for their outstanding ability to make their audiences melt when they strip the set back to
a cappella before getting them back on their feet again and dancing with a full band of keys, guitar, synth, bass, and drums.
Their new EP is a cocktail of R'n'B hooks, bluegrass licks, gospel harmonies, and insightful-beyond-their-years lyrics.
As well as providing the back up vocals for Hozier's Irish tour, Wyvern Lingo were also the support act for the superstar at his
packed-to-capacity Royal Theatre concert in December.
Described by Hotpress as a "female take on Mumford And Sons or Local Natives" and "an absolute treat", Wyvern Lingo is certainly one group to watch in 2015.
Tickets for the Royal Theatre performance on Friday February 6, at 10pm (doors open at 9pm ), are on sale now, costing €12.50, from the box office, Westport Road,
or from Ticketmaster outlets nationwide.
Tickets are also available by phone on (094 ) 9023111 or 0818300000 or online at www.royaltheatre.ie or www.ticketmaster.ie