The Royal Theatre once again will transform its venue, this time to play Host to the First Ever In-Door Fossetts Circus. For the first time in 121 years Fossetts will abandon the Big Top and entertain their audience in the comfortable setting of the Royal Theatre Castlebar.

A Week Long Show of Indoor Entertainment and Fun will take place in the Royal Theatre from Tuesday 14th to Friday 19th April. There will be 3 Shows per Day; 12 Noon, 3.30pm and 7.30pm.

Fossett's, Ireland's National Circus, is coming to Castlebar in April. The 121 year old, family run operation had planned to visit the region in Spring 2009 and came to town looking for suitable sites to pitch their Big Top. During their initial trip in December last they were shown around the Royal Theatre and all thoughts of muddy fields and Irish weather were blown away. They were astounded by the sheer scale of the theatre and immediately realised that it could accommodate even their huge production. Indeed, it is only one of 3 indoor venues in the country capable of doing so.

Fossett's are thrilled to be returning to Castlebar. It is over 10 years since Ireland's National Circus has played in the town and this is not due to lack of popularity or local request says Robert Fossett. "We have always enjoyed enormous support in Mayo and Castlebar, in particular, was an annual fixture in our touring schedule. Over the past 10 years our show has grown in size and the availability of a suitable site became an issue for us. We have tried every year to arrange a visit to the region but it just never happened. My family are delighted to be coming back to the area and the Royal Theatre is an ideal venue for us."

This year's production features performers from Hungary, France, USA, Italy Romania, Bulgaria, China and of course Ireland. Trapeze, Aerial acrobatics, Wire walking, Ladder balancing, Juggling, Contortion, Clowning feature heavily in the 2009 production.

Audiences in the Royal will be amazed by the feats of strength from Samson, a truly unique performer, who has come to Fossett's direct from Ringling Brothers Barnum and Bailey in America.

At noon on Tuesday 14th April the Royal Theatre will explode in a riot of colour, music and pure circus magic. The multi-million Euro venue will be transformed into a 1,000 seater circus with face painters, jugglers, magicians, tumblers and clowns greeting the audience as they make their way into the show. For over 2 hours they will be transported into another world - the wonderful, magical world of Circus. In a time of doom, gloom and desperation we all need that special Circus magic more than ever.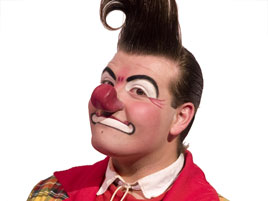 Fossett's - Ireland's National Circus

This promises to be one energetic show of non stop entertainment…..

Castlebar 14th - 19th April 2009