Castlebar Tennis Club hosted the AIB Open Championships over the August Bank Holiday weekend. The tournament proved an outstanding success and great credit must go to the tournament referee Maria Kilkelly and the organising committee who worked long and hard to ensure the smooth running of the event.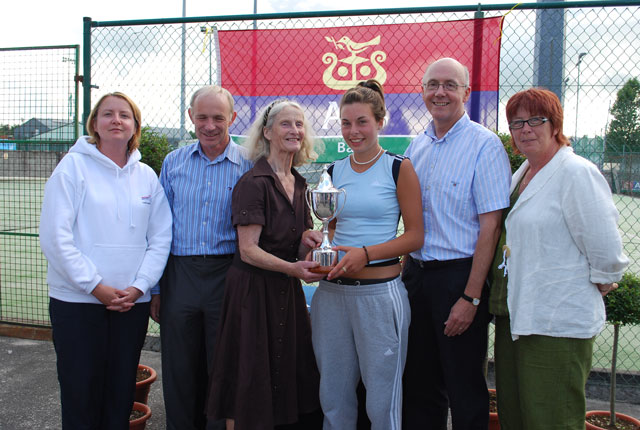 Laura Cuddy winner of the Ladies Singles Championship being presented with the Ann Garavan Perpetual Cup by Ann Garavan President of Castlebar Tennis Club. In the picture are (from left) Patricia Armstrong Lady Captain, Michael Lyons Mens Captain, Ann Garavan Lady President, Laura Cuddy Championship winner Ladies Singles, Peter Glynn Manager AIB Main Sponsor, Ann O'Malley Lady Chairperson Castlebar Tennis Club.
From Friday night on tennis enthusiasts from tennis clubs all over Ireland began arriving to Castlebar for this very popular event. This year the Club also welcomed a group from London who made their first visit to the Castlebar competition with promises to return again next year.
A record entry of 170 people took part with a total of 600 matches played over the weekend. Monday saw the sun shine for the finals and Castlebar was well represented on the day in all divisions. Local girl Laura Cuddy was the winner of the Ladies Singles Division 1 title. This match was indeed one of the highlights of the tournament with Laura and her opponent Ciara Hayes from London giving the large audience a feast of tennis. Laura was presented with the Ann Garavan Perpetual Trophy which she received from Ann Garavan herself the President of Castlebar Tennis Club.
Results of Division 1
In the Mixed Doubles Division 1 Final Laura and her brother Michael were the runners up to another brother sister partnership of Ciara and Michael Hayes who took the title, with Michael also claiming the Men's Singles Division 1 cup.
The Men's Doubles Division 1 Final was won by Castlebar tennis coach Garrett Barry and his doubles partner Liam Cassidy.
In the Ladies Doubles Division 1 Final Margaret Glancy (Castlebar) and Bernadette Hearns were runners up to Una Clay and Audrey Bolger (Charleville).
Results of Division 2 and 3
Mens Singles 2 - Cormac O'Conner (w) Ray Mc Ginley (r u)
Mens Singles 3 - Benoit Lusson (w) A Chantaresena (r u)
Mens Doubles 2 - Arie Van Limpet/Mark Cosgrave (w) Neil Ferriter D Boland (r u)
Mens Doubles 3 - Patrick O'Boyle/ Ivor O'Boyle (w) Mick Hennessy T McAndrew(ru)
Ladies Singles 2 - Michelle Reynolds (w) Bernie Burke (ru)
Ladies Singles 3 - Pat McGorain (w) Kay Curley (ru)
Ladies Doubles 2 - Mary Barry/ Jane Watt (w) J Duignan T Mulvey (ru)
Ladies Doubles 3 - A Woodhouse/M Bagnell(w) Patricia Armstrong Bertha Munnelly
Mixed Doubles 3 - Sandra Farrell/ Gerry Walsh (w) M Henry Dave Mc Hale(ru)
Plate Events Ladies Doubles 1 - M Dolan/Gina Kelly (w)
Mixed Doubles 2 - Monica Joyce Martin Moylette (w)
Mixed Doubles 3 - Norbert Domin/ M Barry (w)
In her closing speech Castlebar Tennis Club Chairperson Anne O'Malley thanked the sponsors of the tournament Breaffy House Hotel, Carmex Lip Balm, DNG Flannelly Auctioneers, Hynes Shoes, Mars and the tournament's main sponsor AIB Bank. She expressed her wish to see all the competitors back again next year when the event will be hosted from the club's new home at Lough Lannagh. "We may be moving to a bigger better facility but the welcome will stay the same," she assured everyone.