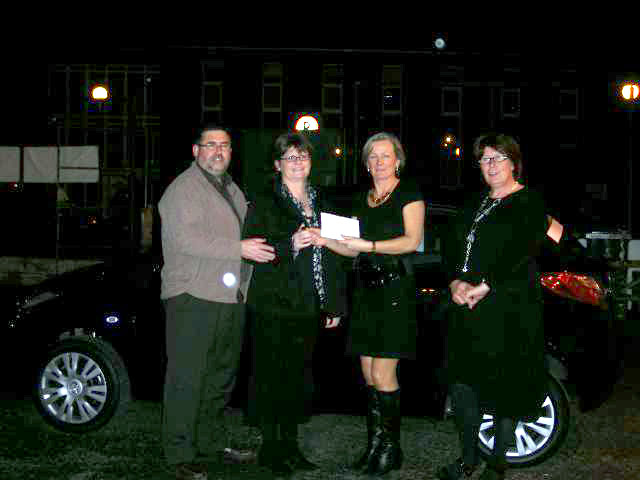 Marian Duffy the winner a Mazda 2 car - First prize in the 2008 Castlebar Tennis Club development draw. Also in the picture is Tommy Duffy, Pauline O'Donahue seller of the winning ticket and Ann O'Malley Chairperson Castlebar Tennis Club. Congratulations to Marian.
Castlebar Tennis Club held their fundraising draw on Friday 21st Nov 2008 in the clubhouse Pavilion Road. With wonderful prizes to be won and a beautiful Mazda 6 on offer as first prize there was a great sense of excitement and anticipation in the clubhouse amongst the large crowd of members and supporters who had gathered to watch the proceedings. At 11pm Diarmuid Gavin compere for the evening introduced Clair O Hara Captain of the Mayo Ladies Football Team who had the task of drawing the winning tickets. He also welcomed and introduced Mr. Joe Staunton retired Garda Superintendent who was acting as the independent adjudicator for the event.
Mr. John O Donohue spokesperson for the Development Committee welcomed everyone to the draw and thanked all the members who had worked so hard to make it such an outstanding success. He also thanked all the people from near and far who supported the Club by purchasing tickets with all of the proceeds going to the new Regional Tennis Centre at Lough Lannagh Castlebar.
The following is the list of draw winners;1st Marian Duffy c/o St. Mary's Hospital Castlebar,2nd John O Mahony Ballaghadereen, 3rd Joe Lyons Mount Daisy Castlebar 4th , Dr. Colm Matthews Portadown, 5th Breda Gilvarry The Oaks Castlebar 6th Megan Deely c/o Mark Deely Opticians Castlebar 7th Gerry Keogh Co. Wicklow, 8th Hillary Rabbette 9th Peter Duggan Mayo Abbey 10th Mike Monaghan Eclipse Hair Salon Castlebar. Congratulations to all.
Castlebar Tennis Club would like to sincerely thank everyone who bought a ticket for their fundraising draw, your support is greatly appreciated.

Pictured is Pauline O Donohue seller of the winning ticket in the Castlebar Tennis Club Fundraising draw presenting the keys of a Mazda 6 to 1st Prize winner Marian Duffy also included are Tom Duffy and Anne O Malley Chairperson Castlebar Tennis Club.